The Walt Disney Concert Hall in downtown Los Angeles, taking up the whole block bounded by Hope Street, Grand Avenue, 1st and 2nd Streets, is the home of the Los Angeles Philharmonic Orchestra and the Los Angeles Master Chorale. It's a Frank Gehry building and around the time it opened, on October 23, 2003, there were a few photos and reviews of the thing in these pages here. From January of this year you'll find a long shot of the building, in its context, here (bottom of the page). The Los Angeles Philharmonic used to perform at the Dorothy Chandler Pavilion across the street, a dead hall with lousy acoustics, and everyone says this one is not only better, it's wonderful. Reviews of the exterior are mixed.

The place looks a bit like Gehry's Guggenheim Museum in Bilbao, Spain, which is covered in titanium (see this). The Los Angeles building, designed first but completed later, is covered in stainless steel.
Here are some details, from Thursday, April 20, late morning.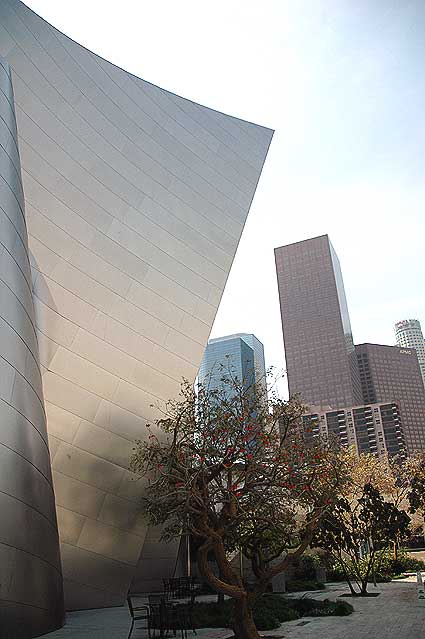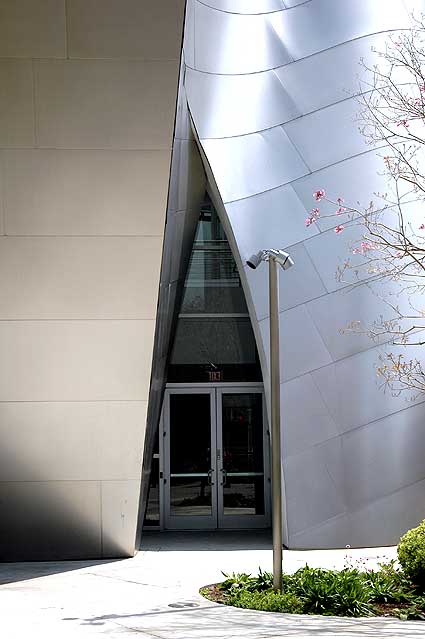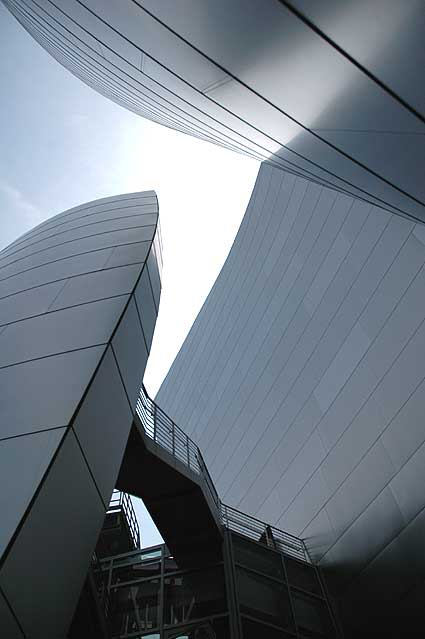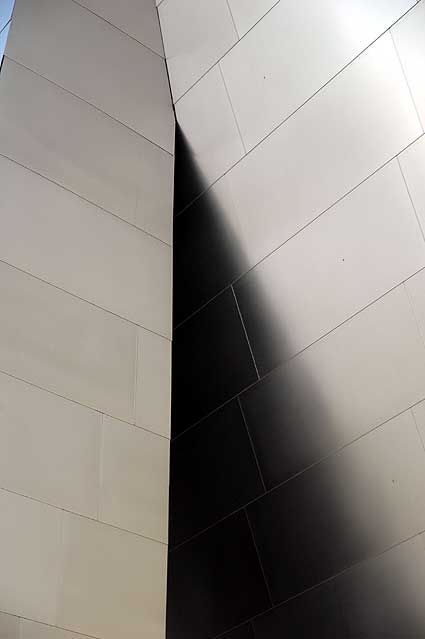 And the context, the view down Grand to the Los Angeles Public Library, looking mighty small in all the verticals -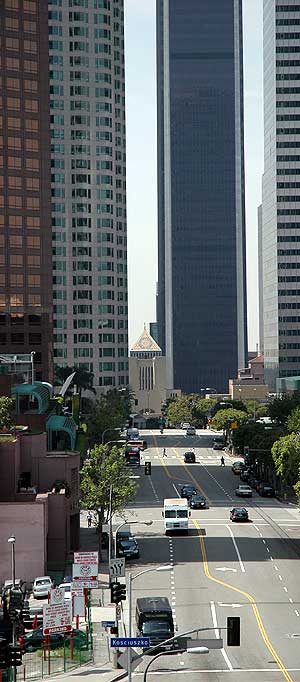 If you use any of these photos for commercial purposes I assume you'll discuss that with me.
There is a copyright notice at the bottom of this page, of course.
These were shot with a Nikon D70 - lens AF-5 Nikor 18-70 mm 1:35-4.5G ED or AF Nikor 70-300 mm telephoto.
They were modified for web posting using Adobe Photoshop 7.0
The original large-format raw files are available upon request.
_




Copyright © 2003, 2004, 2005, 2006 - Alan M. Pavlik
_______________________________________________
The inclusion of any text from others is quotation for the purpose of illustration and commentary, as permitted by the fair use doctrine of U.S. copyright law. See the
Legal Notice Regarding Fair Use
for the relevant citation.
Timestamp for this version of this issue below (Pacific Time) -
Counter added Monday, February 27, 2006 10:38 AM