The bird - Thursday, April 27, 2006, at the edge of the sheltered lagoon in Playa del Rey - is this duck that just woke up in a bed of alyssum, a bit unhappy to be disturbed. (Playa del Rey - "the beach of the king" - is the first beach north of Los Angeles International Airport (LAX), between the airport and Marina del Rey, about twelve miles west of Hollywood.)
The bee is nearby, working away in the "ice plant" that grows in the sand at the edge of the beach parking lots. Ice Plant? That would be
carpobrotus edulis
, a creeping, mat-forming succulent, a member of the Stone Plant family Aizoaceae and one of about thirty species in the genus Carpobrotus. It is also known as the Highway Ice Plant, Pigface or Hottentot Fig, and in South Africa known as Sour Fig. It's used all over out here, mainly to hold down hills and loose sand (thus the "highway" name), and as a firebreak (it is a succulent after all, and full of water). It requires next to no care and needs little rain, which is fine because we average little rain out here anyway. And like many things in California, it's very flashy. The bee is just an ordinary bee.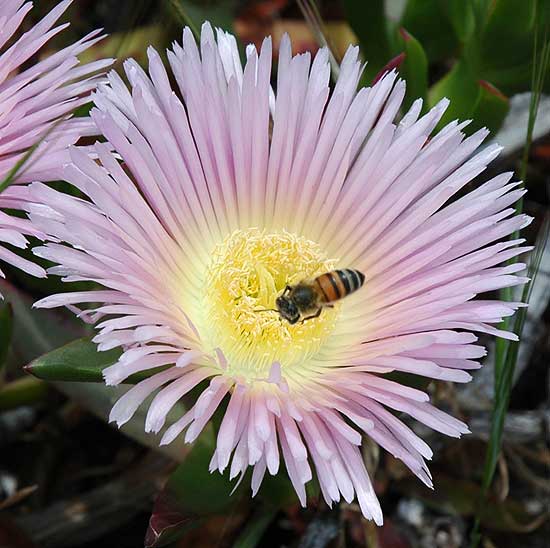 Birds and bees lead to families. These might be Marbled Godwits.
A late note, Sunday, April 30, from a reader in upstate New York - "Of course the top picture is a beautiful Mallard drake. In the lower pictures, you have two kinds of birds. I am guessing the larger (on left) are Long-billed Dowitcher and the smaller ones, Western Sandpiper."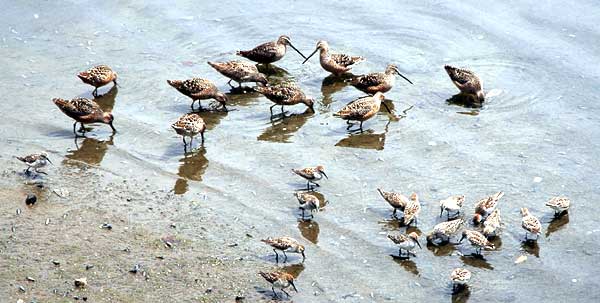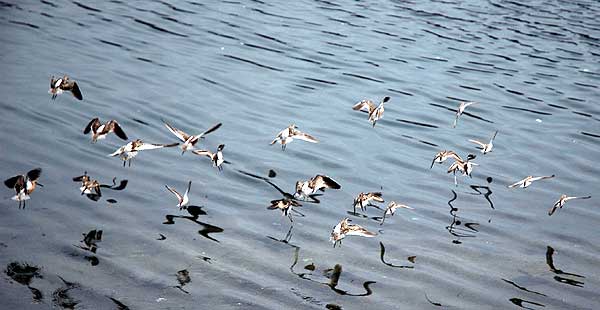 If you use any of these photos for commercial purposes I assume you'll discuss that with me.
There is a copyright notice at the bottom of this page, of course.
These were shot with a Nikon D70 - lens AF-5 Nikor 18-70 mm 1:35-4.5G ED or AF Nikor 70-300 mm telephoto.
They were modified for web posting using Adobe Photoshop 7.0
The original large-format raw files are available upon request.
_




Copyright © 2003, 2004, 2005, 2006 - Alan M. Pavlik
_______________________________________________
The inclusion of any text from others is quotation for the purpose of illustration and commentary, as permitted by the fair use doctrine of U.S. copyright law. See the
Legal Notice Regarding Fair Use
for the relevant citation.
Timestamp for this version of this issue below (Pacific Time) -
Counter added Monday, February 27, 2006 10:38 AM