The classic theaters on Hollywood Boulevard -
At the historic El Capitan theater on Hollywood Boulevard. Friday, May 26, 2006 -

History –
The El Capitan Theatre is a fully restored movie palace at 6838 Hollywood Boulevard in the Hollywood district of Los Angeles. It is owned and operated by The Walt Disney Company.

When the theater opened in 1926 as "Hollywood's First Home of Spoken Drama," it featured a Spanish colonial exterior designed by the architectural firm of Morgan, Walls and Clements, and a lavish East Indian interior by theatre designer G. Albert Lansburgh. It was later completely remodeled in the moderne style. In 1941, "Citizen Kane" made its world debut here. Senator Richard Nixon delivered his famous Checkers Speech from the theater in 1952, then a NBC studio.

After many years of disuse, The Walt Disney Company purchased the theater and paid for a fourteen million dollar renovation. The theater reopened in 1991 with the premiere of "The Rocketeer." In recent years, many of Disney's feature films have premiered here, accompanied by live stage shows.
Dumbo is back. Nixon isn't.
Entrance Detail –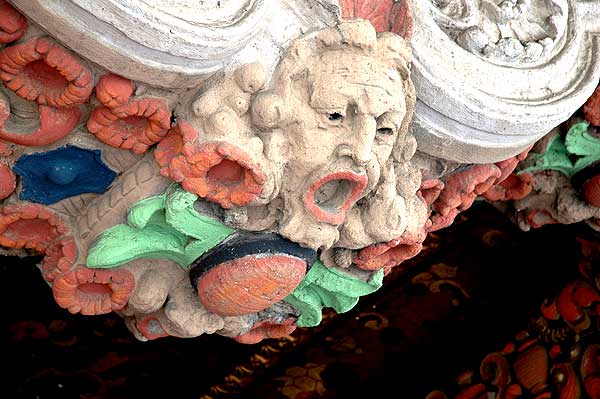 The former Hollywood Masonic Temple, adjacent to the theater on the west, has also been renovated by the Walt Disney Company - now it's a television studio. Together with the theater, it is known as the El Capitan Entertainment Center. The ABC late-night talk show Jimmy Kimmel Live tapes weeknights in the studio.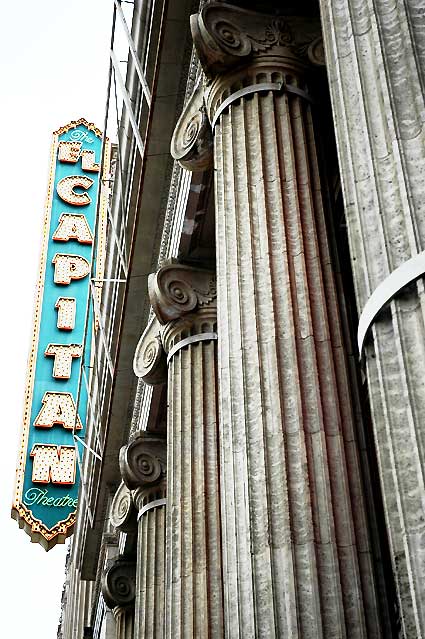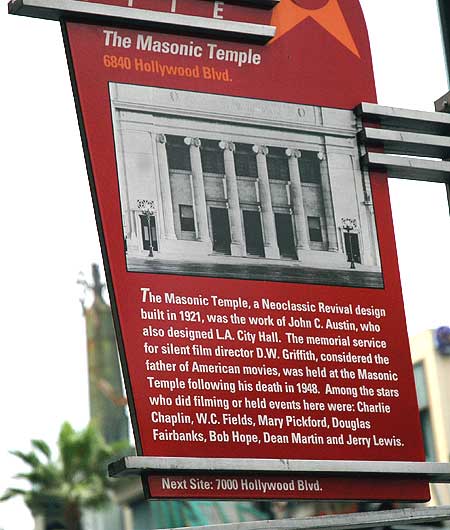 Grauman's Chinese Theatre, 6925 Hollywood Boulevard, opened May 18, 1927 - the premiere of Cecil B. DeMille's "The King of Kings." The place was built by Sid Grauman who owned a one-third interest with his partners, Mary Pickford, Douglas Fairbanks, and Howard Schenck. Grauman also built the nearby Grauman's Egyptian Theatre as well as the Million Dollar Theater on Broadway in downtown Los Angeles. The principal architect of the Chinese Theater was Raymond M. Kennedy, of the firm Meyer and Holler. Basically the exterior of the theater is a sort of giant, red Chinese pagoda - a huge Chinese dragon across the front, two stone lion-dogs guarding the main entrance, and the silhouettes of tiny dragons up and down the sides of the copper roof. Myrna Loy's first job was as a dancer at the theatre in the twenties. It's an odd place.
Sid Grauman sold his share to William Fox's Fox West Coast Theatres in 1929 but remained as the Managing Director until his death in 1950. In 1968 it was declared an historic and cultural landmark. There are all those stars' footprints and handprints in the concrete out front, after all. The theater was purchased in 1973 by Ted Mann, owner of the Mann's Theater chain and husband of actress Rhonda Fleming, who renamed it Mann's Chinese Theater. As of November 9, 2001, the original name was returned to the front of the theater.
Chinese, anyone?