One thing not to do when visiting Hollywood is stop here for an Oki Dog. It looks harmless and a bit picturesque, so very California, and it's famous in a way. When Oki Dog was at Santa Monica and Vista it was the place in the late seventies for the punk rock crowd, near the clubs and where the big names in the bands stuffed their faces just before dawn after the last set. It was legend. It's been moved west to Fairfax, north of Melrose. And now it's just scary. See the text below the picture.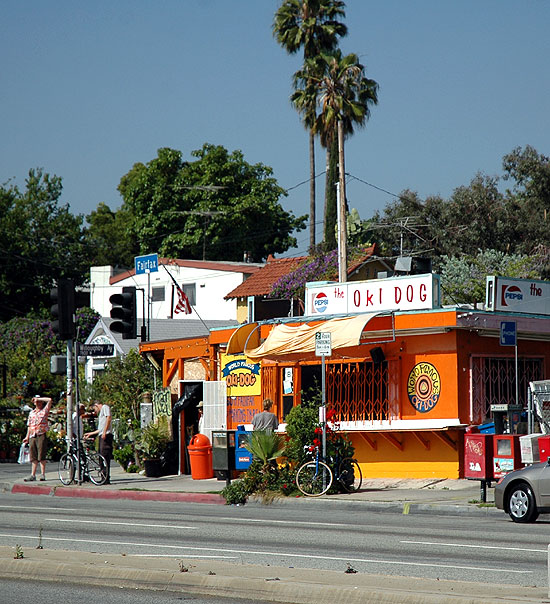 There is a site devoted to America's hot dog stands, and about Oki Dog they offer this (and more) -
Hands down, the weirdest hot dog in LA

Occasionally, you run across a concept that is so alien, so removed from anything you've ever experienced before, that you just don't know what to think about it. Oki Dog is that sort of place. Using the standards we normally apply to rate hot dog stands, Oki wouldn't even register a single dewclaw of a dog on our Dog Rating scale. The dogmeat is chewy and bland, the chili is very cheap, and the atmosphere is akin to eating in a grimy gas station restroom in the middle of the Mohave Desert. This place is a "dive among dives." But we have to admit, we kinda like the place. The whole is greater than the sum of its parts.

... Oki Dog used to be on Santa Monica Boulevard at Vista, right in the middle of "Boystown," where shirtless young gentlemen can be found on every corner "looking for rides." Since it was close to the Hollywood nightclubs and always open late, it developed quite a following among the punk rock movement. Skinheads, longhairs and mohawks could be seen sitting side by side on the stools chowing down on greasy burritos at all hours of the day and night. It was a real happening place back in the late 70s. We don't really know why, but it never occurred to us to stop in and try the place back then.

Well, the neighbors complained about the unruly mob that hung out there, so the City Council banished Oki Dog to a small hut off the strip on Fairfax. A more respectable chain restaurant with pre-fab food and lots of security guards took Oki's spot on Santa Monica and Vista. If Oki Dog could be said to be on the skids before, this development put it face down in the gutter. Today, many ex-Punks who went on to become accountants and lawyers have fond memories of late nights at Oki Dog. As they drive by their old hangout in their shiny new Beemers or Audi station wagons, they roll their windows up tight, lock the doors and shed a quiet tear for what used to be. But the amazing thing is, Oki Dog isn't just a memory. It still exists. The hut is just the same, albeit a bit more battered around the edges. The food hasn't changed - it was always battered around the edges. The battered people who eat there haven't changed much either. Oki Dog LIVES!
It should be noted the whole area, from where it used to stand to the new location, is both heavily Jewish and the heart of the Russian immigrant community here, so pastrami burritos are a specialty - fried pastrami, sautéed cabbage, onions and peppers, mustard and pickles, and a healthy dose of Oki chili. And Oki chili seems to be whatever canned stuff they can find discounted by any restaurant supply wholesaler.

In Japanese, oki means big. And the place seems to be a nod to the many Japanese out here from Okinawa. But the connection is tenuous at best, as noted here -
The dish in question is the eponymous Oki Dog. It is massive and terrible to behold. Start with two hot dogs, boiled into rubbery submission, a corpse of a corpse. Add perfect squares of shining American cheese, and bury them in predigested-looking canned chili. Then, the pastrami. A slab of gristly pink pastrami joins the grease mound, and everything is wrapped in a massive tortilla, a tortilla upon which the face of Jesus will never appear. The face of Elvis, perhaps, but not Jesus.

If someone could maneuver a punch down your throat and into your stomach, the experience would be something like eating an Oki Dog, provided your assailant's fist was sufficiently salted. The bundle of fat and low-grade protein simultaneously satisfies all appetite while insulting all aesthetics.
And that's putting it kindly.

As for a "real" Oki Dog, the Honolulu Star-Bulletin offers you this -
The Oki Dog is apropos of nothing. A non sequitur. The sum of incongruent parts that add up to Okinawan audacity.

An Oki Dog begins with a hot dog (any type, but red is aesthetically best), a dollop of chili (must be from Zippy's, founded by the Okinawan Higa family), a few slices of shoyu pork (this is what truly makes it Okinawan), shredded lettuce (iceberg, for crunch), wrapped in a flour tortilla (for ease of transport).

And as if all that's not enough: "It would taste good with mayonnaise, but that spoils too quickly," says Isaac Hokama, one of those responsible for bringing the Oki Dog to Hawaii.

Consider it an example of four-part fusion: American/Mexican/Tex-Mexican/Okinawan. Or consider it inexplicable.
Of course that sound a little better.

But the legend of the place lives on. There is a Japanese-based post-punk garage band named Oki Dog, and they chose their name in homage to the West Hollywood hot dog stand that used to be. If you like that sort of music you can listen to one of their cuts here, but that's not recommended.

When the band appeared in London they were described this way - "Oki Dog are an eclectic Noah's Ark of a band: a Pakistani drummer (Kemikal Ali), guitarists from England and Germany (Flip X and Kennedy), a Spanish bass player (Hugo Santacruz) and fronted by a cheeky Chinese lass called Grace. They're a good looking band, oozing artfully crafted cool, who play an energetic, punky Rock Pop, full of sexy licks and catchy riffs."

Yeah, sure. They are the sonic counterpart of the signature Oki Dog, the musical equivalent of the perhaps the worst cheap junk food yet devised.

But all this is Hollywood, after all.