A taste of the strangeness of Southern California, on Friday, June 2, 2006 - seen driving down the coast toward San Diego, a traffic sign you won't find in Ohio, a "Surfers Crossing" warning on the coast road, Highway 101, in Encinitas, at the Self-Realization Fellowship Ashram Center.

What?
That's this -

"Paramahansa Yogananda established the Self-Realization Fellowship Ashram Center in Encinitas in 1937. Here, at the Hermitage where he lived for many years, he wrote his Autobiography of a Yogi, widely regarded today as a modern spiritual classic. The Ashram Center and nearby Temple are located on the Pacific Coast, 100 miles south of Los Angeles and 25 miles north of San Diego."

The gardens are nice. And the City of Encinitas has a nice park on the south side of the ashram, Swami Park.


Far below the gardens there are the surfers of course.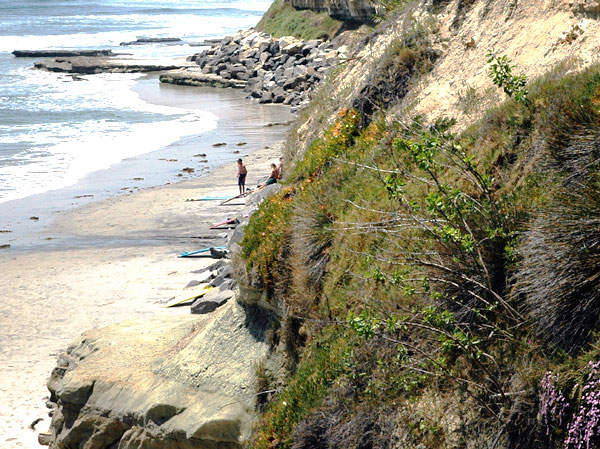 Drive south to downtown Encinitas, and you will find the La Paloma Theatre, a Spanish Mission thing built in the twenties. It opened with the film The Cohens And Kellys in Paris - February 11, 1928, and the rumor is that Mary Pickford rode her bicycle all the way to the La Paloma from Fairbanks Ranch for the opening. And she wasn't even in the film. It seats four or five hundred, and still has the Kilgen Wonder Organ from the days of the silent films and the opening vaudeville stage act. The stage is still in use. Jerry Garcia played here. So did Eddie Vedder. They show offbeat films, and, of course, show The Rocky Picture Horror Show every Friday night.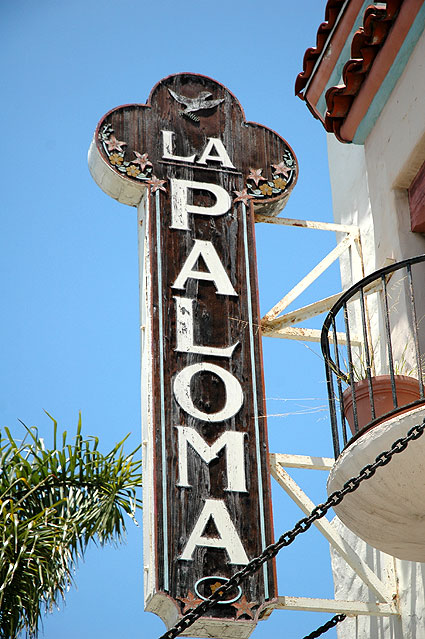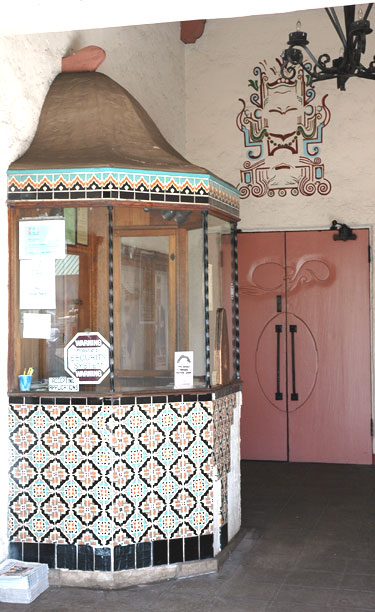 Frankly, it looks like something from a Hitchcock film, where Jimmy Stewart goes slowly mad and the well-lit everyday suddenly looks dangerous and menacing, and Grace Kelly or some other ice-blond looks simultaneously worried and flawless, and Stewart's nightmares are designed by Salvador Dali - like in Spellbound, where there was a major point of contention between Alfred Hitchcock and David O. Selznick. Selznick had Hitchcock under contract, and directed him to make a movie based upon Selznick's experiences in psychoanalysis. Selznick even hired his therapist as the technical advisor. She and Hitchcock clashed frequently, and Hitchcock brought in artist Salvador Dali "to conceive certain scenes of mental delusion," which Selznick hated. Miklós Rózsa added the score with the spooky theremin, long before the Beach Boys used the thing.

This theater gives you that Dali nightmare feeling.