The weekend begins on Hollywood Boulevard - some shots from Friday afternoon, June 16, 2006.

What is this crew doing across the street from Grauman's Chinese Theater? They didn't want to be bothered. They were busy. It's Hollywood. And it's a classic candid shot.

And here's some weekend tourist stuff.

See below. Grauman's is famous for the collection of handprints, footprints, and autographs in the theater's courtyard - two hundred movie folk have put their hands or feet or whatever in the cement there. As for whatever, you can find the imprint of Harold Lloyd's glasses, the cigar-print of the cigars of Groucho Marx and of George Burns - and Betty Grable's legs, John Wayne's fist, and Al Jolson's knees. There are two nose prints - Jimmy Durante and Bob Hope. William S. Hart and Roy Rogers left imprints of their guns, and there are hoof prints - Tom Mix's "Tony," Gene Autry's "Champion," and of course Roy Rodgers' "Trigger." It's a very odd place. But Sid Grauman was a showman.

This has been going on since 1927, and, should you be in town, this might be useful - a clickable map of the courtyard so you can find what interests you, if any this does.

And you might also remember the end of Mel Brooks' Blazing Saddles -
Hedley Lamarr is driven to Grauman's Chinese where the marquee flashes the current film "Blazing Saddles." To hide and escape from Bart, he pays for one full admission to the film after failing to convince the attendant that he is a student. A female tourist remarks to her husband as she tries out the footprints of actress Hedy Lamarr - "Look, Herman, I'm in Hedy Lamarr's shoes!" - Hedley corrects her as he passes by: "Hedley." In the lobby of the theatre are noisy, bleating cattle as he purchases Raisinettes at the candy counter.

As the film begins to play with the familiar opening song, Lamarr suddenly realizes that he is going to be viewing "Blazing Saddles" and he exits in disgust. Outside, he is outdrawn in a gunfight with Bart and shot in the groin. As Lamarr falls and dies in front of the theatre, he studies the cement imprints (hand and feet) of Douglas Fairbanks - "How did he do such fantastic stunts with such little feet?"

He lands in fresh cement - before he expires, he scratches out his own name followed by a dollar sign in the wet cement for his own epitaph. Bart and the Waco Kid enter the theatre to see the end of the film, both wishing for a happy ending.
Yeah, it's sort of an inside joke, a Hollywood thing.

Check out these.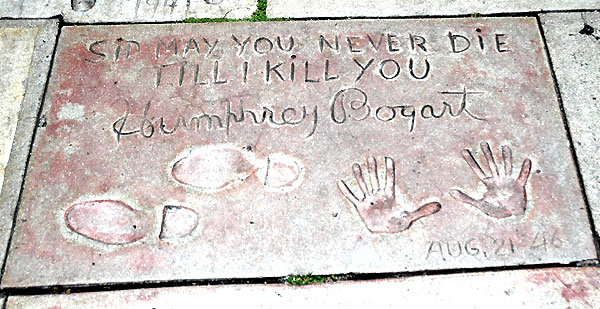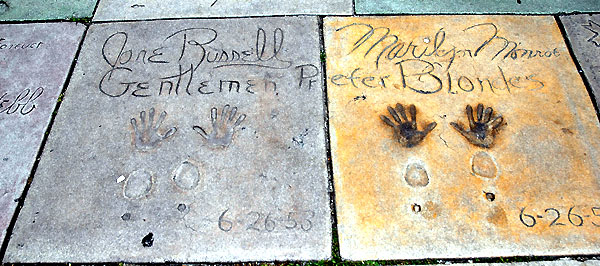 On the west side of the theater, a big mural of Shirley Temple and Jean Harlow leaving their prints.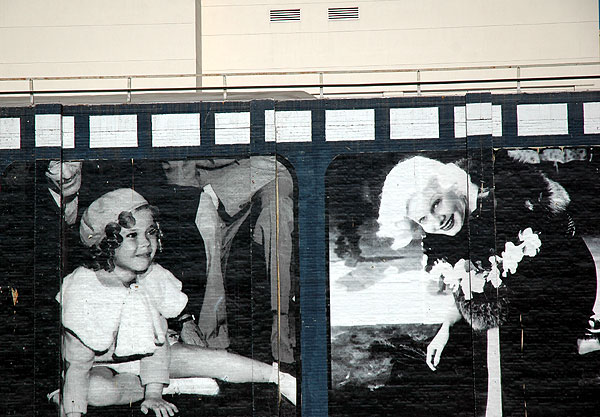 And for what's playing at the Chinese this weekend, it's certainly not "Blazing Saddles" - and it's not Chinese. But it is Asian, sort of. One of the cars from the film was on display in the courtyard, the front bumper just above Fred Astaire and Ginger Rodgers. But you couldn't get near it with all the thirteen-year-old boys checking it out. Ah well. Times change.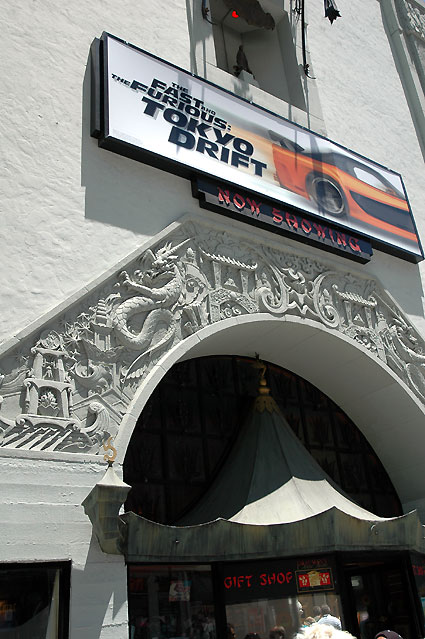 But the roof is very Chinese, in a Hollywood sort of way…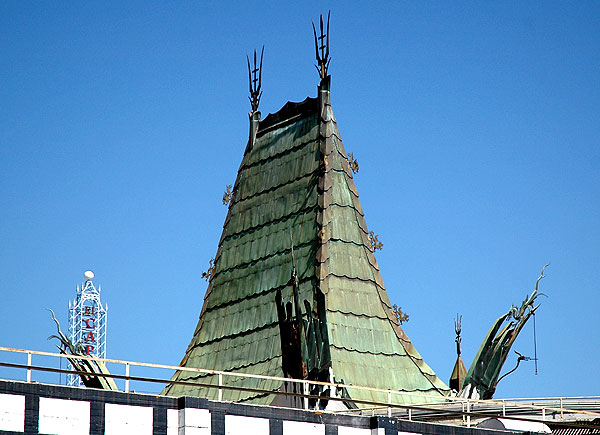 If you use any of these photos for commercial purposes I assume you'll discuss that with me

These were shot with a Nikon D70 - using lens (1) AF-S Nikkor 18-70 mm 1:35-4.5G ED, or (2) AF Nikkor 70-300mm telephoto, or after 5 June 2006, (3) AF-S DX Zoom-Nikkor, 55-200 mm f/4-5.6G ED. They were modified for web posting using Adobe Photoshop 7.0

The original large-format raw files are available upon request.