Below, pirates hiding in the flowers on Sunset at sunset. Note - when the fellow on the left isn't living in the south of France with his wife, Vanessa Paradis (the French singer and actress) and their two kids, the four of them live in an old mansion just six blocks east of this billboard, just above Sunset, at Sweetzer. It's gated, and behind a lot of trees. No pictures. More on him, and the French business, Monday, June 19, 2006, here.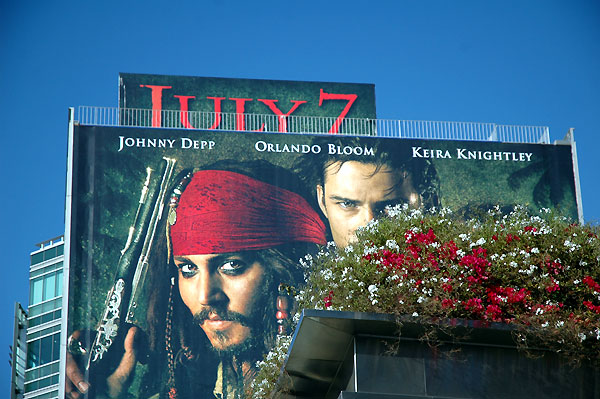 And all roads lead to Hollywood. Hollywood Boulevard at Orange, looking south at the entrance to The Hollywood Roosevelt Hotel, in deep shadow, in the early afternoon of Friday, June 16, 2006.





If you use any of these photos for commercial purposes I assume you'll discuss that with me

These were shot with a Nikon D70 - using lens (1) AF-S Nikkor 18-70 mm 1:35-4.5G ED, or (2) AF Nikkor 70-300mm telephoto, or after 5 June 2006, (3) AF-S DX Zoom-Nikkor, 55-200 mm f/4-5.6G ED. They were modified for web posting using Adobe Photoshop 7.0

The original large-format raw files are available upon request.




Copyright © 2003, 2004, 2005, 2006 - Alan M. Pavlik
_______________________________________________
The inclusion of any text from others is quotation for the purpose of illustration and commentary, as permitted by the fair use doctrine of U.S. copyright law. See the
Legal Notice Regarding Fair Use
for the relevant citation.
Timestamp for this version of this issue below (Pacific Time) -
Counter added Monday, February 27, 2006 10:38 AM