Sunset Plaza on the Sunset Strip at Sunset - July 3rd - long light on a French-looking façade - across the street from Mel's Drive-In -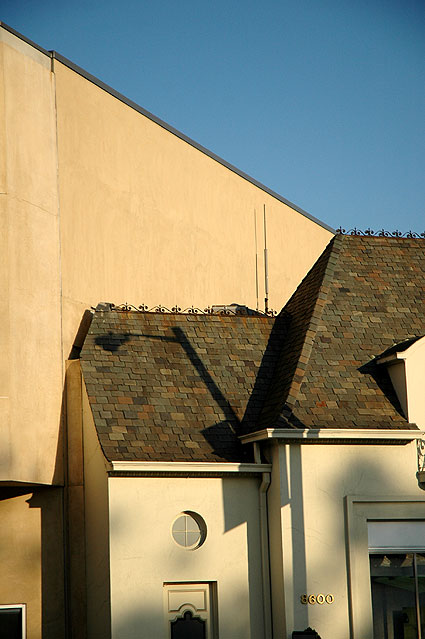 See L'Étranger in a Strange Land
Michel Houellebecq's Weekend in L.A.
Brendan Bernhard, LA Weekly, issue of June 23, 2005

Bernhard interviews the notorious French writer Houellebecq, on Houellebecq's first visit to Los Angeles, while the author is "smoking a cigarette at a sidewalk table at Mel's Diner on Sunset Boulevard." We learn he's trying the Santa Fe Chicken Salad, but gives up on it and opts instead for a quadruple espresso. How French. Mel's is a faux "American Graffiti" kind of tourist trap, with bad food and no carhops at all (they have valet parking, of course). This is what he saw across the street. Was he homesick?
If you use any of these photos for commercial purposes I assume you'll discuss that with me

These were shot with a Nikon D70 - using lens (1) AF-S Nikkor 18-70 mm 1:35-4.5G ED, or (2) AF Nikkor 70-300mm telephoto, or after 5 June 2006, (3) AF-S DX Zoom-Nikkor, 55-200 mm f/4-5.6G ED. They were modified for web posting using Adobe Photoshop 7.0

The original large-format raw files are available upon request.




Copyright © 2003, 2004, 2005, 2006 - Alan M. Pavlik
_______________________________________________
The inclusion of any text from others is quotation for the purpose of illustration and commentary, as permitted by the fair use doctrine of U.S. copyright law. See the
Legal Notice Regarding Fair Use
for the relevant citation.
Timestamp for this version of this issue below (Pacific Time) -
Counter added Monday, February 27, 2006 10:38 AM