Our Man in Paris
is Ric Erickson, editor of
MetropoleParis
, who this August isn't in Paris at all. One leaves Paris in August, of course. At least the Parisians do.
So Ric is in the Big Apple. Well, actually he's not in Manhattan. He's across the East River in Long Island City, Queens. Oh, you know - Astoria, Hunters Point, Blissville, Ravenswood, Dutch Kills and Bowery Bay - where you'll find the former Silvercup bakery, now home to Silvercup Studios, where they film
The Sopranos
for HBO. And there's the Frank Sinatra School of the Arts, and the largest fortune cookie factory in the United States, owned by Wonton Foods, producing four million fortune cookies a day. That place.
This is not Paris, but Ric is having a fine time -
Received, Wednesday, 16 August -
Arrived here with 100 degrees at JFK. No air-conditioning. But now New York has settled down to best summer weather many can remember. Coney Island doing fine. Had my cheesecake at Junior's. Been on the terrace of the Athens Cafe in Astoria, twice. Dancing on dirt at Flushing town hall - plus fancy eats for cheap. Man, New York City at 85 degrees, 35 percent humidity, 10 mph breeze - very, very fine. No need for Florida.

Here, Long Island City's very own and unique Water Taxi Beach, right across from 34th Street. Blindingly white sand blitzed most photos - overexposure! The photos - beach entry, beach flag, and beach cocktail area.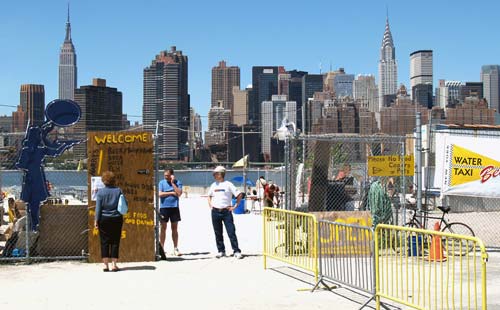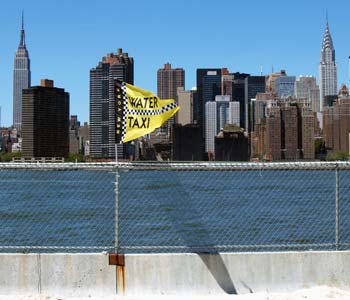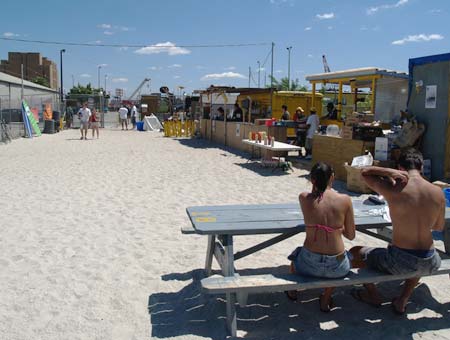 Received Friday, 18 August -
Between B&H Camera at 34th and 9th Avenue and the Apple Store at 59th and Fifth - eiiahh, through Times Square! - this outdoor dining spot just off Fifth Avenue in the 50's - "All beef!" - probably all Kosher. Everything is Kosher in New York City!
And finally -
New York, Friday August 18 - Water Taxi Beach has been a welcome oasis for New Yorkers too lazy to haul themselves all the way out to Coney Island during the recent fine weather. Even though it isn't as blisteringly hot as it was, having a tropical beach five minutes away by water taxi from East 34th Street in Manhattan - equally accessible via subway line 7 in Long Island City, with appropriate ratlands - parking lots, gravel piles, wire fences, junk yard dogs, grim warehouses, odd saloons - it is new world reply to the tidy bourgeois charms of Paris' plage.
The sand is just as fine and the beach volley ball is conveniently at hand, along with sturdy picnic tables, beertaps, barbeques, beach music and a warm breeze flitting along the East River. Tonight's special bonus - available most nights, always for free - is the sundown view, with the sun spreading its mellow yellow behind Manhattan's towers, with the Empire State Building and the Chrysler Building being the outstanding examples.
As Jackie Gleason might have said, "How sweet it is!"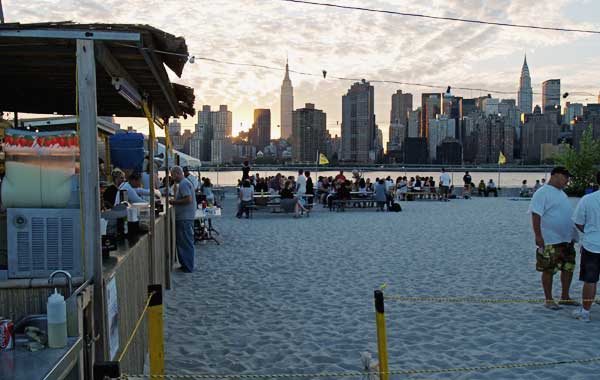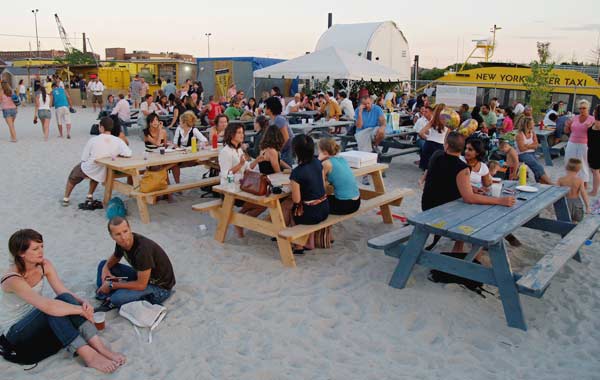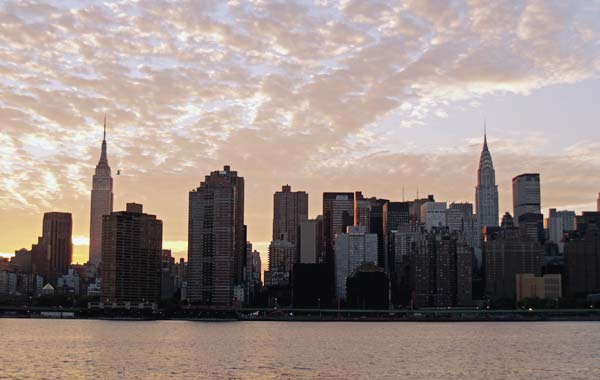 BONUS
Received, Sunday, August 20, 2006 - 10:55 am Pacific Time
__
METS WIN
New York, Queens, Flushing, Shea Stadium, Saturday August 19 - We had to leave the spicy restaurant early because Z's sister wanted to get the free replica baseball cards being handed out to the first 20,000 comers, so she and Cookie went the one subway stop in a limo.
The subway wasn't much slower. What a thrill arriving at Willet's Point, Flushing Meadows, to see all the Mets fans wearing Mets shirts, hats, gloves, sneakers, jackets, hankies, beards, carrying barbeques and game-watching tools such as custom hotdog holders and personal portable toilets.
Z's sister had gotten us tickets in one of the higher balconies, but not quite so high as last time in the freeze-and-bleed zone. The only problem was that the headroom was kind of low, cutting off any view of the night sky, the scoreboard and the sight of the presidential box, wherever it was. We couldn't see the jets we could hear taking off from La Guardia either.
Before starting the game - Mets vs Colorado Rockies - they had a special treat which was to remember the fabulous Mets team of 1986, so they put a big plastic hanky over the infield and had the old team guys line up in slow motion, take a bow and hug each other. After several days of this, after a quarter of the waiting fans refilled their drinks, hotdogs, sandwiches, portable toilets, some dudes in short pants uncovered the field, letting the rain do its worst. I was surprised no one was electrocuted.
The game itself was pretty boring for the first five innings. In the second half of the sixth it became kind of exciting when the Rockies made two errors, a fumble, a flat nose- fall, and a booboo. The Mets were waiting to pounce and pounce they did!
They tricked the Rockies into letting Mets stand on all the bases and then some guy quit ignoring 'balls' and struck at one, giving it a good sock, and Rockies errors did the rest, allowing Metzies to romp in home like they were the kings of New York. I felt sorry for the Rockies. But being a loser in New York is a higher calling than being a winner in Arizona so they should not feel too bad. Maybe they got free replica baseball cards showing famous Metzies too.
Frankly, I am making some of this up. Z's sister got seats so cheap that the view of the field was only a narrow slit and when the home team did something great like take their places on the field, all the true fans right in front stood up and wiggled their arms like an airplane load of snakes. I tried standing up too but it just made the headroom lower.
Anyhow the Mets won somehow. Then we had the pleasure of all leaving the stadium at once and trying to cram on the subway line 7 for the ride back to civilization. For some reason there were only a few trains for 55,000 of us but we were winners so what did we care? Being a winner in New York is like having a Tour Eiffel with free hotdogs.
As Jackie Gleason used to say, "How sweet it is!"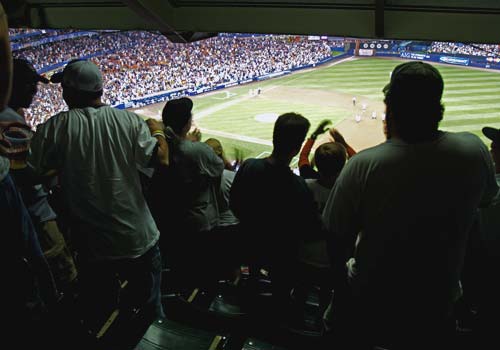 Text and Photos Copyright © 2006 - Ric Erickson, MetropoleParis