The Hyatt on Sunset (8401 Sunset Boulevard) - the "Riot House" where members of Led Zeppelin used to ride motorcycles through the halls. Little Richard still lives in a penthouse suite. Room 1015 is where Rolling Stone guitarist Keith Richards mooned the world and dropped a television set out the window. The east wall, Wednesday, March 1, 2006.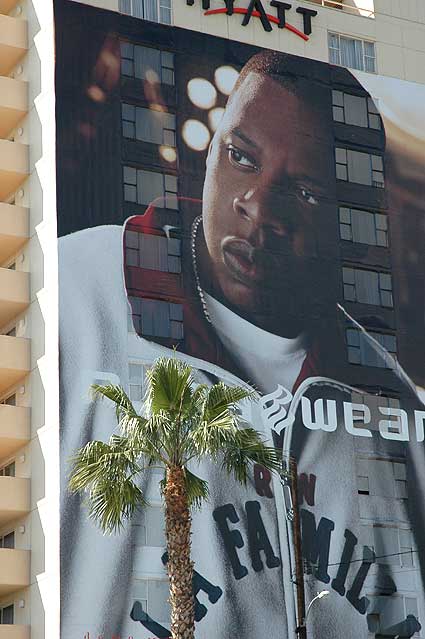 Across the street, The Argyle Hotel (Sunset Tower) at 8358 Sunset Boulevard –
Designed in 1929 by architect Leland A Bryant, the Sunset Tower was a landmark from the moment it opened. Its dramatic siting on the Sunset Strip and elegant Art Deco styling, together with its proximity to the famous restaurants and nightclubs of the 30's and 40's, contributed to its appeal.

... Former residents include Howard Hughes, John Wayne, Billie Burke, Joseph Schenck, Paulette Goddard, Zasu Pitts, and even gangster Bugsy Siegel.

... The building has appeared in a number of films, including Wayne's World Part II, Get Shorty, The Player, and Strange Days. Recently, it was the setting for interviews with Ringo Starr for the Beatles Reunion TV special. Its first literary mention was in Raymond Chandler's Farewell My Lovely. In the first film version of that novel, Murder, My Sweet (1944), the line from the book is used as dialogue, making it the first screen reference to the Sunset Tower.

... Most of the exterior surface is smooth concrete, the windows forming a pattern of vertical bands which draw the eye upward and emphasize the height of the structure. Faceted windows accent the corners of the building. Above the street entrance and along the building's set-backs, plaster friezes express a tangle of images, some typical of Deco design, others the product of Bryant's creativity. Flora and Fauna, mythological creatures, zeppelins, and even Adam and Eve share the space comfortably. Atop the tower are engaged pylons and a pineapple finial. In a playful reference to its use, sculptured panels depict the radiator grille of a 20's automobile over the entrance to the garage at the rear.
There's this odd detail –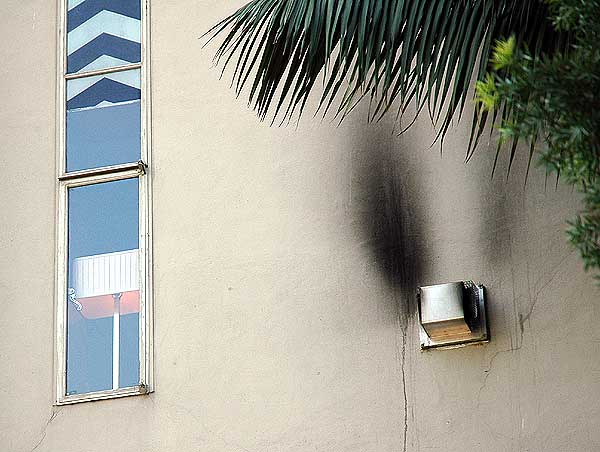 How about a wall of Art Deco windows?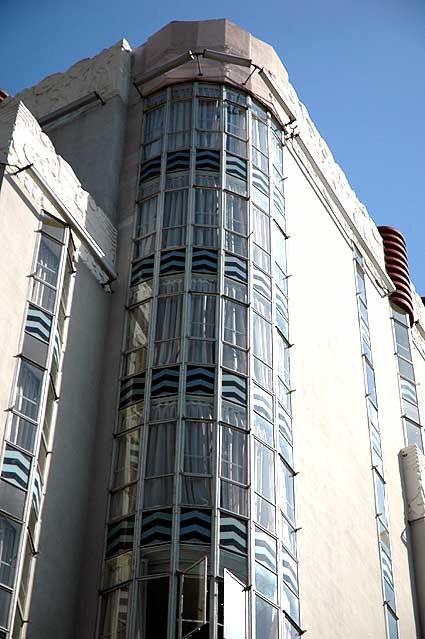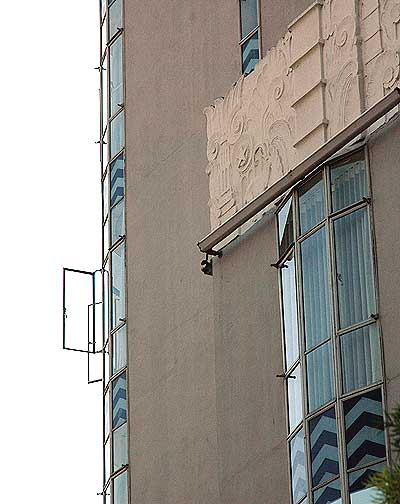 And more…
If you use any of these photos for commercial purposes I assume you'll discuss that with me.
There is a copyright notice at the bottom of this page, of course.
These were shot with a Nikon D70 – lens AF-5 Nikor 18-70mm 1:35-4.5G ED
They were modified for web posting using Adobe Photoshop 7.0
The original large-format raw files are available upon request.
_