Hollywood, Sunday, March 5, 2006 - The seventh-eighth Academy Awards will be presented soon, at the Kodak Theatre at the Hollywood and Highland Center. That's just a mile or two east, so it's a good day to stay home. It's whacky out there. At four in the afternoon from the office window you can see, and hear, one blimp, six or seven helicopters - aerial coverage of the event - and four fixed-wing little planes pulling banners. One assumes they're all in communication with each other, but it's in the mid-sixties and clear all the way up to the layer of stratus at thirty-five thousand feet. Visual flight rules apply - the dark clouds and rain are to arrive at midnight or later. (Elton John's "after Oscar" party is scheduled for the Pacific Design Center's outdoor plaza just down the hill, and the Rolling Stone-Us magazines' party at another plaza there, so the rain may be a problem later.)

The blimp is the "Ameriquest Soaring Dreams Airship" - part of the company's program geared toward inspiring children to "go for their dreams." (The program's website here and their photo album here).
Ameriquest is a mortgage-lending company based down in hyper-Republican Orange county, and the founder and CEO, Roland E. Arnall, went for his dreams. He's heading for Amsterdam. Late in the afternoon, February 8, he was confirmed as our new ambassador to the Netherlands. Well, he did raise a whole lot of money for the Bush-Cheney campaigns. The confirmation came sixteen days after his Ameriquest Mortgage Company agreed to pay 325 million to settle allegations of unfair lending practices by regulators in forty-nine of the fifty states and the District of Columbia. It seems a lot of less than wealthy folks were paying some outrageous fees and others were getting suckered into deals they couldn't possibly afford, the getting stripped of everything. Very inspiring. The Los Angeles Times covers the confirmation here. Ah, platitudes about inspiring the children and secretly ripping people off - this particular blimp is just right for Hollywood, the land of dreams, opportunity and opportunists.

And one of the banners is this, below. "Fox Stole Ivy's Scrat"

"Fox Stole Ivy's Scrat?" What?
The Ivy here is "Ivy Supersonic" (Ivy Silberstein). Her website is
here
- it seems she creates "cartoon character concepts." In 1999 she created a character named "Sqrat" (squirrel plus rat) - a trademarked name and concept. She registered it and everything. And Fox will soon release
Ice Age: The Meltdown
, a sequel to their first CGI animated "Ice Age" cartoon that did so well. The characters in both include "Manny the woolly mammoth, Sid the sloth, Diego the saber-toothed tiger and the hapless saber-toothed squirrel known as Scrat."

Ivy is pissed. The first movie and now this, with her trademarked character - or close enough. She's sued Fox for a cut of the profits. They say her case is without merit. The case, over the alleged theft of her trademarked and licensed cartoon character, is still pending. She's got ads running in the Hollywood Reporter and Variety - "They Stole the Shirt off My Back... Where is the Justice?"
"Fox Stole Ivy's Scrat" has been on posters, postcards, taxi cabs, MTV and Comedy Central commercials and her site has had over a million hits. The banner flew over the Grammy awards thing downtown a few weeks ago. It'll been flown over Fox headquarters here in Los Angeles on and off all month.

This is a mean town. Watch your back.

The air traffic - gone by five (eight, primetime, back east) as the ceremonies began.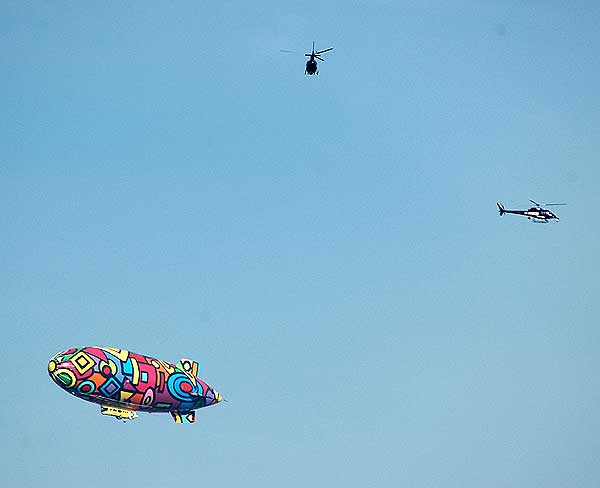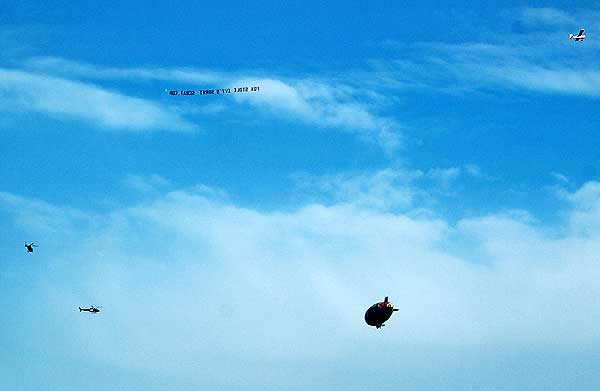 If you use any of these photos for commercial purposes I assume you'll discuss that with me.
There is a copyright notice at the bottom of this page, of course.
These were shot with a Nikon D70 – lens AF-5 Nikor 18-70mm 1:35-4.5G ED or AF Nikor 70-300mm telephoto.
They were modified for web posting using Adobe Photoshop 7.0
_