As mentioned last week there was that poll to find the one hundred songs, movies, television shows and books that "changed the world" - in the opinion of musicians, actors and industry experts. In the poll, conducted by the UK magazine Uncut, Bob Dylan's "Like a Rolling Stone" (1965) won, Elvis Presley's "Heartbreak Hotel" came in second, third was the Beatles' "She Loves You" and the Rolling Stones' "(I Can't Get No) Satisfaction" was fourth.

But the Stones are roaring back in some sort of attempt to change the world, or at least to be engaged in the world. In a Newsweek puff piece in the August 15 issue - Satisfaction Guaranteed: They're not exactly a boy band, but there's no denying the bad-boy appeal of the Rolling Stones. Now they're back - again - with a new CD and tour… - we get a human-interest insider profile of what they're up to. On the surface that would be a new album, A Bigger Bang, to be released on September 5 - proceeded by the single, "Streets Of Love" on August 22. The tour begins in Boston on August 21.

This is newsworthy? One paragraph seems to be. This one has a whole lot of folks on the right up in arms –
Jagger and Richards say they worked together more closely on "A Bigger Bang" than they have in years, partly because Watts, the only other original Stone, was battling throat cancer. "We were sitting across the table looking at each other," says Richards, "like, 'You. Me. That's all there is.' It was all built on two acoustic guitars, and in such a sparse and stripped-down way that if you tried to elaborate on it later you'd lose the whole essence of it." The Stones' new music sounds more spontaneous than most of their recent efforts, and Jagger sounds angrier than he has in years. Since the band's last studio album, Jagger has ended his 23-year relationship with wife Jerry Hall, and was taken to court over an illegitimate child he fathered with a Brazilian model, which may explain such lyrics as "Oh no! Not you again, f---ing up my life/It was bad the first time around/Better take my own advice." But the most searing moment, on a song called "Sweet Neo Con," isn't personal but political. "You call yourself a Christian, I call you a hypocrite/You call yourself a patriot, well I think you're full of s--t." "It is direct," Jagger says with a laugh. "Keith said [he breaks into a dead-on Keith imitation], 'It's not really metaphorical.' I think he's a bit worried because he lives in the U.S." Jagger smiles. "But I don't."
It's not really metaphorical? Oh crap.

Of course the tabloid-right site Drudge Report has a full page headline: "JAGGER ROCKS BUSH, RICE: 'HOW COME YOU'RE SO WRONG, MY SWEET NEO-CON'" - yes, in all caps, in black, thirty-six point bold Ariel font. Matt is upset:
Ready to drop in the coming weeks, a new Bush-bashing tune from the ROLLING STONES: "Sweet Neo Con."

"It is direct," Mick Jagger says with a laugh to fresh editions of NEWSWEEK.

The full lyric also mocks National Security Advisor Condoleezza Rice.

News about the song surfaced a few weeks ago with many expecting that it would not make the finally cut on the new CD, A BIGGER BANG.

... Jagger once vowed not to comment on the political process in the United States.

"I feel very much at home in America. I've spent half my adult life here. I have many personal feelings. But I'm from the school that considers it impolite to comment on other people's elections. Now if I had the vote - and I should have, as I pay so much in taxes - I would have a lot to say."

Now with the elections long over, the tongue is unleashed!
Yep, Jagger is an ungrateful fraud, says Matt. How could he do this?

As you recall, Matt Drudge is the fellow who broke the Monica Lewinsky story. He has a nose for what outrages the moral right. The kinds of things he's recently noted?
AGUILERA: 'PREGNANT SPEARS' CAREER IS DOOMED'
'Let's safeguard socialism': Karaoke Craze in N. Korea
Poll: Western Canadians considering separation... (it's that gay marriage thing)
Giant Blue Statue Of 'Sesame Street's' Big Bird On Man's House Upsets Neighborhood... and so on.
Matt is an excitable fellow. And who knows what he will make of this:
The worlds of music and football will collide this year as the legendary Rolling Stones will partner with the NFL and ABC for a season-long campaign, it was announced today. The Rolling Stones will help kick off the 2005 season from their "A Bigger Bang" world tour with footage from their concert in Detroit as part of the "NFL Opening Kickoff 2005" - a one-hour pre-game special on ABC at 8:00 p.m., ET/PT, Thursday, September 8.

ABC will feature music and video footage of The Rolling Stones throughout the 2005 season in its "Monday Night Football" promotional campaigns and in-game highlight and tease packages. The campaign will feature new music from their highly anticipated CD, "A Bigger Bang," to be released on Virgin Records on September 6, along with hits from their incredible catalog.
Yes, NFL football is right up there with NASCAR in the cultural pantheon of "what is really significant" in the red states. ABC is owned by the Disney Corporation, as in Disneyland, Disney World and all that - the essence of what America is about. Just walk down the flawless Main Street USA at the original Disneyland in Anaheim for sense of that.
And they hired Jagger to do promos? Did they know about the new album and that one new song?

Last Monday evening I found myself in Anaheim with friends at "Downtown Disney" - fake New Orleans food at a fake New Orleans restaurant. A giant complex with everything from a massive Lego store to a giant ESPN sports bar (ESPN is part of Disney too). Thousand of families milling about under the monorail to Disneyland - little kids with their new toys, street musicians hired by the Disney folks (the solo guitarist with his Gypsy-Kings-in-a-box synthesizer was amusing), fireworks at dusk, and wholesomeness everywhere. I cannot imagine Mick Jagger's new tune about Bush and the crew piped in, come September.

Someone at Disney-ABC wasn't paying attention.

But then, perhaps in the next Uncut poll The Stones will rank higher in the listings.

The Rolling Stones seem to have finally gone political.

Well, things change. Specifically, things very British change, as in this noted in the New York Daily News:
James Bond's new ride in his next movie, "Casino Royale," is likely to leave fans feeling a bit like the superspy's favorite vodka martini - shaken, not stirred.

That's because Bond will be at the wheel of a cheap Fiat Panda, a Polish-made econo-box that sells for about $15,000 and goes from zero to 60 mph ... eventually.

Not only is it a far cry from the luxurious - and fast - sports cars 007 typically favors (the Aston Martin V-12 Vanquish is just one example), a Fiat flack said the Panda signals a stunning lifestyle change for the skirt-chasing secret agent.

"We've seen James Bond always with beautiful women and luxury cars," Lapo Elkann said. "But maybe now he will get married, have children ... and will need a Panda!"
While Pierce Brosnan, who has played Bond since 1995, hasn't officially signed on for "Casino Royale," he apparently digs the Panda. "Pierce Brosnan was so enthusiastic about the car that he immediately bought one," Elkann said. Of course, Bond's Panda will be tricked out with deadly high-tech gizmos not found on the popular proletarian model in Europe ...
Oh no!

Pierce Brosnan lives just up the way in Malibu. Just Above Sunset has been doing photography there recently (see this, this and this) and we saw no Fiat Panda anywhere, but we do note here you can rent Pierce Brosnan's beach house in Malibu for July or August. Perhaps the Fiat Panda is in the garage, but at a hundred grand a month, it's hard to be that curious.

So James Bond will now drive a Fiat, and Mick Jagger gets all left-wing political. What a world.
__
Note from Paris:
Ric Erickson, editor of MetropoleParis comments:
Fiat might make Pandas in Poland, but they (used to) make them in Italy and there was a SEAT version in Spain. However none of these are as classic as the original Fiat 500, or as marvelous as the one captured last Wednesday evening in the Rue de Seine. Too bad James Bond isn't hip, and is uncool.
Ric's shot from the streets of Paris –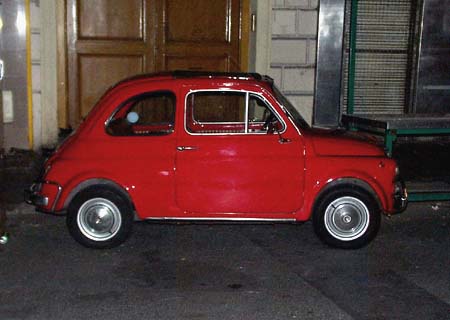 Arnold Shwarzenegger and the Stones:
See this (AP via CBS):
Concert tickets for major acts are costly, but $100,000 to see the Rolling Stones? That's the price to join Gov. Arnold Schwarzenegger in a luxury box at the Stones' Aug. 21 show at Boston's Fenway Park.

The event will cap a multi-state fundraising swing that begins next week for Schwarzenegger's Nov. 8 special election.

Schwarzenegger will host a private reception for 40 guests who give $10,000 each to his campaign account. Guests contributing $100,000 apiece will be invited to watch the concert with Schwarzenegger in a luxury box.

The concert event was arranged after mortgage lender Ameriquest, the lead sponsor of the Stones' 2005 tour, offered Schwarzenegger more than three dozen center stage and luxury box seats. …
Now the California Nurses Association (CNA) likes to point out that the major drug companies nationwide are leading the charge to raise nearly a hundred million dollars million dollars to back Schwarzenegger's "special" election this November, and they claim those companies all have plans to profit by re-writing California healthcare policy to serve their bottom line. And they are still a tad grumpy that it was leaked that Shwarzenegger has a new political strategy to paint the nurses, firemen, teachers, and cops out here as money-grubbing privileged whiners (last December he told the nurses he would "kick their butts" because they want to increase nurse-to-patient ratios). He wants to rally folks behind this idea: the pension plans and benefits of nurses and teachers and such are way too rich and the state doesn't need to support them. It's a populist thing – the idea is that they, and their evil unions, are the bad guys, and Arnold is for the little guy. Damn those high-living teachers and nurses! Whatever.
The California Nurses Association (CNA) reacts to the Stone concert story with this:
Dear Boston Rolling Stones Fans,
This Sunday Governor Arnold Schwarzenegger will join you at the Fenway Park concert. His guests, likely to include some of MA's biggest corporations and most devoted Republican funders, will be paying $100k to hang out with the Governor.
Isn't ticket-scalping illegal?
The 'cheap seats' will be section B4 - this is where the little corporations (those only coughing up $10k of their shareholders' money) will be seated. Turn and say hi. And know that the money raised is going to cut school funding, attack nurses and other union members, subsidize drug companies, and restrict choice/privacy rights.
Dear Mick - how about changing "My Sweet Neo-Con" to "My Sweet Schwarzen-Con?"
Best,
California's Nurses
The full story is covered in the San Francisco Chronicle here.
The current Schwarzenegger scandal is here - American Media, publisher of the National Enquirer and the other tabloids, and those muscle magazines, was working with Arnold to pay hush money to various women to keep nasty stuff out of the news before the last election. Last month it was this: Gov. to Be Paid $8 Million by Fitness Magazines: The publications rely heavily on advertising for dietary supplements. Schwarzenegger vetoed a bill that would have regulated their use. Yes, American Media did make Schwarzenegger executive editor of Flex and Muscle & Fitness magazines - they reached its agreement with Schwarzenegger on Nov. 15, 2003, two days before he was sworn in as governor. The deal was to pay him, by the company's estimates, at least eight million over five years - and no less than five million. He's now turned down the money. Says he really doesn't need it. But damn those high-living teachers and nurses!
This coming week this is what he's up to -
August 17: A $500-per-person event at the National Orange Show in San Bernardino.

August 18: A "private dinner" at the Sutter Club in Sacramento, where $100,000 buys six VIP table tickets - two tickets at the head table with the governor - and three photos with Schwarzenegger.

August 19: A Lake Tahoe "evening of casual elegance" at Shakespeare Ranch in Glenbrook, Nevada, sponsored by Nevada Governor Kenny Guinn and other Nevada politicians. The $25,000-per-couple "Platinum" tickets buy a host reception, cocktail reception, a photo with Schwarzenegger and seats at his table.

August 20: A $25,000-per-person fundraising barbecue dinner in New Jersey with GOP gubernatorial candidate Doug Forrester.

August 21: The Rolling Stones concert in Boston.
I'm sure he'll have fun.
Yeah, out here we elected him by a landslide. But he was so nice in Kindergarten Cop - supportive of the kids and catching the bad guys and all that. And he said he wasn't going to be like any other politician. You'd think after George Murphy and Ronald Reagan we'd have learned – but even they were marginally competent.
Boston readers – drop by and say hi to Arnold.