Sometimes the news just comes to you. Tuesday, August 9, just before six in the evening here in Hollywood, as the light got long, the neighborhood was filled with the sound of helicopters in the air and sirens on the ground. Here, one block below Hollywood Boulevard and one block above Sunset Boulevard, one gets used to a low-flying helicopter now and then, hanging around for fifteen or twenty minutes, fifty feet up and making lots of noise. (There is a bit of crime here.) But six helicopters?

Glancing out the window, I saw we had a serious brushfire up in Nichols Canyon, less than a mile away. The red and whites were dropping water, and the news choppers were grouping themselves a few thousand feet above them. So I took some pictures. In addition to these below, a collection of twenty-one shots, including a map of sorts, is in a photo album here. The fire was pretty much out by eight, as it got dark.
One of these photos and link to the first posting of these the same day on the daily web log As Seen from Just Above Sunset was carried in LA Observed here. The next morning, August 10, the Los Angeles Times covered the fire in Up to 60 Homes Escape Blaze in Hollywood Hills - the fire seems to have been accidentally started by some homeless folks in the hills fixing up some dinner. The following day, August 11, the Los Angeles Times covered that in Fire Brings Attention to Homeless in Hills and Canyons - a long background item with the subhead "Most of the time, transients and residents coexist in peace, but blaze in Hollywood Hills raises concern." The celebrities, their agents and the industry executives aren't the only strange people living up in the hills.
Here's Tuesday:
The start of the fire as seen from balcony off the living room ...
From the second bedroom (office) window, using the telephoto lens ...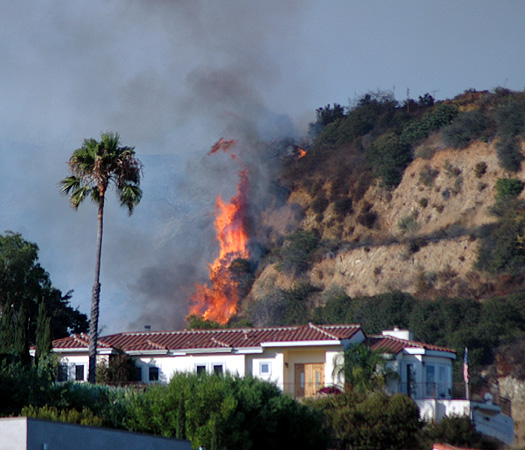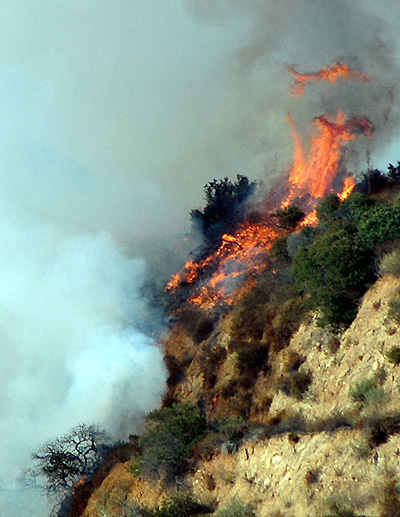 Dropping water ...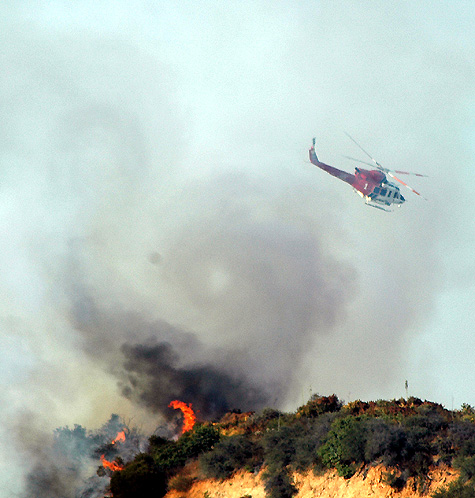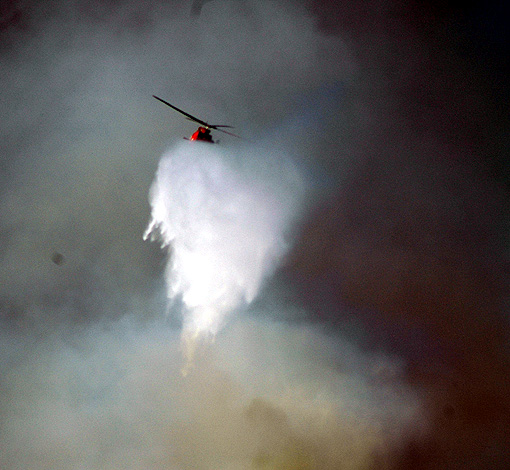 Another spectator ...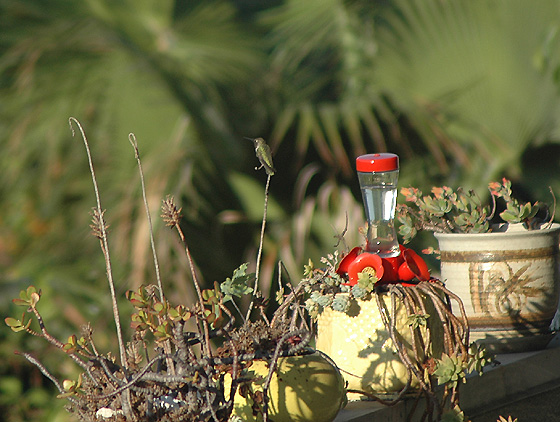 Four days later, Saturday morning, a deep marine layer making all of Hollywood damp and dark, this …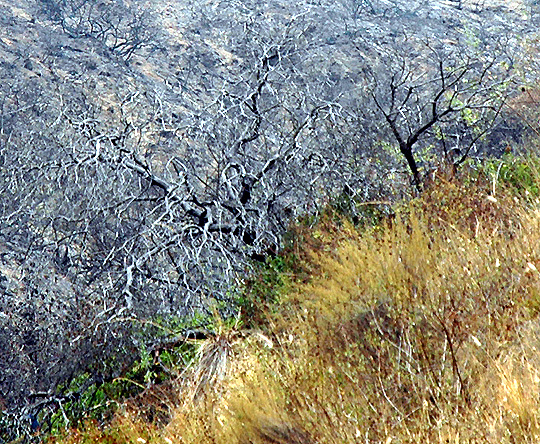 If you use any of these photos for commercial purposes I assume you'll discuss that with me.
There is a copyright notice at the bottom of this page, of course.
These were shot with a Nikon D70 – lens AF-5 Nikor 18-70mm 1:35-4.5G ED or AF Nikor 70-300mm telephoto.
They were modified for web posting using Adobe Photoshop 7.0
_




Copyright © 2003, 2004, 2005, 2006 - Alan M. Pavlik
_______________________________________________
The inclusion of any text from others is quotation
for the purpose of illustration and commentary,
as permitted by the fair use doctrine of U.S. copyright law.
See the
Details
page for the relevant citation.
This issue updated and published on...
Paris readers add nine hours....
________