PARIS - Wednesday, October 5 - As usual, the exact results of yesterday's national protest against the government of France are unclear. As usual there is an argument about the numbers of protestors. The CGT union 'provisionally' estimated that 1,147,290 demonstrators marched in 150 towns and cities. Only 470,000 was the guess of the national police.

The demonstrations were organized by all of the unions in France. Their members were protesting against the government's economic and employment policies, and against falling or stagnant purchasing power. Yesterday's action followed a change of government leadership and was a virtual re-play of a similar day of mobilization earlier this year on March 10.

As usual the parade in Paris began at the Place de la République. A half hour after its beginning the leaders were within sight of Bastille, filling the wide boulevard, followed by hundreds of thousands rather than tens of thousands claimed by police counters.

Not quite as usual, marchers carrying banners and protest signs included many private sector employees rather than just public workers. French employees of British Air were taking part in their first protest. As an all-union affair, it appeared as if all were represented, including leftist political personalities and civil rights associations.

A BVA poll published on Tuesday indicated that 72 percent of the French thought the day's protest justified, with 25 percent opposed. The same poll found that 62 percent did not view the government's economic policies with favor, a figure actually up seven points over a similar opinion poll conducted when Jean-Pierre Raffarin was prime minister.

The same poll also revealed that confidence in the economy and with the unemployment situation is low, with 75 percent of the French being doubtful about both.

Yesterday's labor action included many transport strikes in Paris and other towns and cities. Passengers, in interviews for TV-news, applauded the effect of 'minimum service.' This is a measure whereby the SNCF and the RATP 'guarantee' enough service so that commuters can come and go.

From a Parisian viewpoint, service was about the same as on any other 'total' strike day - roughly 50 percent. As a result some Métro lines in Paris were operating a near-normal timetable, but other lines were spotty. Outside of Paris bus service disappeared completely in some areas.

In one way yesterday's labor actions may have been a semi-failure. Announced long in advance, during a time when employment and working conditions deteriorated, just matching last March's score for demonstrations and strikes might not have sent a forceful enough message.

Afterwards Prime Minister Dominique de Villepin said, 'I hear the message that the French are sending us. The whole government hears the message.'

The general secretary of the powerful CFDT union group, Fran¿ois Chérèque, reminded all that this was the fourth all-union demonstration this year, adding, 'which shows that nobody is listening.'

At today's cabinet meeting to discuss the political situation, minister of the interior Nicolas Sarkozy found it necessary to excuse himself because of a headache. UMP members who support Dominique de Villepin said they could not imagine the political significance of it.

On the left side of the chamber Socialists wondered if Monsieur Sarkozy desired to quit the government in order to campaign for president.

Meanwhile there continue to be slightly less than two million unemployed in France while more are being laid off daily. The budget is overly creative, the estimate for growth is overly rosy, and the affair of who will own how much of the SNCM ferry service between the Côte d'Azur and Corsica is still in suspension.
The photos:

Photo One: The Leaders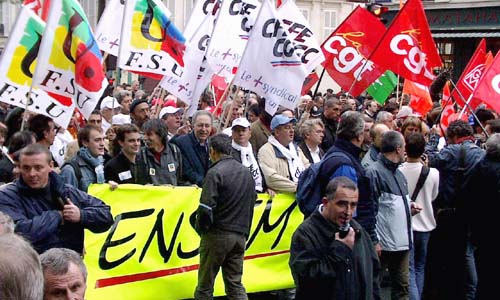 Photo Two: The Parade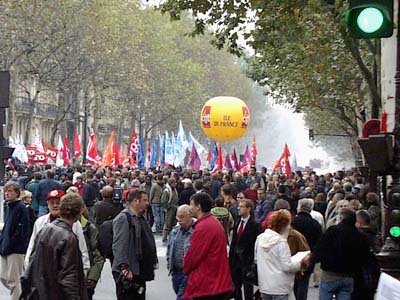 Photos Three and Four: Flares and Smoke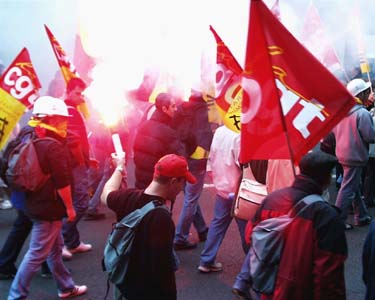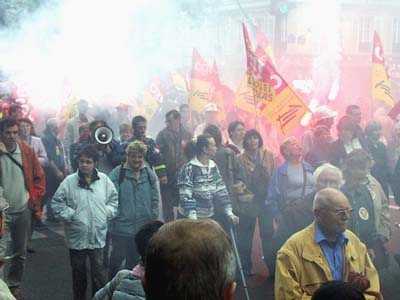 Photo Five: International Participation - British Airways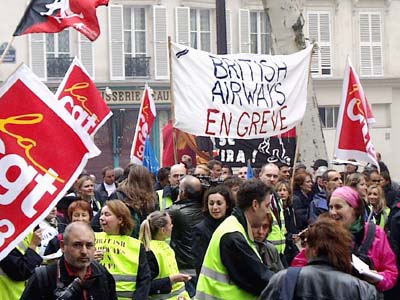 Photo Six: International Participation -
Local 9423
of the Communications Workers of America ("The Union for the Information Age"), from way out here in California - from San Jose, actually. Read their resolution again the war in Iraq
here
.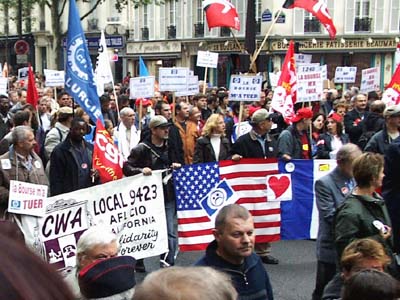 Photo Seven: Those with no papers being harassed -
Photos and Text Copyright © 2005 – Ric Erickson, MetropoleParis