Tuesday, October 4, 2005 – from Hollywood, drive west on Sunset to the sea, then north at the very edge of the ocean on Pacific Coast Highway to Malibu, turn right on Topanga Canyon Road. Drive far up into the mountains on a twisting road with sharp drops into nasty, deep gorges if you're is not careful. Then the community of Topanga, about six thousand residents, and home to those who play by their own rules - once the blacklisted in Hollywood, then counterculture types (Neil Young, Jim Morrison), now a mixture of folks who won't ever give up the hippie thing, the rich, the famous and the eccentric. Topanga - an old Shoshonean word that can also be used in reference to the sky or heaven. (More information here and here.)
A full photo album, thirty-eight shots, here. Below, in higher much higher resolution, what it looks like there…
Hungry after the drive? Coffee, Food, Surfboards -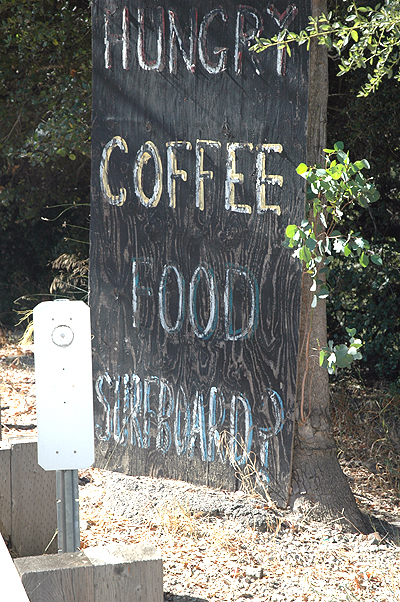 Who lives here, across this bridge made from an old boxcar?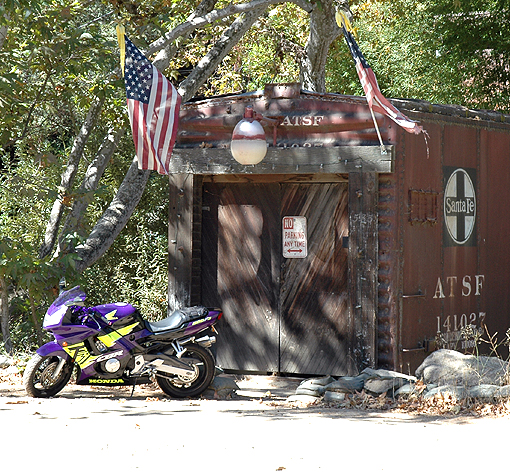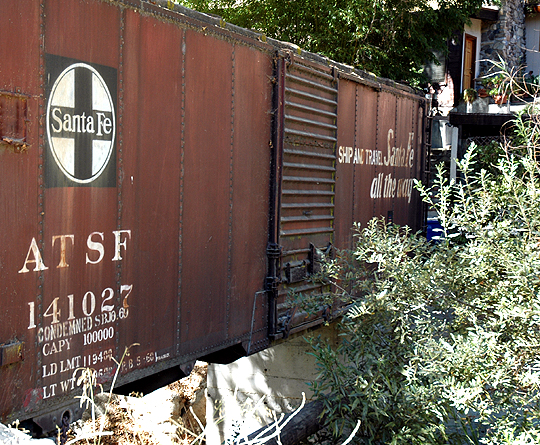 Up the canyon, these folks just use an arch across Topanga Creek -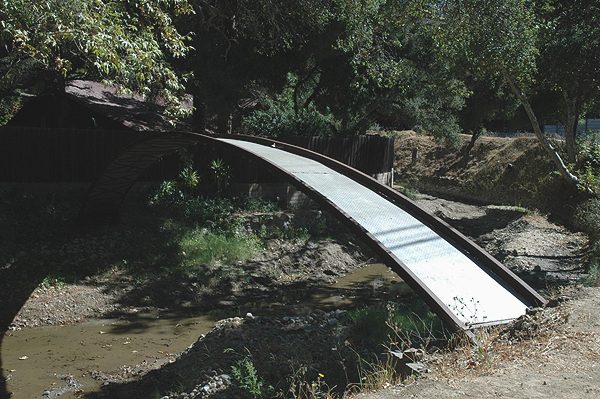 Up the road, the box office at the Will Geer
Theatricum Botanicum
- his outdoor theater for the blacklisted – a cliff-side amphitheater founded by television's Grandpa Walton as a refuge for blacklisted actors, like him, in the McCarthy days. Geer was blacklisted from films and television for refusing to testify before Congress' House Un-American Activities Committee. During Geer's life he and wife Herta Ware, who passed away this summer, made this spot a guest home to friends like folk singer Woody Guthrie and Pete Seeger. Still in operation – with live theater and an annual blues festive. This summer they're doing
A Midsummer Night's Dream
, which seems appropriate.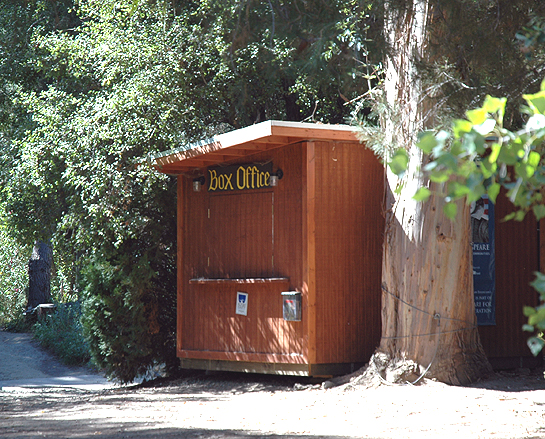 Turn left at the "Hair Man" to get to the Inn of the Seventh Ray on Old Topanga Canyon Road -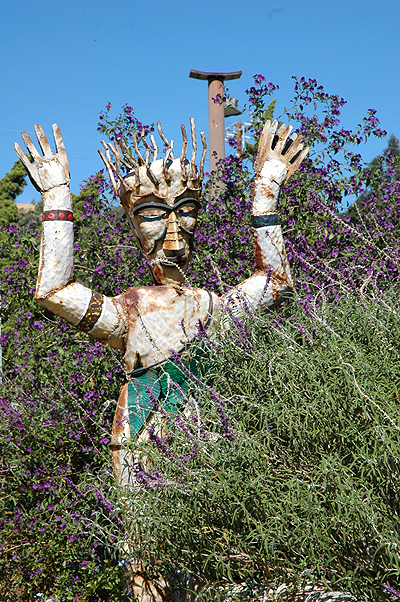 Buddha things and crystals and incense - an outdoor restaurant with soft Asian "trance" music in the background - the
Inn of the Seventh Ray
- "
We, at the Inn, believe in giving you the purest of Nature's foods, energized as a gift from the sun with a dash of esoteric food knowledge and ancient mystery school wisdom tossed in for your seasoning and pleasure. It may just raise your body's light vibration and the extra work may cost you a few pennies more, but we believe in the long run, this way of living and eating may prove less expensive. Your body elemental, that selfless, shy, invisible little fellow who works so hard to keep the oft mistreated human machine going, will jump with joy for your choice of this eating establishment. He prays and hopes you will return soon to make this a pleasant ritual with each return being a new celebration in honor of taking a small step on the path of good dinning and good doing
." Okay then. Stare at the trees. Have an experience.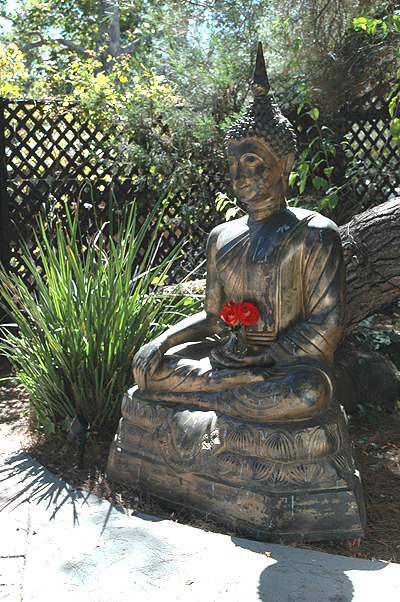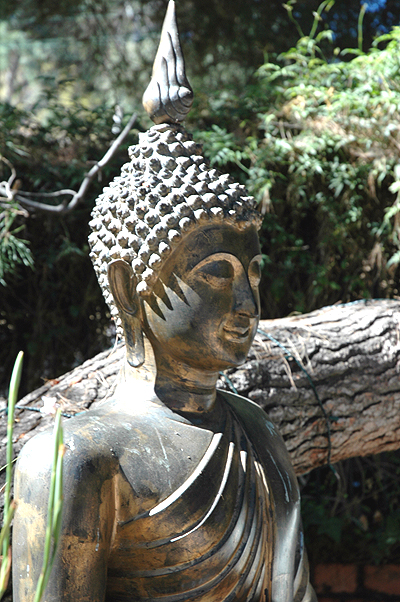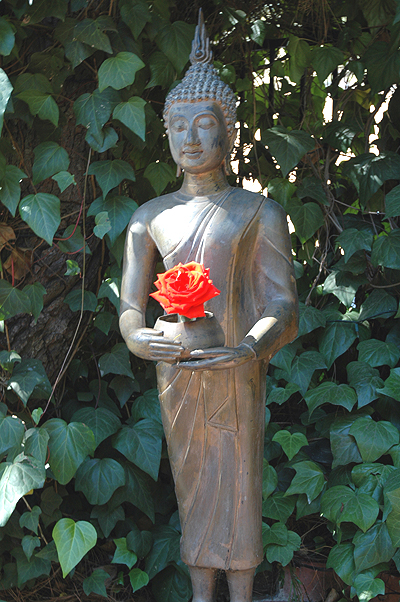 At The Inn of the Seventh Ray - the expected bookstore and gift shop -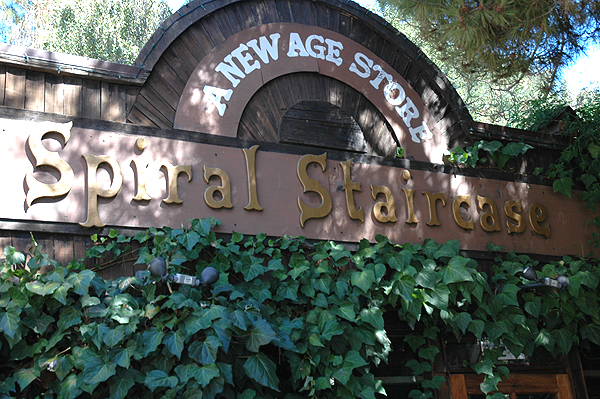 Far out on Old Topanga Canyon Road, "Rake Man" -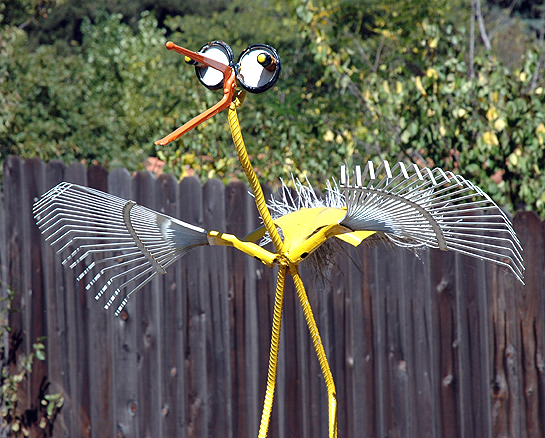 Far out on Old Topanga Canyon Road, a Studebaker Coupe from around 1953, which may not have moved since then -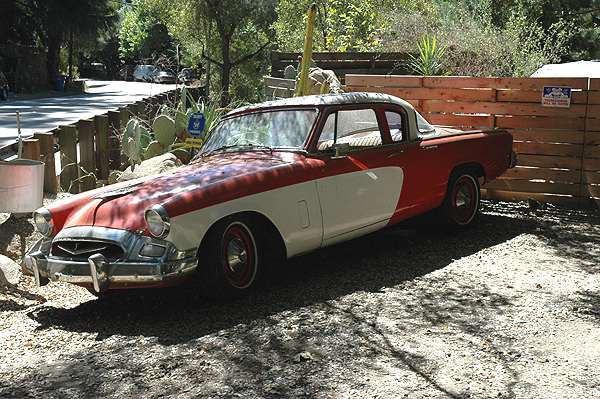 The Doors supposedly wrote "
Roadhouse Blues
" about the Topanga Corral. But it's gone now. But there is this "peace flag" -