Yes, that's really his name, Tom Otterness, and you learn from this in the Los Angeles Times, October 27, that a group of eight of his sculptures has just been installed on the lawn in front of Beverly Hills City Hall – that's eight of the twenty-five you might have seen along five miles of Broadway in Manhattan from September 2004 to March 2005, or seen a bit later in Indianapolis. Now they're here, where they ought to be, as you'll see below. As he says, "I like to think of them as this row of tanks attacking these different cities, just sort of rumbling along."
"I've heard a rumor that people really like money in Beverly Hills." Thus this –
The big penny –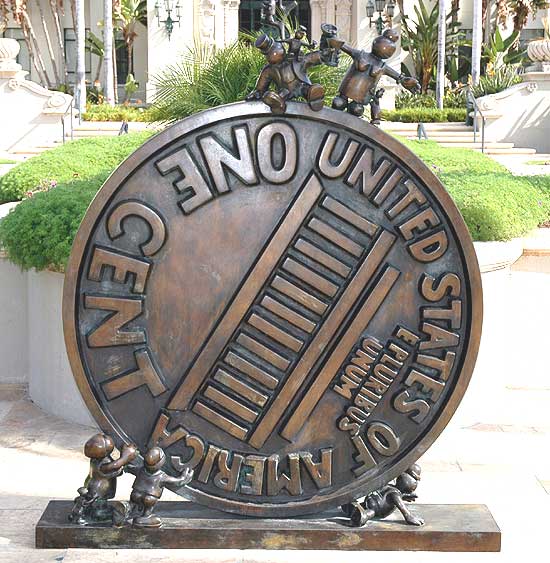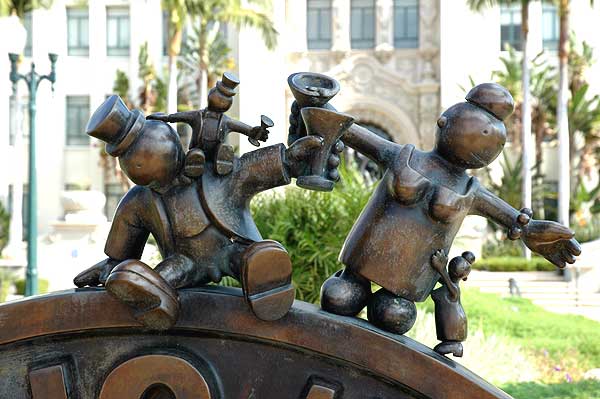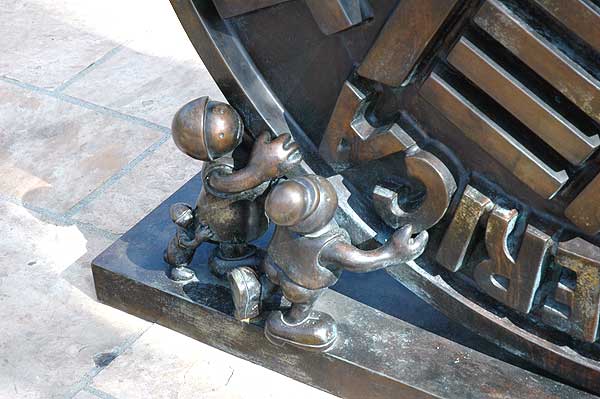 Dancing on the money bag –
Rich man –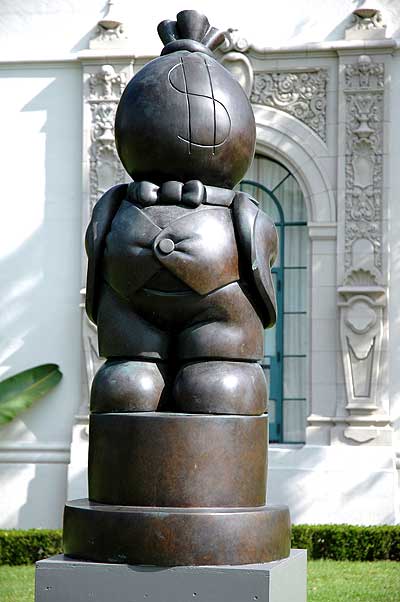 Justice is a blindfolded owl, with a knife behind its back –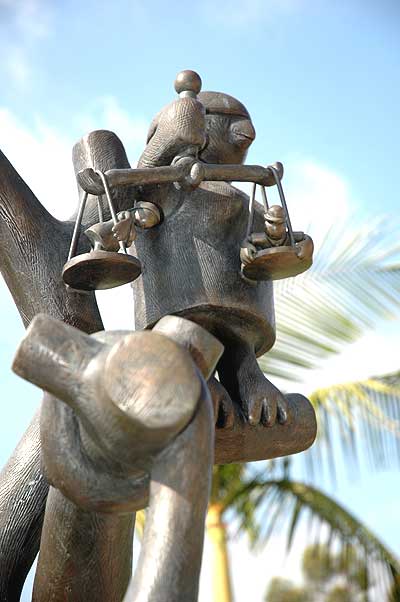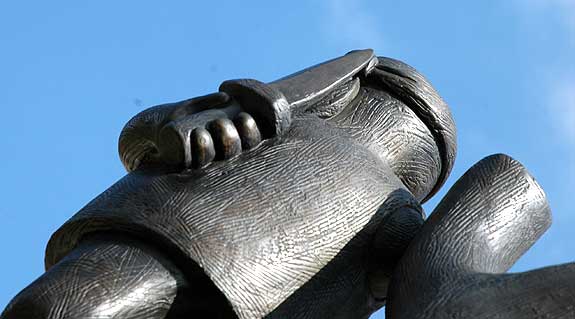 The lawyer is a sloth –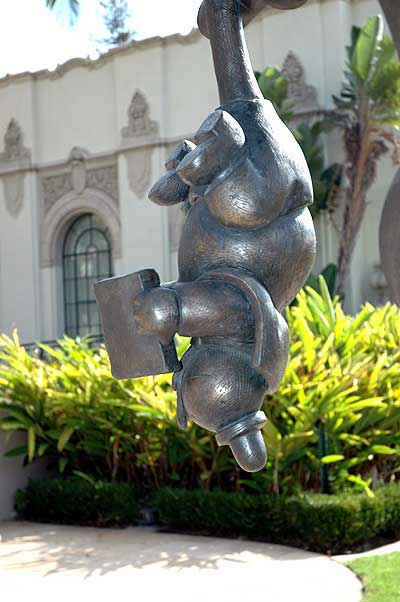 An appropriate trio for any city hall –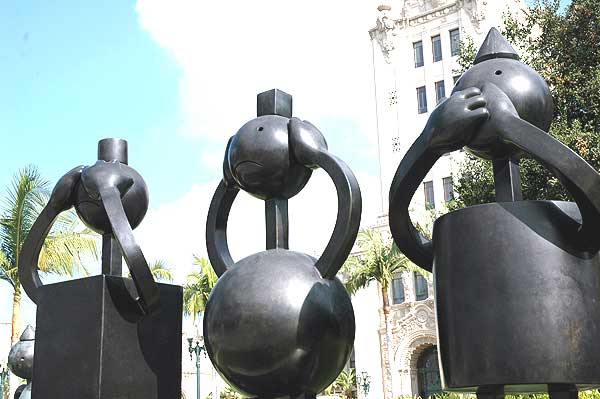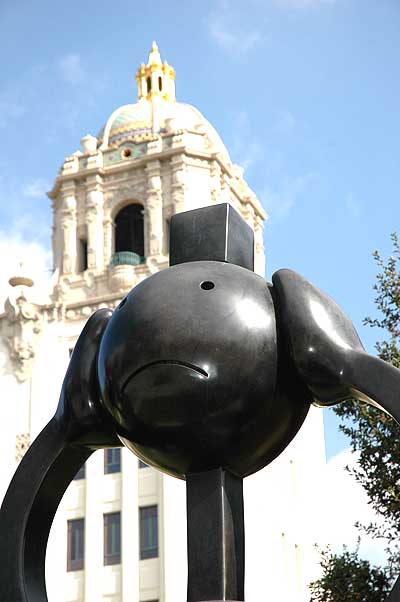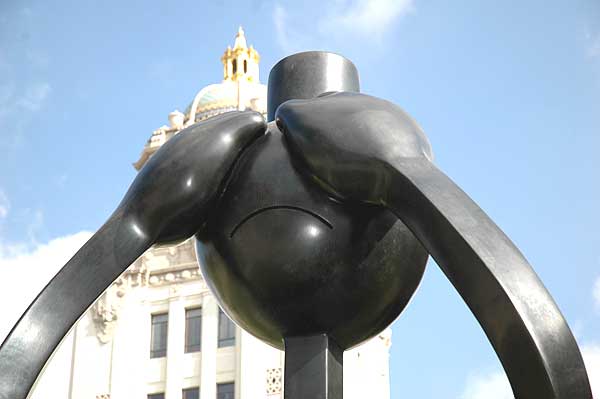 Ah, pioneers!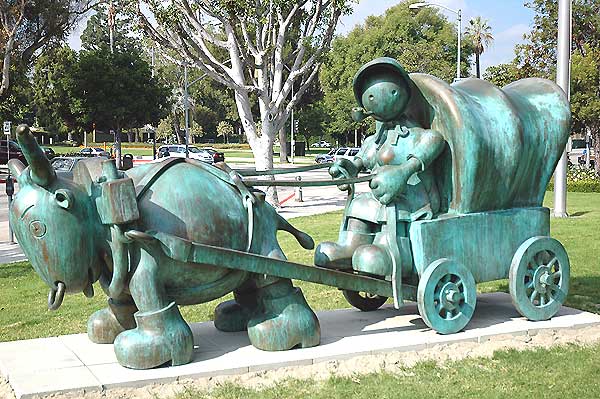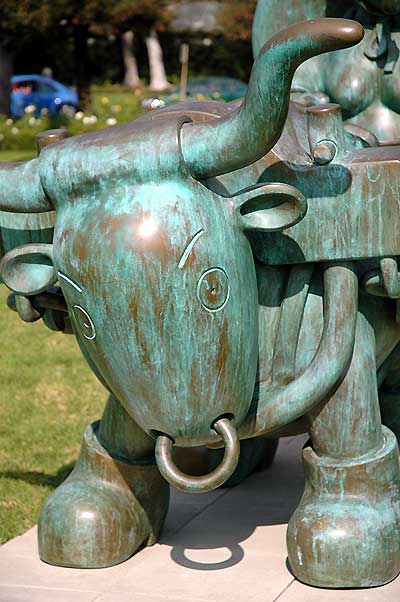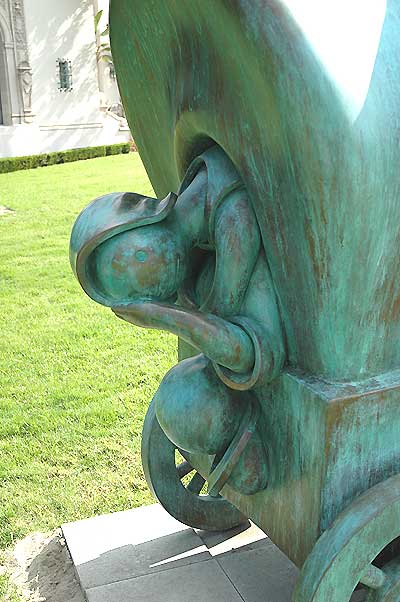 Old and new…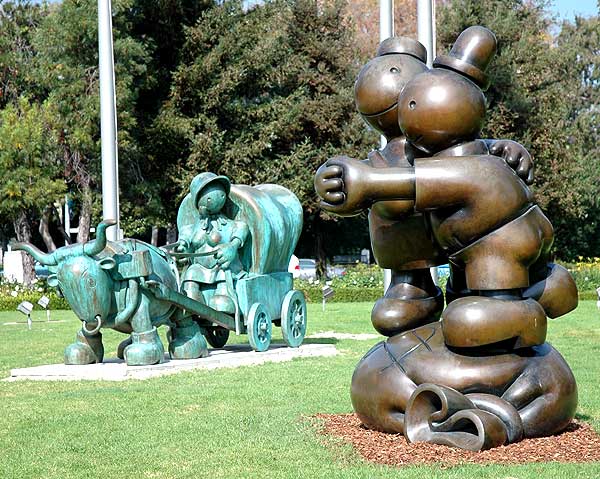 The Times also gives us something else to look forward to:
Although the traveling exhibition has been strictly earthbound, another piece by Otterness will soon take to the air: He was invited to design a giant balloon of Humpty Dumpty, 35 feet in diameter, scheduled to float in this year's Macy's Thanksgiving Day Parade.

"They did a Humpty Dumpty in the 1920s that I liked a lot," he said. "We talked about him sitting on a wall, and then I sort of slapped my forehead and said: 'Oh, upside down — he's in the middle of falling.' He's a bright yellow egg in a red business suit and shoes, with his hat falling off."
The fellow was born in Kansas, but is based in New York now. The parade thing makes sense.
If you use any of these photos for commercial purposes I assume you'll discuss that with me.
There is a copyright notice at the bottom of this page, of course.
These were shot with a Nikon D70 – lens AF-5 Nikor 18-70mm 1:35-4.5G ED
They were modified for web posting using Adobe Photoshop 7.0
All photos, Friday, November 4, 2005 – Beverly Hills, California