Photos and Text Copyright © 2005 – Ric Erickson, MetropoleParis
PARIS - Saturday, November 12 –
Paris 'Quasi-Normal'
On the 16th straight night of urban violence the number of incidents in the Ile-de-France region diminished but increased elsewhere in France. The hottest scenes last night were in Lyon, Toulouse, Strasbourg and Lille.

While 416 vehicles were destroyed beyond the Ile-de-France region, 86 were set on fire in the area surrounding Paris. General Director of the National Police, Michel Gaudin, told reporters that the situation was 'quasi-normal' in the Paris region. The police arrested 206 overnight, bringing the total since October 27 to 2440.

Given menacing rumors police placed an extra 3000 police and CRS officers on guard in Paris. These joined a force 11,620 throughout France. Curfews were applied in communes in six departments, but none so far in the Paris area.

Tonight Nicolas Sarkozy was shown on TV-news inspecting forces under his command on the Champs-Elysées. Earlier he had been reported as saying that a combination of rain tonight and a football match between France and Germany at the Stade de France in Saint-Denis, would 'calm' the troublemakers.
Injunction Against Sarkozy Refused
Saturday: Meeting today, the Conseil d'Etat rejected the injunction sought by anti-racist group SOS Racisme, to prevent the minister of the interior Nicholas Sarkozy from expelling foreigners convicted of violent acts during the current wave of urban unrest. On Wednesday the minister told deputies in the Assembly National that he was instructing préfets to deport foreigners.

SOS Racisme, despite the rejection, noted the argument of the judge, which pointed out that a ministerial declaration could not lead to administrative acts contrary to the law. Apparently the judge considered the fact that the minister issued no order for his directive to be carried out. If it had been, he would have been warned at least, about the legality.

SOS Racisme also pointed out that the actual number of foreigners that could have been deported as a result of an arrest and conviction was no more than 12 - merely one-tenth of the 120 foreigners mentioned to the Assembly National by the minister on Tuesday, November 8.

For his part Sarkozy stated in a press release that he was 'delighted' with the decision by the Conseil d'Etat. "The instructions given to préfets to deport foreigners seriously troubling public order are perfectly legal and not any way an infraction of fundamental rights," he said, adding, "Consequently, in all the cases that the law permits, foreign troublemakers will be deported to their countries of origin. The procedures are in preparation."

Once again Sarkozy has given potential law-and-order fans a reason for cheer without actually doing anything. Who will forget his stirring promise in the Assembly National to deport foreign scum? But who will note that today's injunction failed because Sarkozy failed to do something illegal that he said he would do? That he persists in saying he will do.
Photo: Saturday Night in Paris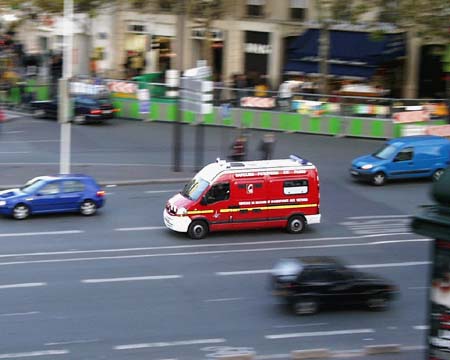 Police Pack Paris on Veterans Day (Armistice Day)
Police Pack Paris
PARIS - Friday, November 11 - Security was reinforced today in Paris to prevent any incidents during the traditional ceremony to mark the end of World War I at the tomb of the unknown soldier beneath the Arc de Triomphe at the Etoile.

The ceremony passed without incident this morning. Jacques Chirac placed the wreath in the presence of World War II veterans and the minister of defense, Michèle Alliot-Marie. The six poilus still living who participated in WWI are all over 100 years old and a bit too fragile for even short ceremonies.

In total, 3000 extra police were mobilized for the long weekend in the city. The préfet of police in Paris decided to forbid all public demonstrations on Saturday, from 10:00 until Sunday morning at 8:00, in reaction to calls for 'violent action' posted on the Web or distributed via SMS messages.

Today's demonstration in favor of urban peace, called by 'Banlieues Respects' for 15:00 at the Peace Wall on the Champ de Mars, drew 250-300 persons. Similar demonstrations are planned for Lyon and Toulouse tomorrow.

Overnight violence diminished again, with concentrations in 20 areas out of 160 communes affected. In Bordeaux police cars parked at the Palais de Justice were set on fire, while the number torched in the Paris suburbs rose slightly to 111, up from 82 on Wednesday night. Throughout France 463 vehicles were destroyed Thursday night. Police arrested 201 persons.

Also on Thursday night, minister of the interior Nicolas Sarkozy appeared on the France-2 TV program 'A Vous de Juger.' He refused the idea of confusing the kids from poor suburbs with hoodlums, saying, "When I say they are hooligans or rabble, I persist and sign - and in no case in this sense do I mean all youth" - repeating controversial terms used in Argenteuil.

Insurance companies have estimated that the cost of damage from the urban unrest is going to total 200 million euros. On TV-news tonight a spokesman said that owners are burned cars would be compensated, regardless of whether they had clauses covering fire.
Marseille Strike Resumes
Transport workers in Marseille voted to resume their strike of municipal buses and the Métro after a five-day pause. Part one of the strike lasted 32 days, causing many residents to become foot-weary, even with a belated system of replacement buses. The employees are protesting against a city plan to have a private company operate the Marseille tram lines when they are built.

Photo - Paris, Friday, November 11, 2005 –
Calmer, But Not Peace

PARIS - Thursday, 10 November –
Although urban violence decreased again last night the authorities are being cautious as the holiday for Armistice Day approaches on Friday, followed by a weekend, when there might by further demonstrations.

Fewer cars were burned on Wednesday night and a police spokesman said there were 'practically no' battles between police and rioters. All the same a police station, two kindergartens, a school and a city hall were targeted by arsonists.

Another 200 were arrested, which has brought the total since disturbances began, to 2033 arrested. According to reports, Michel Gaudin, General Director of the National Police, stated that a hundred of those arrested were foreigners. Of those arrested, 364 have been convicted. Of these, 73 were minors.

On the political front more voices are being raised against the expulsion order of the minister of the interior, Nicolas Sarkozy. There are objections that coupling deportation of foreigners to a conviction amounts to a double penalty - a legal situation not supported by French law, and one recently opposed by the same minister of the interior.

In Paris service stations have been forbidden from selling gas in containers, in an effort to halt the confection of Molotov Cocktails. Police say that rumors are flying around the Internet and via SMS telephone messages, suggesting a confrontation with police in Paris.

A group comprising 160 associations has police permission to form a group at 15:00 on Friday, at the 'Wall of Peace' on the Champ de Mars. The Banlieues Respects collective says participants should have visible white handkerchiefs. The demonstration in favor of urban peace will march towards Denfert-Rochereau. Similar parades are scheduled for Toulouse and Lyon on Saturday.

In another incident Nicolas Sarkozy acted quickly to suspend eight police officers filmed by a France-2 TV-news team, showing some of them beating a young man. The film was shown on tonight's TV-news. The incident, which happened on Monday in La Courneuve, is the subject of two investigations.

A spokesman for a police union said there was no excuse for the conduct, but pointed out that after 14 consecutive nights of urban turmoil many police officers are stressed to the limit and tired.

Editor's Notes:

Pascal Riché is Libération's US reporter. His blog (with Laurent Mauriac) is A l'heure américaine, in French. (It has a cool feature. Double click on any word and an English translation of that word pops up. How did they do that?)

Here he is in English on the riots, a brief item he has cross-posted at TPM Café, home to Josh Marshall and Matthew Yglesias –
Don't believe Fox News. France is not on the verge of a civil war, and what is happening in my country is not a jihad. The riots in the French "banlieues" are nevertheless very serious: they are one of the most serious social crises of the last 60 years. And they signal the death of our century-old "integration model," one of the pillars of the modern French Republic. As the Prime Minister Villepin put it: "We must be lucid: the Republic faces a moment of truth.

The French have always cherished their model of integration, considered as an idealistic and almost mystical process. Its aim was generous: any immigrant, once he or she acquires French citizenship, becomes a citizen absolutely equal to any other. The "République Francaise" would proudly integrate her immigrants without any problems, thanks to her secular schools, her national institutions, her universal values. Regardless of the color of their skin or their religion, they would quickly acquire and embrace French "culture".

For this reason, "diversity", of course, was never encouraged in France. The objective rather was "indivisibility". Immigrants were invited to melt, as quickly as possible, into the French cultural mold. "Affirmative action" - or, even worse, "positive discrimination" - are still are taboo words in France. "Communautarisme" - acting as a community - is a derogatory word in political language. You will never see in France a parade of Vietnamese French or Algerien French walking down the Champs Elysees as you can see Puerto Ricans or Irish celebrating their community on Fifth Avenue. And nobody will ever ask you if you are Black, Caucasian or from North-African ascent.

But during the riots of the past 13 days, Frenchmen have been confronted with the failures of this model, have watched it go up in flames like one of the many torched cars strewn across darkened Paris streets. Every day young rioters have been expressing a deep anger at the French society, even going so far as to burn schools, the ultimate symbol of the "République." Most are not immigrants themselves: they are French citizens, born in France, sometimes even born to parents who were born in France themselves. But they have not been integrated at all. Living in grim ghettos, without jobs, coping daily with discrimination and racism, they feel like they were abandoned by their country.
Riché goes on to explain that the French must now consider something like "affirmative action," but that is unlikely to go very far because of the deep conservatism of the French political elite.

See also Pascal Bruckner in The National Review here - "The riots could only have happened in France."

Ric sent a long post about these two items, but added, "It's a head-bender. Let me think about this before having any of it posted."

Then he sent this:
I can't disagree with Pascal Bruckner but I can't entirely agree with him. I am an immigrant living in France; I was one living in Germany. It is possible I chose this life in order to be a foreigner. Not knowing exactly what is going on around is kind of peaceful. "Go ahead, act strange - it's your country, not mine."
The Republican ideals of France are just that - wonderful ideals.
Perfect on paper, except that they are written in French, which is more poetic than pedestrian. If the 'facts of the constitution' are vague, everybody pretends to know exactly what they are, what they mean. Vagueness results in fuzziness, which it fine because this is what everyone can agree to adhere to.
It is true that everybody who intends to live in France is supposed to become French. This should apply to many adults born in France, but if you are born with French in your pocket nobody is going to test your belief in the constitution. If you are an immigrant, you'll have to pass a test before you get a French passport.
So it means that immigrants may have higher expectations for what 'being French' involves. Liberté, Equalité, Fraternité! Wonderful, hoopla!
One problem is that a great number of French don't believe that a great number of the French are French. People who are not white are not French, that's obvious. If in doubt, an accent might clinch it - golly, some of those accents in the Midi! Those people are Italians or Spanish. They are only pretending to be French.
I could go on an on. The short of it is, if your ancestors weren't born in the Ile-de-France 500 years ago, you probably aren't French. Cross off 30 million people, maybe more.
I see people on TV, people that look white. They get bounced out of job interviews because of their names. Right. They don't have French names! And this can be someone with BAC +5; means French high school and 5 years higher French education, meaning they can speak and write French and give stand-up 30-minute orals, in French. According to the constitution they are 101 percent French. According to the French they are immigrants. Think of what it could be like for somebody who fails getting out of high school. Minus BAC.
Tonight on TV Arte ran a story about this young guy from the ENA, sent to some northern outpost to work with a prefet, the central governments' head administrator of a department. There's this Remembrance Day thing, about the WWI, a big balls-up, killed 30,000 at one blow. This African dude shows up, one of the surviving Senegalese rifles, and wants in on the ceremony. The administrator tries to buy him off - the law changed vis-a-vis colonies when they became former, and the French government locked the Africans' war pensions to that date - 1960 - but, no, the guy doesn't want money. They trick him to Paris and throw him in jail. But the kid springs him. The town's mayor is on the side of the African. He shows up at the ceremony and the government types go batshit; but the end is happy - even though you know that all those government types would do it again, or they do it every day.
That's it. When things are bad in France it is government, or authority, that is doing it. Add the half the people who are more or less racist, and what have you got?
You got guys like De Gaulle - hated, envied, ex-traitor, autocrat, and this is the guy who is a hero because he won over Vichy, but it didn't stop him using Vichy types post-war, 'cause they graduated from the ENA.
France shouldn't focus on its belly button. It will just get tied in knots if it does. The constitution is fine. The middle-class... smug, self-satisfied, either four-square for republican values or four-square against them... another useless 50 percent. And Sarkozy is their leader.
Punditry isn't my game. I think France is worth saving but thinking about how to do it gives me a headache. The whole thing needs rearranging from bottom to top - keep the good and trash the rest.
It isn't going to happen.
First Night of Curfew
PARIS - Wednesday, 9 November –
Reports this morning claimed fewer incidents during the night in the Paris area and around France. It was the 13th consecutive night of disturbances, and the first in which an emergency curfew was put in force in selected areas.

Many fewer cars were burned in the Ile-de-France last night as well as fewer throughout the country. Affected communes were 196, and arrests fell to 280, 50 less than Monday night. An interior ministry spokesman thought the total arrested to be 1830 since the beginning of the disturbances on 27. October.

The curfew plan concerns 25 out of 96 departments in France, with 38 urban areas targeted. Movement of persons, and driving, could be restricted. A curfew can be set for the city of Paris by the préfet of police, but mayor Bertrand Delanoë thought such a measure would be 'disproportionate.'

One such town last night was Evreux in Normandy, where both minors and adults of the Madeleine quarter were subjected to a total curfew from 22:00 to 05:00. Evreux was the scene of extreme violence on Saturday night.

During today's question period in the National Assembly minister of the interior Nicolas Sarkozy announced that he was demanding the deportation of convicted rioters, if they were foreigners, with or without valid residence permits. According to Sarkozy, 120 foreigners have been convicted during the current wave of riots. Right-wing deputies applauded the idea.

In other remarks the short minister lauded the record of a special group of police, the GIR, created to combat the underground economy in the suburbs. He said 1600 investigations have been carried out, resulting in 12,000 arrests, with 3205 jailed.

Opposition politicians from several parties expressed doubts about the wisdom of the curfew, and many questioned the public absence of the president, Jacques Chirac.

Dollar Picks Up
The euro's value compared to the dollar has been falling since summer but the slide has grown more apparent in the past week. For a brief period on Tuesday one euro was worth $1.17, down from its recent high of $1.25 in September. Due to huge trade imbalances, currency specialists believe the value of the euro will climb again before year's end.
Editor's Notes:

From the Associated Press, see this summary of what's up south of Paris, and note who is in the game now:
Arsonists struck a warehouse used by Nice-Matin newspaper in the town of Grasse, national police spokesman Patrick Reydy said. A total of 161 cars have been burned - about half in the Nice area - and nine buildings damaged across the Riviera region.

Interior Minister Nicolas Sarkozy, who previously inflamed passions by referring to troublemakers as "scum," said 120 foreigners have been convicted for roles in the violence, and he called on local authorities to expel them.

"I have asked regional prefects to expel foreigners who were convicted - whether they have proper residency papers or not - without delay," he said.

Far-right leader Jean-Marie Le Pen, in an interview Wednesday with The Associated Press, said French nationals of immigrant backgrounds should be stripped of their nationality and sent "back to their country of origin" if they committed crimes.
Lots of information on Jean-Marie Le Pen can be found here, and Le Pen has been mentioned often in these pages, as on January 16, 2005 in It Was the Week of the Nazi Revival. And it seems Le Pen was born on June 20, 1928, so he shares a birthday with the editor, the guitarist Chet Atkins, Errol Flynn, Nicole Kidman and Brian Wilson of the Beach Boys. He shares nothing else with us.

Curfew Starts

PARIS - Tuesday, 8 November –
After a 12th night of urban turmoil the Council of Ministers met today and decided to instruct préfets to apply curfews if they think they are necessary.

On Monday President Jacques Chirac judged that such a move was necessary in order to 'speed up the return to calm.' The Prime Minister, Dominique de Villepin, announced the decision to declare a state of emergency last night on TF1 TV-news, saying that the violence was 'inexcusable and unacceptable.'

Residents of France showed their concern with an audience score of an estimated 13 million viewers for the newscast.

The curfew law dates from 1955 and has only been used twice in the past 50 years. How it is to function was explained by the minister of the interior, Nicolas Sarkozy. In zones defined by a second decree, pr?fets will have authority to impose measures necessary to maintain order.

Where defined, curfews could go into effect at midnight tonight, and can continue for 11 days, until the law must be re-voted.

Police will also be able to make searches for arms without specific warrants during the 11-day period. Violation of the curfew could result in a two-month term in jail.

Monday night's violence lessened slightly from the levels reached on the weekend. A youth in Toulouse had a hand blown off by a tear-gas grenade fired by police. In all, 226 communes all over France were touched by violence last night, while 10,200 police officers effected the arrests of 330 suspected rioters.

In Paris, other than the relatively minor incidents of a few days ago, the nights are as quiet as they usually are. The nightly scenes of arson and mayhem shown on TV-news are not being witnessed first-hand by the city's residents and visitors.
Photos:
Tuesday, 8 November on rue des Rennes -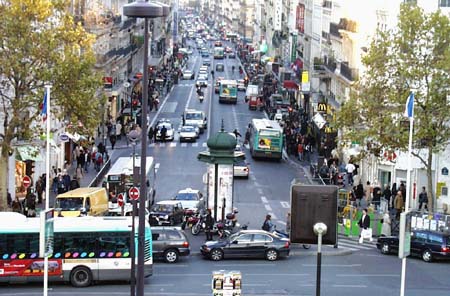 Tuesday, 8 November, the front page of Le Monde –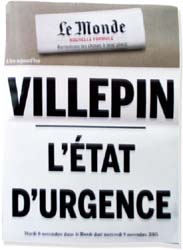 Editor's Notes:

BBC summary of the curfew law, in English:

CURFEW LAW
- Cabinet can declare state of emergency in all or part of the country
- Regional leaders given exceptional powers to apply curfew and restrict movements
- Breach of curfew could mean a fine or two-month jail sentence
- Police can carry out raids on suspected weapons stockpiles
- Interior minister can issue house-arrest warrants for persons considered dangerous to public safety
- Public meeting places can be closed down
- House searches possible day or night
- Authorities can control press or broadcast media, film and theatre performances
- State of emergency can only be extended beyond 12 days if approved by parliament
TF1 streaming video - if you have a high-speed connection, watch the early afternoon or the evening news show from TF1 in Paris each day here, in French, no subtitles. The link to the broadcast is on the upper right of the page.

Commentary:

See John Lichfield in The Independent (UK), 07 November 2005 No intifada, no cause, just poor kids defending their territory - he's their Paris reporter.

Or see Melanie Phillips here –
The disturbances are thus being portrayed as race riots caused by official discrimination and insensitivity. But this is a gross misreading of the situation. It is far more profound and intractable. What we are seeing is, in effect, a French intifada: an uprising by French Muslims against the state.

When the police tried to take back the streets, they were driven out with the demand that they leave what the protesters called the 'occupied territories'. And far from the claim that the disturbances have been caused by French policy of segregating Muslims into ghettoes, this is a war being waged for separate development.

Some Muslims have even called for the introduction of the ancient Ottoman 'millet' system of autonomous development for different communities.
See also this –
What is exciting about the present riots is:

a) that they are genuinely political and, so far as I can see, legitimate: the inhabitants of these suburbs are burning their own cars, schools and possessions (and not, so far, people) because they (rightly) believe them to be emblematic of all that their situations trap them to: crime, joblessness, helplessness, voicelessness, boredom, alienation and the awful horror of grotesque concrete tower-blocks. They are political in Plato's sense: of ceasing to fight for space within a pre-existing and deviant order, and instead going to the outside and forcing that order to reform.

b) they are well organised: the targets are apposite, and discipline among the activists remarkably strong (witness 5000 car burnings and just one or two isolated, and possibly unconnected, personal attacks).

c) they are going to continue, one suspects, for as long as the political establishment presumes to deliberately and systematically misunderstand why they are occurring. At the moment, the governmental call is for 'above all, the return of good order'; scant mention is yet to be made of even the possibility of making some effort to correct the absurd embedded racism of France's so-called meritocratic power-structures, whose professed egalitarian ethic could not be further from practical truth. Headlines moronically blurt out: 'how long will this go on?' as if it is the temper tantrum of an infant, not the organised scream for help of an entire and dismembered portion of society. Senior ministers have been threatening longer jail-terms of all things, in blackly comic, American justice style.

d) the immigrants may soon be joined in the pillage by a host of left-wing organisations. Since the riots of 1968 made the error of not going far enough and thus resulting in minimal long-term change, there is implicit consensus that for this action to be justified it must be pursued to its natural extreme: all-out civil disobedience, until the government falls. While official opinion seems to be that this political activity will quickly run its course, there is evidence that it is steadily mounting and indeed heading from outside the city into the centre. I have noticed in my very central quartile here that there has been a steady and ominous thickening on street corners and among shadows of determined looking folk from the banlieues (it reminds me a little of Hitchcock's The Birds). I look forward to their expressing themselves, with appropriate respect for human life, through the media of bonfires and chaos.

So anyhow, this is just to let you know that France is much closer to gaining its sixth republic than anything in the western media is likely to have you think. The unrest may indeed go international (Denmark has already seen the first glimmerings of revolt). I just hope it doesn't lose its focus and political rigour as the coming weeks unfold, for its efficacy relies on the precision of its message: we will no longer tolerate living in a political and economic concentration camp.
Alfred Hitchcock's The Birds?
And "a steady and ominous thickening on street corners and among shadows of determined looking folk from the banlieues?"

Well, your editor finally got to New Orleans three years ago for a good visit, and has had his many trips to Paris.
Is each gone now?