Not Hollywood this time, but a few miles west. Drive down the hill two blocks to Santa Monica Boulevard, the old historic "Route 66." Turn right and drive west about twelve miles until it ends. You're there.
On September 9, 1909, after sixteen months of construction, the Santa Monica Municipal Pier opened to the public. It's still there, with the Ferris wheel overlooking the 1922 carousel, the one Paul Newman operated in "The Sting." (It wasn't in Chicago.) Location Directors love this place. Judge Reinhold in "Ruthless People" drove his car off this pier. Forrest Gump ended his cross-country run here. Scenes from "Beverly Hills Cop III" and "The Net" and "Clean Slate" and "Funny Girl" - and most of "They Shoot Horses Don't They." Hundreds of television shows - lots of "Baywatch" of course.

Links - The Santa Monica Pier official site, and a live web cam so you can keep an eye on it, and a bit of history.

You will find a photo album of fifty-eight shots here.
Thursday, December 1, 2005, late morning, it looked like this.
The Pier
December begins - fog on the Pacific and the pier, empty –
Yep, this is where historic Route 66 dead-ends. Menacing birds, and Ferris wheel -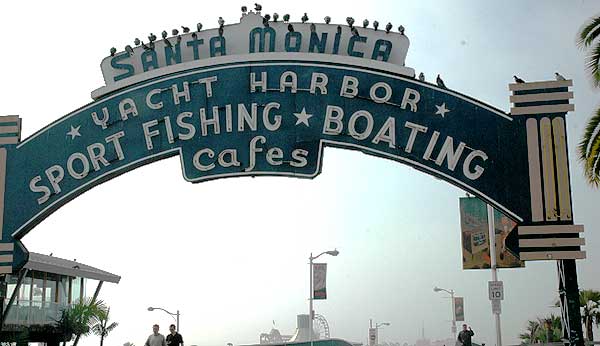 Down the ramp, December 1st, into the fog –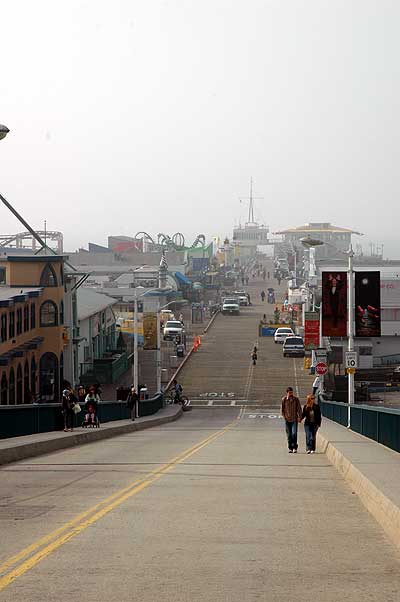 The end of things –
And there's fishing, of course –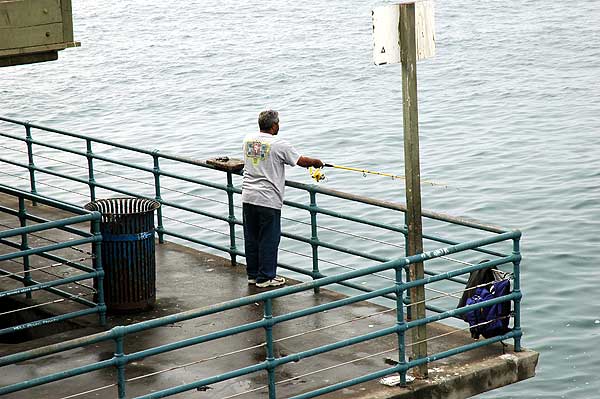 Looking back at Pacific Park –