This is the land of movies, but not everyone makes it in that world. Actors and actress, when not waiting tables, keep up their acting chops on the many stages within these few blocks, and this is a photographic tour of some of them. The theater snobs at the New York Times say this - "Los Angeles isn't quite the 'Broadway of the West,' as some have claimed - the scope of theater here doesn't compare to that in New York. Still, the theater scene's growth has been impressive. … Even small productions might boast big names from "the Business" (the Los Angeles entertainment industry). Many film and television actors like to work on the stage between 'big' projects or while on hiatus from a TV series as a way to refresh their talents. Doing theater is also an excellent way to be seen by those who matter in the more cultural end of showbiz."
For what's showing, the LA Weekly always has a good list where you will find productions like these:
THE BOOK OF LIZ: In Amy Sedaris and David Sedaris' comic fable, Ann Magnuson is sweet, goofy Sister Elizabeth Donderstock, a buck-toothed member of the Cluster Haven "Squeamish" community (a parody of the Amish), sent on a Candide-like journey into a sugar-and-spicy Prairie Home Companion world. Blank Theater Company at 2nd Stage Theater, 6500 Santa Monica Blvd., Hollywood; Fri.-Sat., 8 p.m.; Sun., 2 p.m.; thru Jan. 29. (323) 661-9827.

HANGING ALICE: After a circus elephant goes on a rampage, it's up to prosecutor Ward Brando (a fine turn by McCaleb Burnett) to present the case at trial. Opposing him is a gabby, headstrong defense attorney (Stana Katic), trying to save the murderous beast from the noose. Writer-director Rick Pagano attempts to skewer Southern culture, mores, womanhood and even racist politics but does so in a heavy-handed, awkward manner with a script that is far too wordy and unfocused. Even so, Sam Hennings is a hoot as the back-slapping, good ol' boy Senator Phil. Elephant Performance Lab, 6324 Santa Monica Blvd., Hollywood; Fri.-Sat., 8 p.m.; Sun., 7 p.m.; thru Jan. 29. (323) 965-9996.

RECKLESS: Dizzyingly eclectic writer Craig Lucas takes the whimsical route with a tale so incredible that it topples from the absurd into the ridiculous. When a hubby reveals to his wife that he has taken out a contract on her life, she escapes into the snow, in her bathrobe and slippers, to embark on adventures that involve an eccentric philanthropist and his paraplegic wife, a demented TV quiz show, a ruthless embezzler, several murders and six psychotherapists. Despite the silliness of the plot, individual characters and scenes are funny, and the cast makes the most of them. Get Down With It Productions at Egyptian Arena Theater, 1625 N. Las Palmas Ave., Hollywood; Thurs.-Sat., 8 p.m.; Sun., 7 p.m.; thru Jan. 15. (323) 960-7792.
There are many more. Here are a few of the theaters.
For those who have made it, this is the big time - the ninety-nine seat Stella Adler Theater at the Stella Adler Academy of Acting on Hollywood Boulevard, Thursday, January 12, 2006, about noon. Note the lower left. A list of those who have studied with Stella Adler here -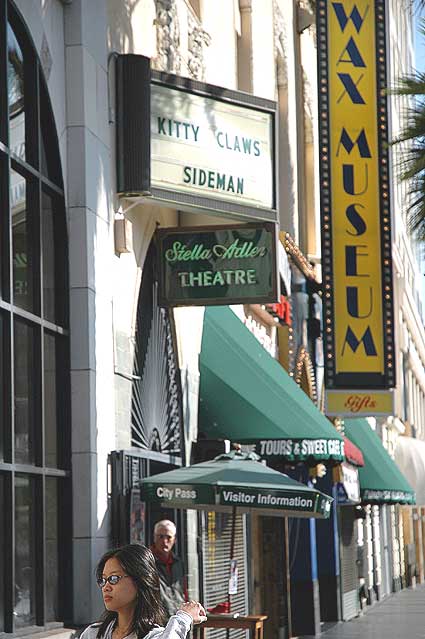 Where else to study?
The Lee Strasberg Theater and Film Institute
- just down the hill on Santa Monica Boulevard – "Every actor's fundamental training begins with the exercise of their will; concentration and sensory responses. They learn to think, to behave, and to experience. This training creates the foundation for the actor's craft and the use of his imagination. Emphasis is placed on the confusion between the mental understanding, which the actor usually settles for, and totality of mental, physical, and emotional experience of which the actor is capable." Hey, it worked for Marylyn Monroe. She spent a lot of time here.
You could try the
Actors Circle Theatre
, but the city helpfully placed a warning sign about your chances –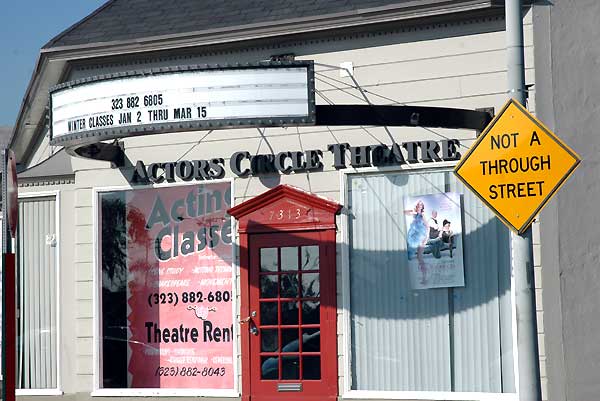 On Gardner, just off Sunset's
Guitar Row
, there's the Actor's Playpen and Working Stage, and the Gardner, where you can get crazy –
But down on Santa Monica Boulevard (turn east and head into the industrial wasteland of auto body shops, warehouses and post-production factories) note we do have a theater district –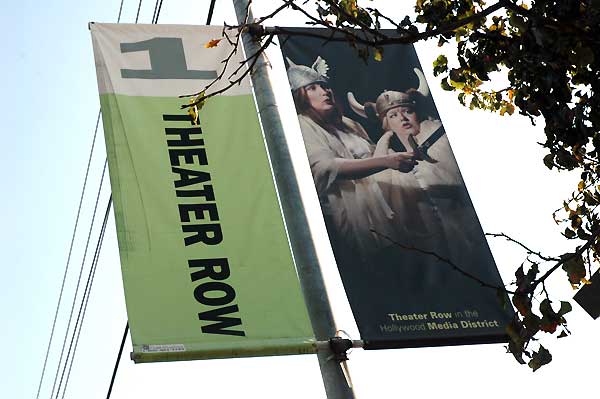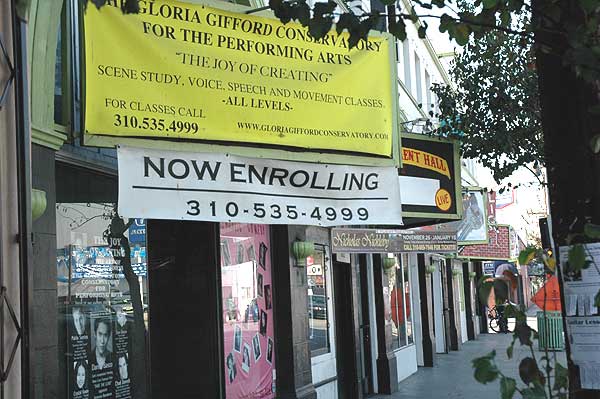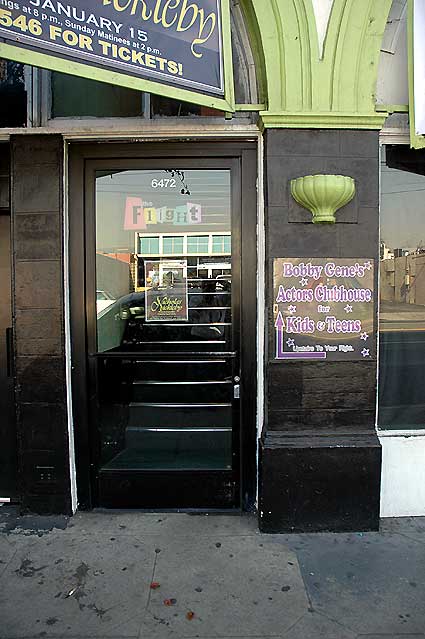 Art Works is pretty seedy, but makes a nice composition -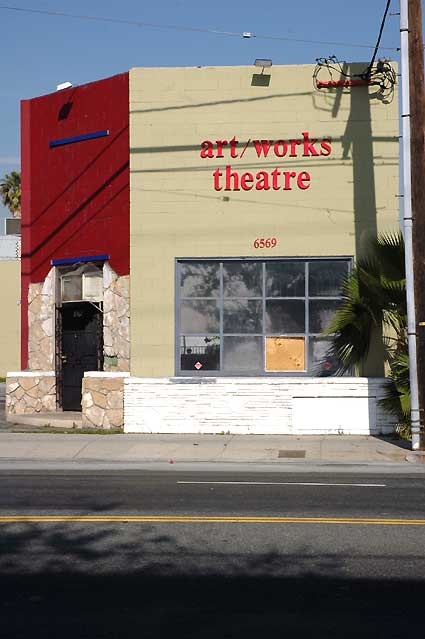 In West Hollywood, the answer to Cats –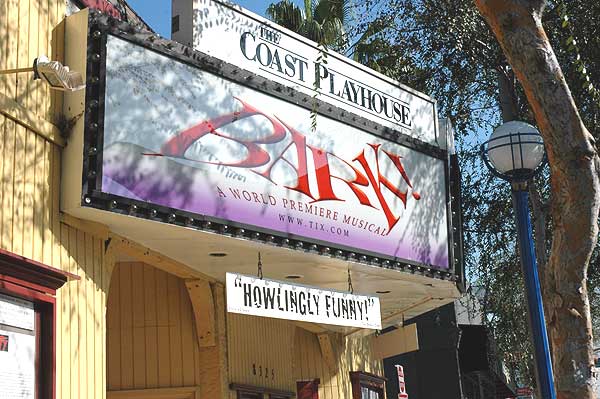 Around the corner from Bark! - this for the more serious minded –
Up in Hollywood proper, on Cahuenga by the fancy new movie house, Arclight, a theater of note –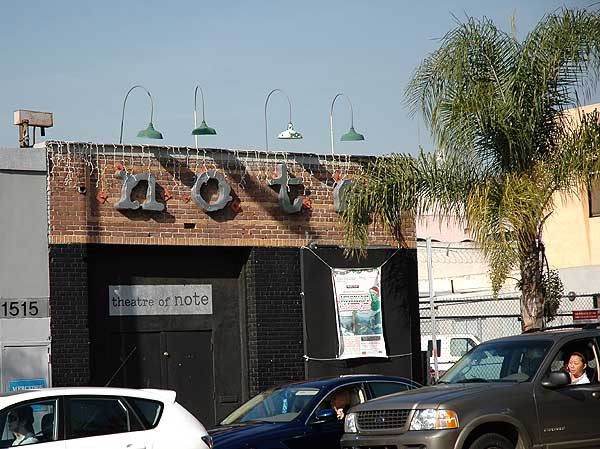 Just off Hollywood Boulevard on Las Palmas, this mysterious place –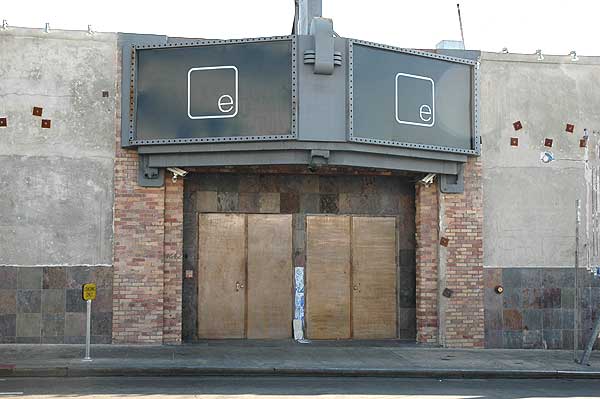 And for those who just don't make it out here, across the street these folks will make you an Oscar or a Gold Record or whatever -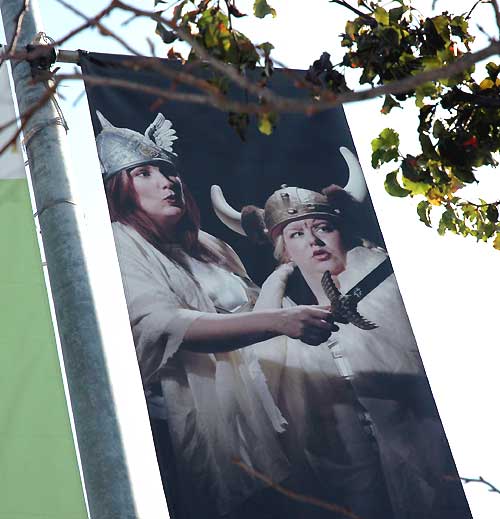 If you use any of these photos for commercial purposes I assume you'll discuss that with me.
There is a copyright notice at the bottom of this page, of course.
These were shot with a Nikon D70 – lens AF-5 Nikor 18-70mm 1:35-4.5G ED
They were modified for web posting using Adobe Photoshop 7.0
_