Nutella Uber Alles
PARIS - Sunday, January 15, 2006 - Except for the thrills of shopping in the winter sales this is a quiet period for Parisians. Time to think of losing some of that old foie gras picked up two weeks ago, time to get out for some oxygen and let the TV cool off, time to be slightly Parisian and make the annual visit to the old iron lady on the Champ de Mars and admire the meccano.
No better time than today because the sky is clear and it is sunny and even if both aren't full power they are close enough. Wearing a scarf with gloves is a good idea because it is decidedly cool, although it is probably within some average for January. Also noticed at Trocadéro, a wind so light that the flags are dozing.
Unlike yesterday folks seem to be walking okay. Yesterday they were shopping and were going sideways without warning or signals, like a crazy river that had forgotten the direction to the sea. They were every-man-for-himself and I was the only person in the city trying to keep out of the way.
To see the meccano you start at Trocadéro, on the wide marble platform between the two halves of the Palais Maillot. This overlooks the tower and the closer pool fountains and gives a wide, big view of the Left Bank as far as Montparnasse. But mainly what you see is a lot of sky with this iron finger sticking up in it. In case you worry about it, it is in its 106th year of not being torn down as a temporary exhibition.
Everybody now has a digital camera so a re-visit is necessary to get it recorded in digital memory. Thousands of folks will be looking at their new photos tonight, if the software works, and that's the last they will ever see of their newest addition to their collection. At least no paper will be wasted.
The kids on wheels are below the platform, wheeling around like the marble is two-dimensional fluid, like they are happy fish. Some are coming up the stairs and going back down backwards. They are getting the kind of jarring only new bones can stand. One little one comes down on a knee in a bad landing and mine aches.
Some crew Joes are erecting elements for a show. Since one of them is a big football I imagine it has something to do with this year's World Cup playoffs, even though Germany is the host. The Trocadéro platform for extravaganzas is here, not in Berlin.
The grass is green and the pool's water is flowing, but nobody is wading in it. Beside the skaters have set up a long line of small cones and they are whistling down them, scissoring their legs in some impossible way. It looks like it requires more skill than setting cars on fire. And there are no, as with the other roller kids, no governors or cops around.
There are numbers of people on the bridge to the tower, and there are more at the snack stand on the other side of the Seine. But there are not many standing in lines under the tower waiting for rides up, up where it is possibly cooler even if there's a good view.
Since most French, except the hopelessly homeless and the poverty stricken, have had a fat, juicy chicken for lunch on Sundays by royal decree, I assume that the delights of snack kiosks are irresistible. In midafternoon it seems that cotton candy, crêpes, sweet and salted popcorn - slogan: "Hmm, c'est bon!" - bananas and jam, with or without chantilly, mayo, ketchup, and the piece of no-resistance - frites, mais fresh! frites, are the top ten of the snacker's dreams.
Even if some of these delights seem to be inspired by American treats, such as the hot dog, it is the kiosks themselves that are worth a second look. There are some lodged in standard structures, dark green fake cast-iron, faux Belle Epoque. But most are one-offs, colorful, tidy, twinkle lights, with individual selections of various drinks, bonbons, frites, crêpes and the ever-present giant jars of sparkling brown Nutella, das alles-spread deluxe.
The Sunday royal chicken is famous, but Paris' snack stands are unique, worth hats, spoons, stars, write-ups in the guides, even their own Web sites, TV shows and podcasts. If you think we've come out to see the Eiffel Tower today, think again!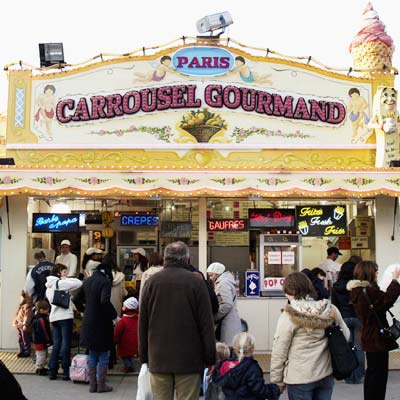 Text and Photos Copyright © 2005 - Ric Erickson, MetropoleParis