As the Los Angeles Conservancy says, "designed by Robert Graham, Randy's Donuts (1953) is a classic example of mid 20th century programmatic architecture, where the shape of the building represents the product sold within. Located in Inglewood at 805 W. Manchester Avenue, the giant steel-supported doughnut dwarfs the small Modern fast food building below."
Randy's was built in 1953 as part of the now-defunct Big DoNut chain and is the only remaining example. The orginal owner, Carol Rose Kahn, from Michigan, after her investments went sour, decided to keep it here and not move it back to Michigan – after all, the Randy in question was her guy out here, Randy Reed. The current owner-operators are Larry and Rob Weintraub, and the one of them told me he's really from Cleveland. But it stays here.
You can catch a glimpse of it in Randy Newman's video "I Love LA" (here) and this drive-in and doughnut bakery has a website listing some of the films in which it appears - Earth Girls Are Easy, Mars Attacks!, Golden Child, Into the Night, Coming to America, Stripped to Kill, Problem Child 2, Breathless (the remake, not the French classic), California Girls, Love Letters and so forth. And as noted here, Randy's also appeared on the Food Network's "Top 5: Fab Food Architecture" and "a donut shop remarkably like Randy's" shows up on the Simpsons and on Futurama. It's famous – had to get some shots. These are from 19 January 2006.
The "donut" is twenty-two feet in diameter –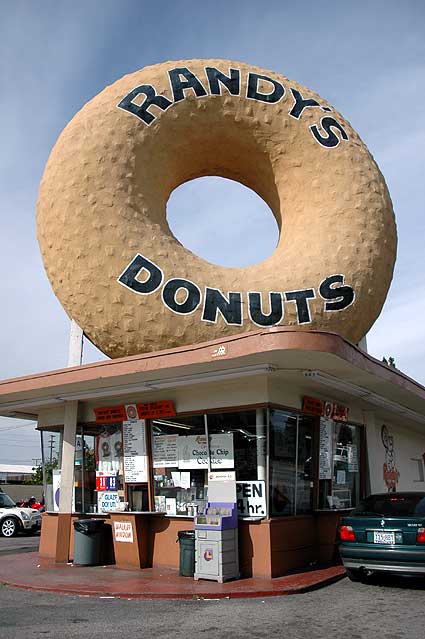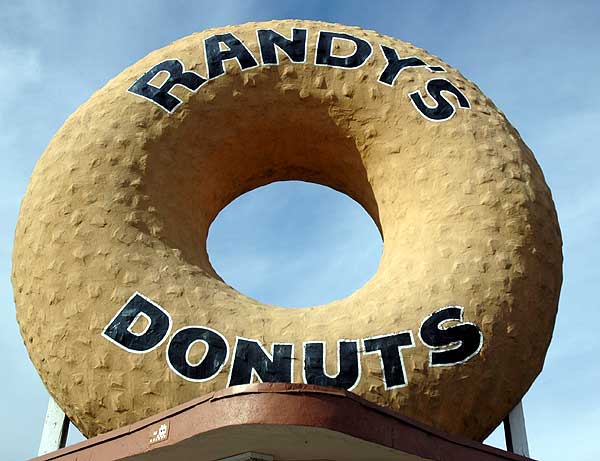 Soot and other things provide the current glaze for this interpretation of a plain-cake donut –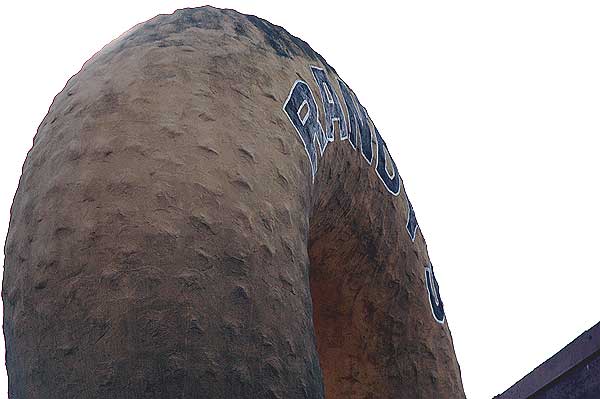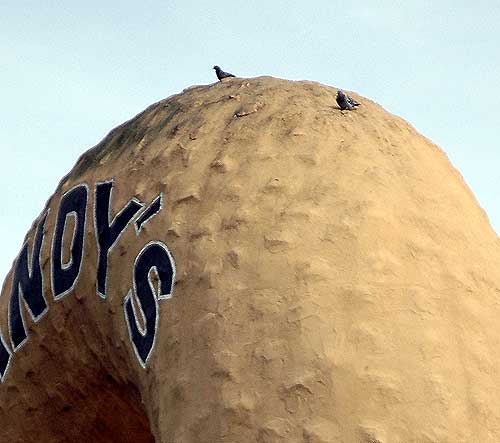 Help wanted –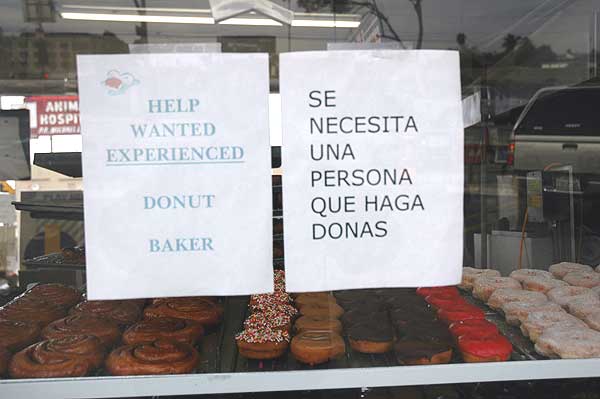 Graphics –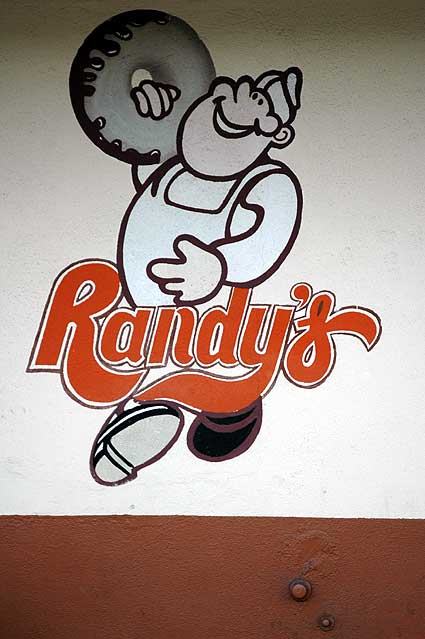 The product –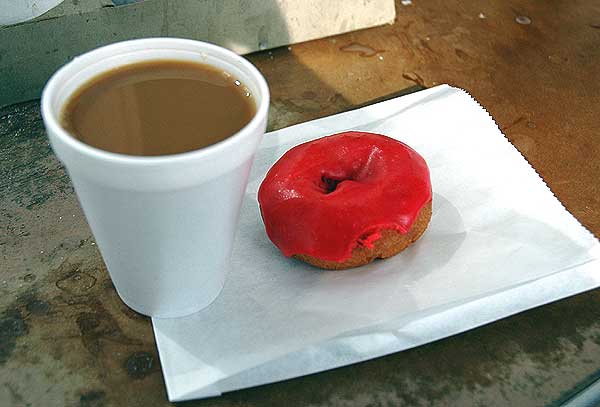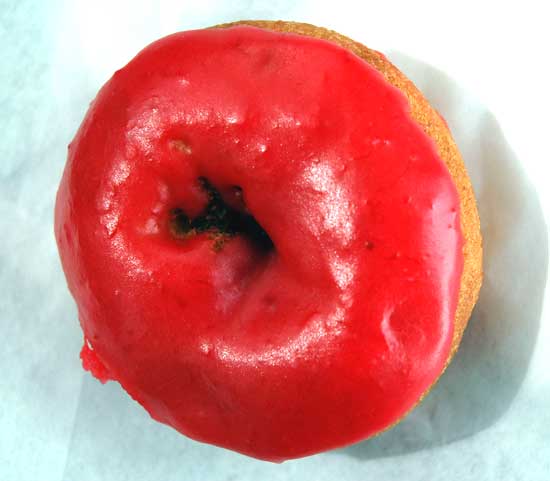 The scene –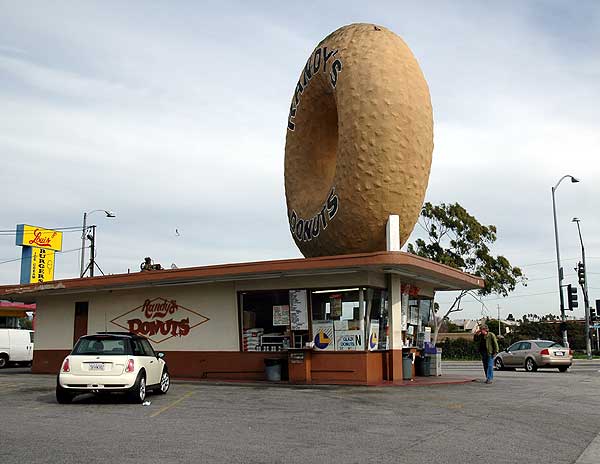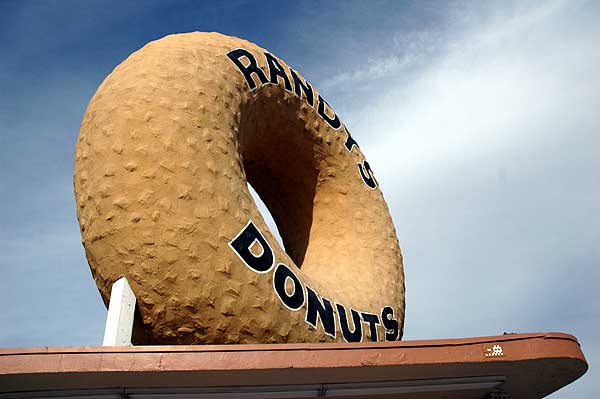 The owner's car –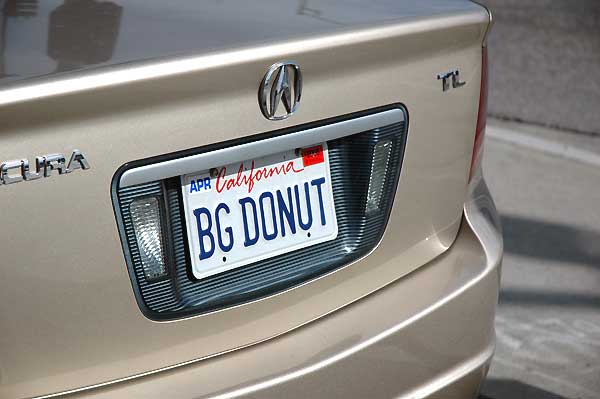 If you use any of these photos for commercial purposes I assume you'll discuss that with me.
There is a copyright notice at the bottom of this page, of course.
These were shot with a Nikon D70 – lens AF-5 Nikor 18-70mm 1:35-4.5G ED
They were modified for web posting using Adobe Photoshop 7.0
_




Copyright © 2003, 2004, 2005, 2006 - Alan M. Pavlik
_______________________________________________
The inclusion of any text from others is quotation
for the purpose of illustration and commentary,
as permitted by the fair use doctrine of U.S. copyright law.
See the
Details
page for the relevant citation.
This issue updated and published on...
Paris readers add nine hours....
________