At four-thirty Saturday afternoon in Hollywood (2 October) I received a note and a photo from Ric Erickson in Paris, and no doubt he will have more to say about this in the Monday evening edition of his MetropoleParis. Four-thirty in the afternoon here is one-thirty in the morning there, the next day - the difference between Pacific Time and CET (Central European Time).
Bonsoir Alan –
As we speak 'Nuit Blanche' is unrolling in Paris, with about seven hours still to go until dawn. It involves about 350 art acts in about 150 locations, many not open even in the daytime. While only one Métro line will be running after 01:00, there are four free bus lines operating until 05:00, providing a closed loop though the city.
Photo is of building front lying on ground, mirrored. About 15 Parisians are allowed on the photo at a time; to pretend they are in mortal danger. While I was there about 150 were waiting for their turn outside the grille of the Observatoire. It is truly amazing what tax money buys these days.
Around 05:00, the bakery of the Flo restaurant chain will be handing out free baguettes and viennoiseries on the Ile St Louis - plus the whole chain is offering a prix fixe of 15 euros for a meal after midnight. All in all I'm sorry I'm going to miss 'Glitch - beaucoup plus de moins!' at the small art place in the rue Montparnasse. I walked right past it and forgot.
bonne nuit, ric
The photo?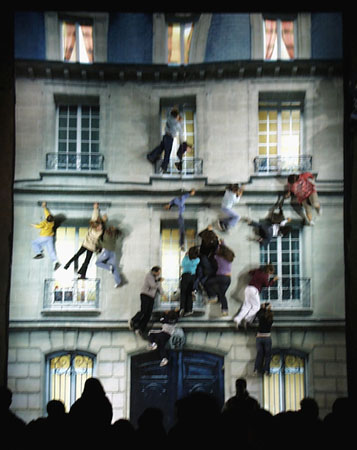 See this -
The French tradition of eschewing sleep in favor of discussion or partying is known as a nuit blanche, or white night. For one long October night in Paris, insomnia is considered a virtue... Throughout the White Night museums, libraries, monuments, places of worship, tourist sites, cinemas, parks and gardens, hospitals, swimming pools and universities in Paris stay open all night to the public for a cultural night of discovery. 600,000 revelers joined in for 2003 and numbers are expected to be equally high this year. At dawn, each district's city hall, local associations and shopkeepers organize breakfasts for those who lasted through the night.




Copyright © 2003, 2004, 2005, 2006 - Alan M. Pavlik
_______________________________________________
The inclusion of any text from others is quotation
for the purpose of illustration and commentary,
as permitted by the fair use doctrine of U.S. copyright law.
See the
Details
page for the relevant citation.
This issue updated and published on...
Paris readers add nine hours....
________