Anyone Seen Our Bomb?
Paris: On a training exercise for sniffer dogs at Charles-de-Gaulle airport on Friday evening, gendarmes lost track of an explosive they had hidden in a passenger's baggage. Airlines, with some 80 or 90 flights concerned, were alerted to be on the lookout.
The incident took place in an area accessible only to police and baggage handlers near where baggage was on conveyor belts leading to different flights. During a switch from one dog to another gendarmes lost sight of the baggage in which they had placed the explosive.
According to news reports the explosive was about 150 grams of common French 'plastic.' A source claimed that the explosive was no more dangerous than 'a chocolate bar,' adding that it had no detonator. "It's totally harmless; the explosive is insensitive to shocks or fire."
The training exercise was being carried out under 'reality' conditions. The owner of the baggage was a regular passenger, and was not informed that the gendarmes had placed explosives in it. The mishap was characterized as an 'unfortunate error.'
Reports from Los Angeles indicated that authorities there searched an Air France plane making a stopover on a flight to Tahiti. Three other flights were searched at New York airports, without success.
By Saturday night no word had filtered back to Paris about any passenger being apprehended with the explosive in their luggage. Gendarmes alerted airport authorities at destinations in France, the United States, Brazil and Japan, among other countries.
Copyright © 2004 – Ric Erickson, MetropoleParis.
NOTE: The Los Angeles ABC affiliate carries the item here - as Channel 7 had some nice footage of the Air France 747-400 parked way off to the side at LAX. One more reason to bash the French, of course. In the December 5 Los Angeles Times, however, Susan Spano has an item on how at Hôtel de Coislin in Paris on 6 February 1778 we signed the Treaties of Friendship, Commerce and Alliance, making France the first nation in the world to recognize America's sovereignty. This a profile Daniel Jouve and his book Paris: Birthplace of the U.S.A. and covers a lot of ground about our sometimes best friends across the pond.





He Wants to Re-Up?
Paris: Radio France-Info's Sunday morning news leads with a soldier threatening to blow up a military bomb depot at Connantray-Vaurefroy in the Marne department. The Prefect of the Marne has ordered the evacuation of 400 nearby residents living in the villages of Connantray, Lenharrée et Normée close to the depot.
According to various reports, the Prefect thought the soldier had been inside the bomb depot since Friday evening, but no contact had been established. It is unknown if he is armed.
All that seems to be known is that the soldier, a non-commissioned officer, is 47 years old and is at the military's age limit and has just received his retirement orders. It is thought that he wants to continue his career, according to a note discovered by authorities.
Gendarmes have established a zone of security around the site which located about 30 kilometres southwest of Châlons-en-Champagne.
Copyright © 2004 – Ric Erickson, MetropoleParis.
Ric's photos of some of the French military (click on the image to enlarge) -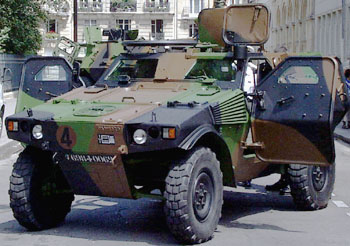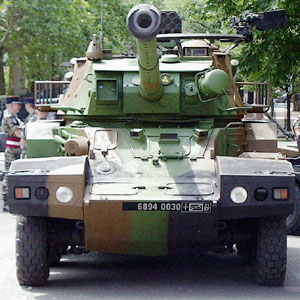 Wine News
Also from AFP (l'Agence France-Presse ) by way of The Tocqueville Connection we get this:
FRENCH WINE ELITE FURIOUS AT SURPRISE CINEMA HIT
Received Sunday, 5 December 2004 05:04:00 GMT
Some of the finest noses in the French wine world are snorting into their decanters over a new film which claims they are complicit in the American-led homogenisation of world tastes and the steady destruction of France's centuries-old tradition of "terroir."
"Mondovino", a low-budget documentary by American sommelier-turned-filmmaker Jonathan Nossiter, has been a surprise hit at the box-office since it opened last month -- pulling in some 200,000 viewers -- but the reaction among many in the wine-making establishment has been as sour as a corked bottle of chateau plonk.
"The most hacked off are the people with a great deal of power in the wine world: magazines that are hand-in-glove with the big Bordeaux dealers; multinationals with advertising and marketing clout. These people are very unhappy," according to Nossiter, who spent three years touring the world to make his two-and-a-quarter-hour sitrep on the state of the industry.
"There are some very powerful people who have done all that they can to censure the film. We have had a lot of libel threats - which we are ignoring," he said in an interview.
Setting out to "take the pulse" of the international wine business, Nossiter uses it as a metaphor for larger issues of globalisation and the defence of local particularity against the standardisation wrought by mass commerce. …
You might want to read the whole thing.




Copyright © 2003, 2004, 2005, 2006 - Alan M. Pavlik
_______________________________________________
The inclusion of any text from others is quotation
for the purpose of illustration and commentary,
as permitted by the fair use doctrine of U.S. copyright law.
See the
Details
page for the relevant citation.
This issue updated and published on...
Paris readers add nine hours....
________