Not much output this week. I scan the press and the blogs, and I don't feel like saying anything. I'll take a week off. I'm out of gas. (Insert your own joke here.) Work had drained me. I was going to try to say something about the topic of the week in all the commentary, Social Security, but what? [See the note at the end for what someone else said.] There's a short item on seaplanes in the Caribbean, and what those have to do with Maureen O'Hara, the old movie star, and with a bar in Christiansted (Saint Croix, US Virgin Islands) called the Stone Balloon. I was going to say something about surfing in Biarritz – and Bob Patterson's comment to Ric Erickson about opening a surf shop in Paris (bad idea). But really, the news doesn't amuse or outrage me. Is this me, or is it that there's no point?
If you really want to drive yourself crazy, visit Ric Erickson this week in MetropoleParis for a run-down of what's up in Paris at the end of the month – Christmas and New Years Eve. See this. As I recall, Ben Franklin liked Le Procope – but it was just a coffee house back then. I've walked by a few times in a few Decembers and peeked in. Never tried the place myself. I won't be there this New Years Eve. But….
Le Procope – is Paris' oldest café, dating to 1686. It proposes, in a three–century old 'révolutionary' atmosphere, to carry you back to the epoque of the 'Grand Siècle' with an evening of six–course dining and dancing with all the Champagne you desire, for 200€. At Le Procope, 13. Rue de l'Ancienne Comédie, Paris 6. Métro: Odéon. InfoTel.: 01 40 46 79 00.
Procope's New Years Menu
Crémeux de St Jacques aux parfums de homard

Foie gras frais de canard confit aux artichauts, Beaumes de Venise

Bar au beurre croquant et Champagne, champignons des bois

Noisettes d'agneau aux légumes oubliés

Mont d'Or aux mirabelles

Biscuit aux marrons glacés aux parfums du Grand Nord

Café, mignardises, et chocolats Grand Siècle, Eau minérales

En accompagnement: Champagne Vranken Brut 1er Cru
I'm fond of lamb. Champagne is good.
And Ric also cites these for New Years Eve –
L'Arbuci – a jazz trio will provide the music here until late, while a four–course menu will help keep you going. This includes a glass of Champagne, and a half–bottle of Bordeaux per person. About 160€. At L'Arbuci, 25. Rue de Buci, Paris 6. Métro: Odéon. InfoTel.: 01 44 32 16 00.
Le Petit Zinc – is a German–style brasserie that offers DJ music for dancing, after a gala menu accompanied with classy Champagne. The seven courses will set you back 200€ Le Petit Zinc, 11. Rue Saint Benoit, Paris 6. Métro: Saint–Germain–des–Prés. InfoTel.: 01 42 86 61 00.
I have done Le Petit Zinc – but in June.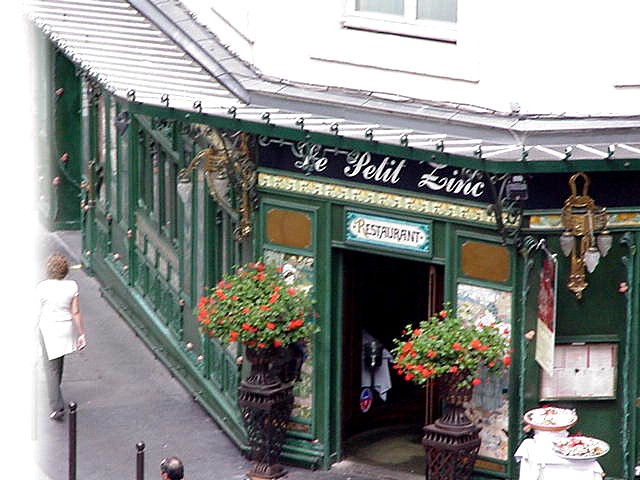 And I have a friend who starts working soon here, in the kitchen of Les Ambassadeurs –
Hôtel Le Crillon – has two very elaborate restaurants, L'Obélisque and Les Ambassadeurs, which are serving very elaborate gala dinners from 540€ and up. Try Le Crillon, at 10. Place de la Concorde, Paris 8. Métro: Concorde. InfoTel.: 01 44 71 15 49.
Yep, that's about 730.00 USD per person, before you add in wine.
I'm staying home that night.
NOTE:
French surfing is centered in Biarritz. You could look it up. That's where all the surf shops are - Google it if you don't believe me. Each July surfers from all over the world go there for the annual Nokia Biarritz Surf Festival - and they even have longboard competition, just like in Manhattan Beach here. But I saw Doug McClure at the surf festival in Manhattan Beach back in the mid-eighties. The French don't get sub-B-list actors from old, second-rate surfer movies.
Biarritz. Last chapter of "The Sun Also Rises" is there - the final burn out place.
Jake and Brett as they're driving out of Biarritz on the way back to Paris - the final disillusionment.
Oh, Jake," Brett said, "we could have had such a damned good time together."
Ahead was a mounted policeman in khaki directing traffic. He raised his baton. The car slowed suddenly pressing Brett against me.
"Yes," I said. "Isn't it pretty to think so?"
Indeed. Biarritz.
In Paris - at 141 Boulevard St-Germain you'll find
La
Compagnie de la Californie
- with some surfer clothes. It's next door to the Madison where I stay - a few steps from Les Deux Magot, across the street from the metro stop. I peeked in a few times. It'll do. That's it for surf stuff in Paris - as far as I know. Ric may know more.
La
Compagnie de la Californie
is under the white awning marked off – a few Decembers ago….
Note: At Fafblog, Gliblets has this to say about the Social Security controversy -
But there may be another solution! Right now the usual bunch of whiners (old people, sick people, poor people - really, what do they do except whine?) are whining about Bush's plan to get rid of tax breaks for health insurance. This could be the Social Security solution we've all been waiting for! If thousands of companies get punished for giving their workers health insurance, well damn! Millions could end up LOSING their health insurance. And the less health coverage you have, the sicker you are, and the sicker you are, the faster you die, and the faster you die, the less Giblets has to pay for your stupid Social Security!

Between gutting health coverage and sending old people off to war, we've got a great start going putting a dent in American life expectancy. Right now it's somewhere around 77.2 years. That means 12.2 years where our parents and grandparents can leech off our hard-earned cash! If we work hard we can push that way lower - down to 75, 70 years, down to 68 and lower if we really work at it, and then we could just raise the retirement age and not have to worry about Social Security at all!

So there you have it. Giblets has solved all your fiscal problems at once! Social Security is saved! The budget is saved! More cannon fodder for Iraq! Three birds, one stone, everybody happy! Except for the dead people, and hey, Giblets doesn't hear them complainin'! You can thank Giblets anytime.
That's good.