The Other Film Capital of Southern California? No, it's not Hollywood - it's Culver City. Really. Six miles south of Hollywood in the flats before you get to Venice Beach. Warehouses and small manufacturing and depressing acres of cheap and shoddy run-down apartment buildings. And a major movie studio, and a bit of Paris.
The greatest studio in the history of Hollywood was never really in Hollywood.

The vast studios of Metro Goldwyn Mayer (MGM) were actually located in humble Culver City, some seven miles southwest of Hollywood and Vine, closer to Marina Del Rey than to Hollywood.


The studios were born in 1915 as Triangle Pictures. The first building on the lot (the huge edifice fronting Washington Street, with its classical colonnades) was built before MGM even owned the lot. The studio became Metro Goldwyn Mayer in 1924, and the rest is Hollywood history. Louis B. Mayer persuaded both President Calvin Coolidge and performer Will Rogers to show up for the studio's grand opening.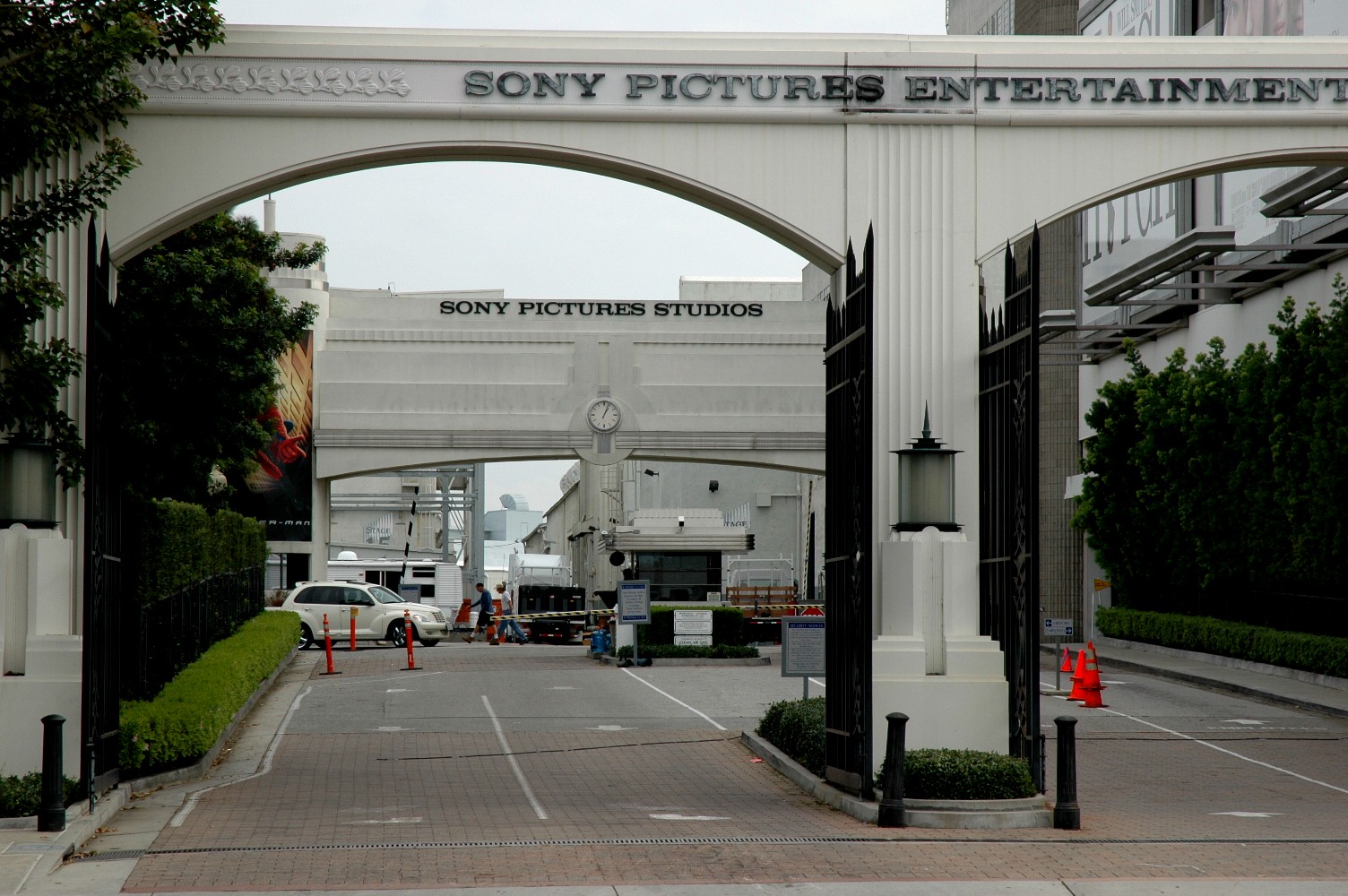 It was here that Judy Garland starred as Dorothy in "

The Wizard of Oz

" in 1939. In fact, the "Yellow Brick Road" is still inside the lot on Stage 27! It was here that a young Mickey Rooney made seventeen nostalgic "

Andy Hardy

" movies.

This is the studio that gave us

Leo the Lion

as their trademark, as well as such memorable series as "

The Thin Man

" mysteries (with William Powell & Myrna Loy), the "

Tarzan

" adventures (with Johnny Weissmuller) and the manic Marx Brothers comedies.
… During its heyday, the studio cranked out an average of one film a week. In 1939 alone, MGM gave us two of the most beloved films in the history of Hollywood: "Gone With the Wind" and "The Wizard of Oz."

In 1959, the studio made "Ben Hur" with Charlton Heston, which won more Oscars than any other movie in Hollywood history (eleven, including Best Picture).

… Elvis Presley made many of his early films for MGM, including "Jailhouse Rock."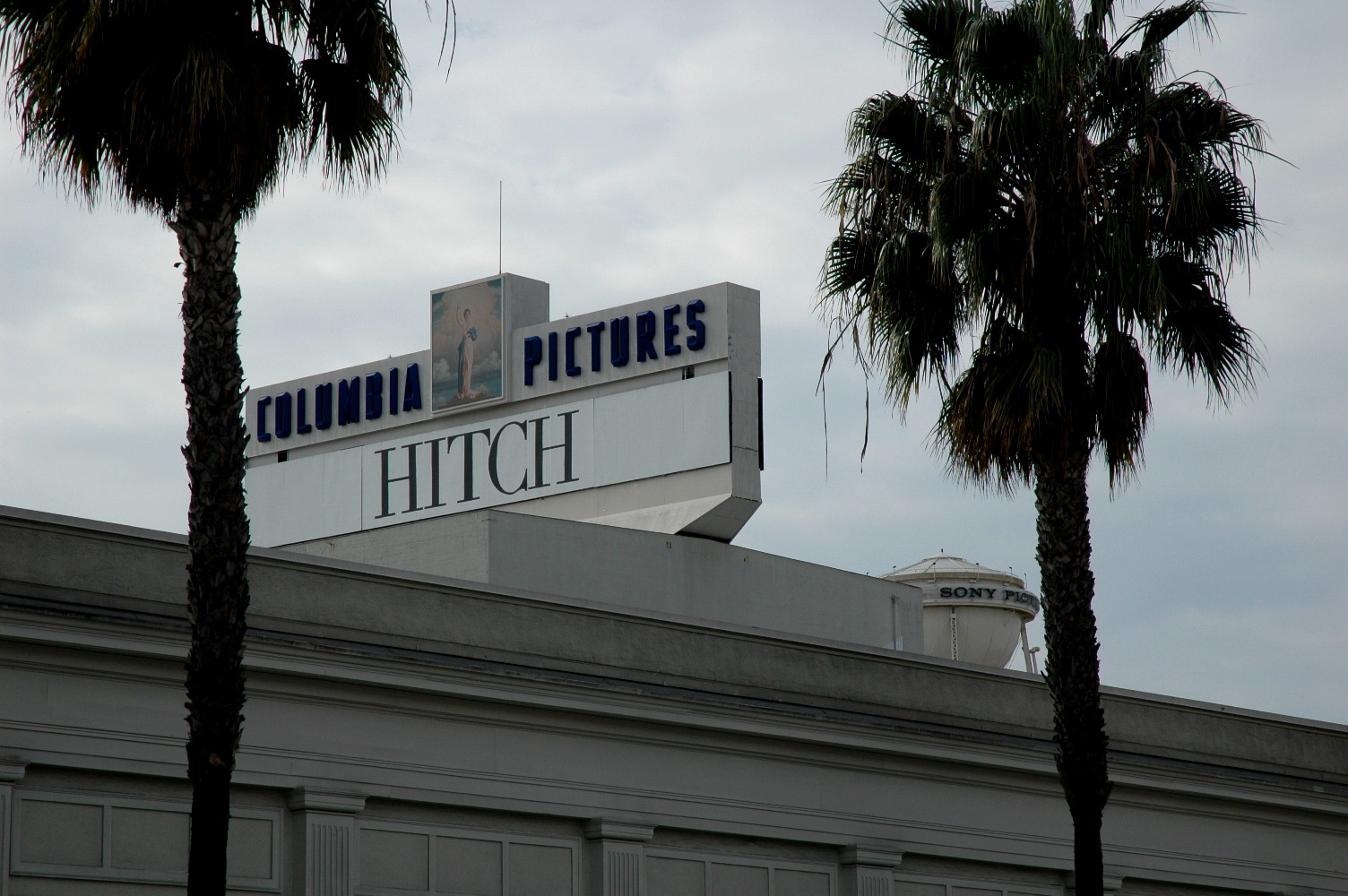 Where did the studio get its name? "Metro" was an early film company which belonged to showman Marcus Loew; "Goldwyn" came from producer Samuel Goldwyn, and "Mayer" was none other than producer Louis B. Mayer.

… Alas, MGM is not MGM anymore.

At the zenith of the mania for corporate buyouts, MGM Studios fell victim to just such a takeover. The company was bought out by corporate raider Kirk Kerkorian, who auctioned off the studio's prized possessions, and sold 38 acres of the studio's legendary back lots to housing developers. (Dorothy's ruby slippers from "The Wizard of Oz" fetched $15,000, while the Cowardly Lion's costume went for $2,400.) Historic sets were leveled. He funneled the money which he drained from the studio into construction of the giant MGM Grand hotel in Las Vegas.

… In 1979 Kerkorian issued a statement saying that MGM was primarily a hotel company. After acquiring United Artists in 1981 (thereby becoming MGM / UA), the company's film library was bought out by media mogul Ted Turner in 1986 for his cable TV channel. (He started colorizing many of the B&W films over the objections of film purists.) In 1986, the MGM sign (and its lion logo) was removed from atop the Culver City studio.

The Culver CIty location briefly became home to Lorimar Pictures (producing TV shows such as "Dallas"). Finally, in 1990 the grand old studio was finally purchased by Sony Entertainment of Japan; it is currently home to both Columbia Pictures and TriStar Pictures (which are also now divisions of Sony).

Update: In September of 2004, MGM announced that it would merge with Sony Corporation of America. In short, Sony bought MGM for $5 billion. There's a touch of irony in this, since Sony has owned the old MGM studios for years. Sony acquired MGM mainly in order to get the company's library of films, which is believed to be its most valuable asset. It constitutted the biggest library of color movies in the world, including franchises such as "James Bond", the "Pink Panther" and "Rocky". Word is that MGM will continue to operate as a private company (which the Sony will own), and will continue to put out several films a year, with Sony co-producing and co-financing. MGM will continue to put out several films a year with Sony co-producing and co-financing.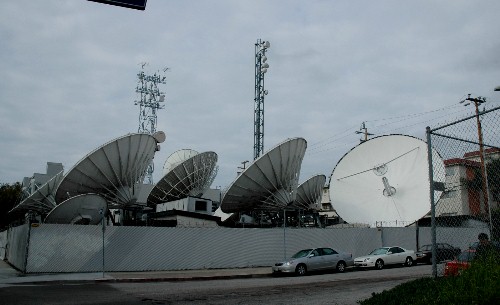 Satellite dishes supporting television production.
Across the street from Sound Stage 26 you will find this useful place specializing in repairing the Ferraris of overly enthusiast and overly paid actors and studio types.

Editor's Note –
When I was first married to my second wife (don't ask) we rented a condo in this complex, from a rich person who didn't need it at the time. This gated complex was built on the old MGM back lot where they filmed the Tarzan movies. The condos are built around a small lake with lots of tropic foliage – the same lake where Johnny Weissmuller splashed around in the Tarzan movies. Film crews were in now and then shooting parts of the long-gone television series Dallas and this and that. If you see a shopping mall in a movie it is probably Fox Hills Mall, two miles south, or Beverly Center, three miles north.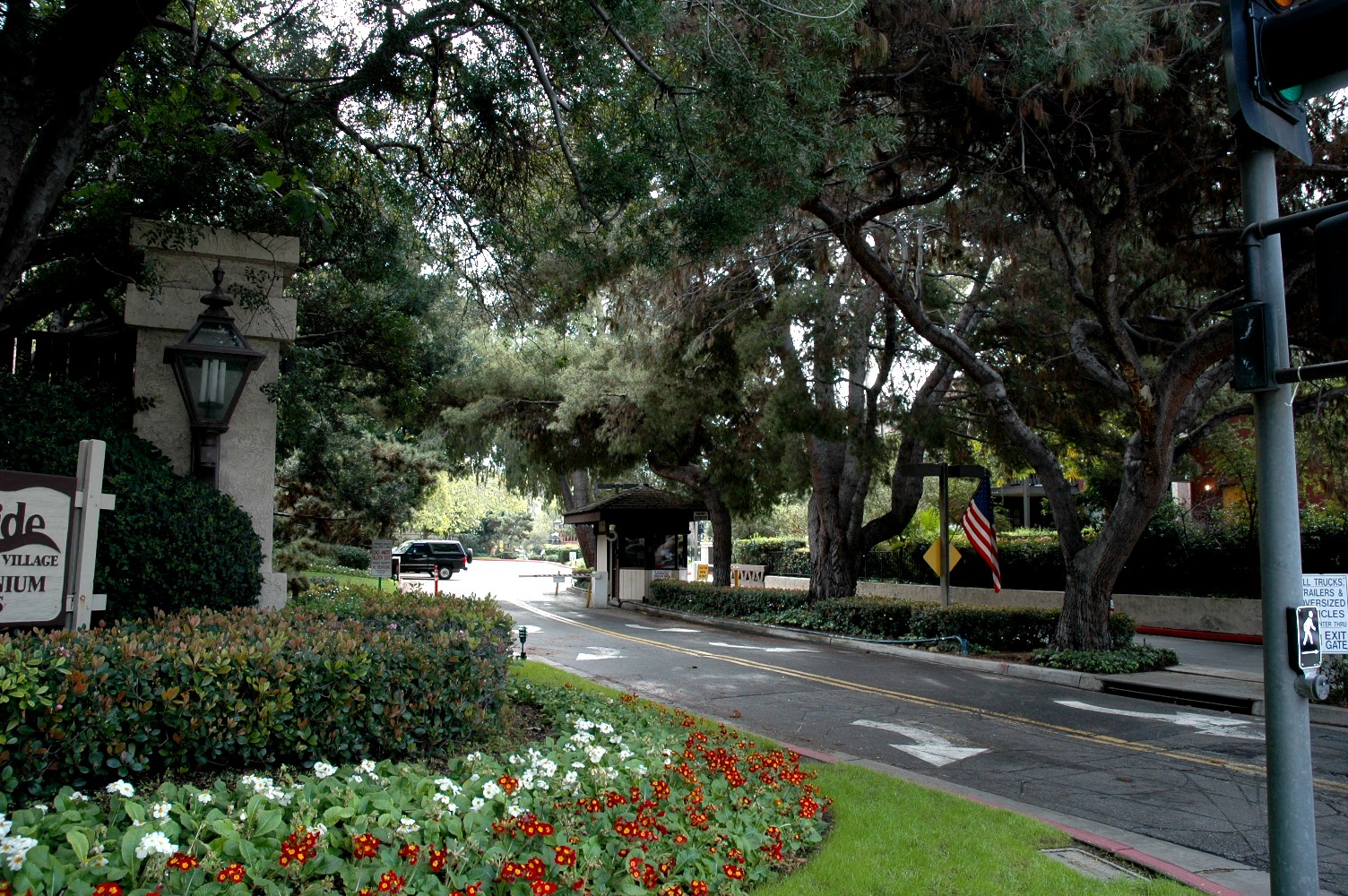 Culver City as Paris
Firday evening last was dinner with friends here:
9727 Culver Boulevard
Culver City, CA 90232


The place is a few steps from the Kirk Douglas Theater, and a half block from the big Sony Pictures office complex.
LA Magazine:
"BISTRO DE L'HERMITAGE. When the Sony studio folks want to go to Paris for their lunch hour this is where they head. Urban French café inside, lazy patio outside. Cheese plates, escargots with greens, quiche du jour, hot Brie melts with tomato, sliced egg sandwiches with anchovies. In the evenings, it's simple lamb, beef, and chicken dishes. Owner Christian Delay hums with gusto behind the bar and offers magazines to solo diners. Try the chocolate ganache cake with strawberry sauce for dessert. 9727 Culver Blvd., Culver City (310-815-8222). L Mon.-Sat.; D Tue.-Sat.; Brunch Sat. Beer and wine. French $$"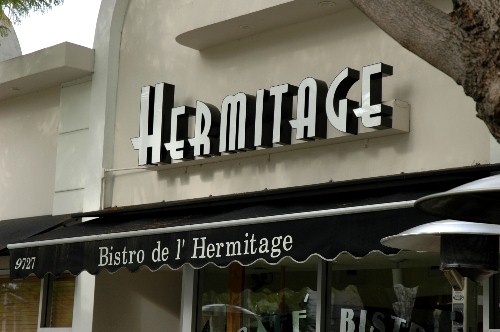 A chat with the owner about Baudelaire and his sonnet on pipe-smoking was followed by a comment from his wife, just returned from a quick trip to Paris, that their section of Culver Boulevard was a bit like the Champs Elysées – but you decide. You won't find these mimosa jacaranda trees or bird of paradise in bloom on the Champs Elysées.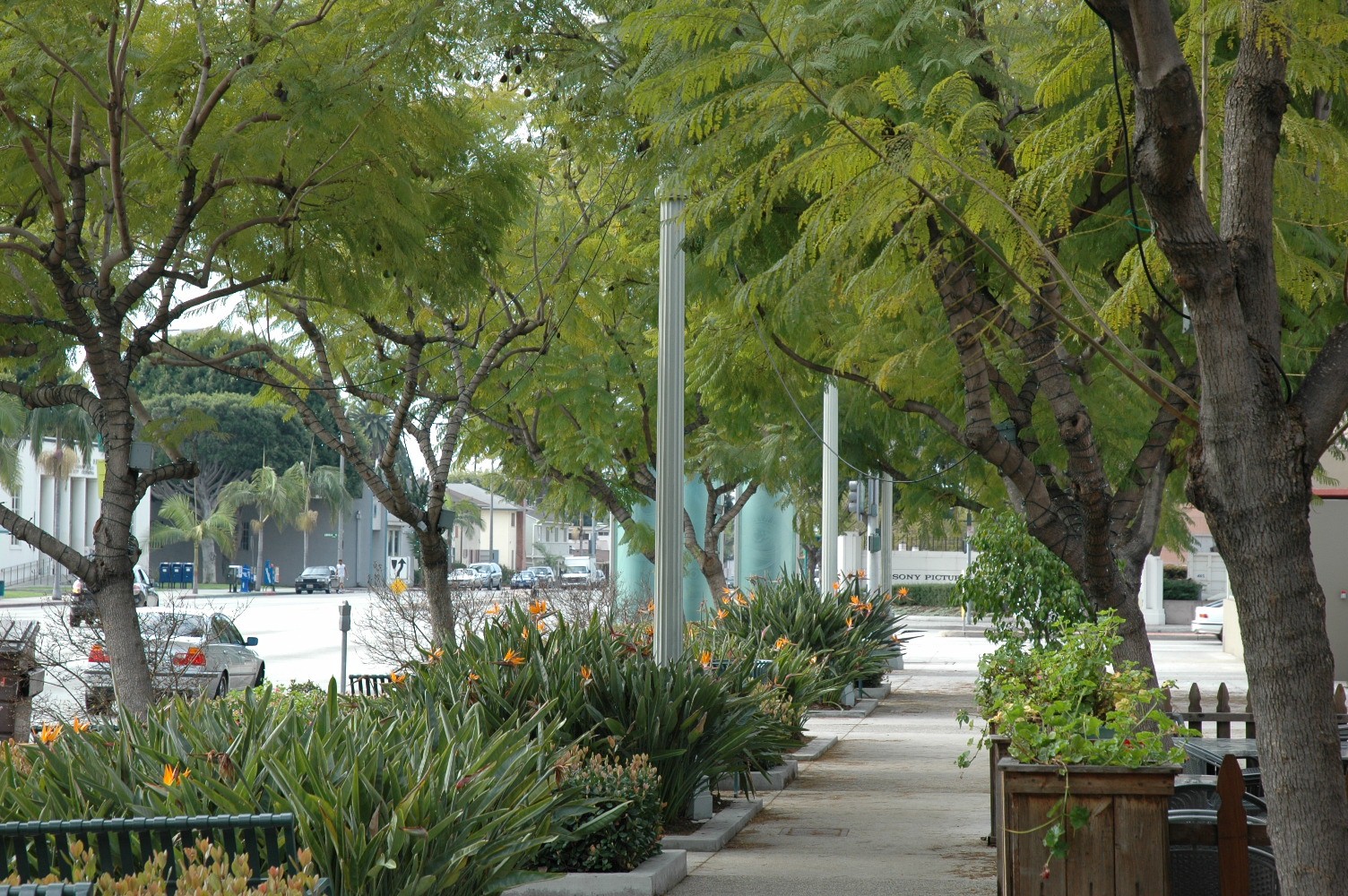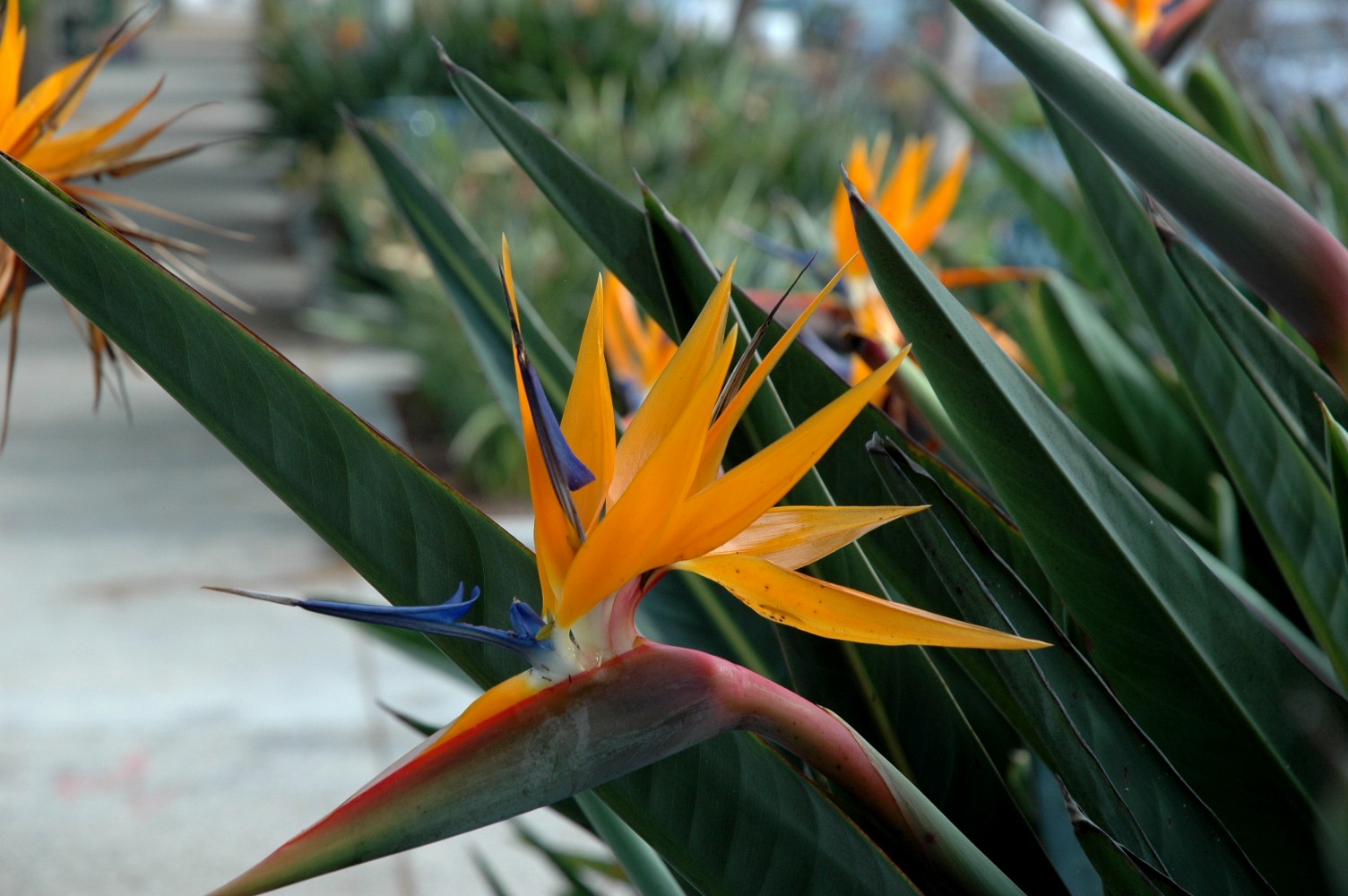 Next door to the bistro…