This is amusing.
A Candidate Ready for His Closeup
Harold Meyerson, The Washington Post, Thursday, March 10, 2005; Page A21
LOS ANGELES -- Someone once asked Jean Renoir, the great French filmmaker whose flight from the Nazis plunked him down in Los Angeles in 1941, why he'd never made a film about his adopted city. After all, even after World War II ended, Renoir continued to split his time between France and L.A.
"Wilshire Boulevard," Renoir replied. "It has no smell to it."
It wasn't just by the standards of Paris that Los Angeles must have seemed a supremely colorless city to Renoir, and its main drag as soulless a strip of corporate architecture as the mind of man could devise. Unlike the great cities of America's East Coast and Midwest, L.A. had no Little Italy, no German Quarter, no Irish political machine. While the great wave of immigration from Southern and Eastern Europe remade nearly all of America's biggest cities in the early years of the last century, L.A. was enticing Iowans and Ohioans to leave winter behind and come out to the land of perpetual sun. Straight through the 1960 Census, Los Angeles was the most white Protestant of America's major cities. Courtesy of the Third Reich, it may have boasted an elite cadre of refugees - Renoir, Thomas Mann, Arnold Schoenberg, Billy Wilder, Ernst Lubitsch - but it was largely devoid of the ferment of immigrant communities that elsewhere had transformed the landscape of local, and ultimately national, politics.
That, of course, was then. …
The rest is about the mayoral race out here and of limited interest… But he's right about Los Angeles.
"Wilshire Boulevard," Renoir replied. "It has no smell to it."
Early Sunday morning on Wilshire – dank and dark with a thick layer of mist off the Pacific, catching up on things at the Miracle Mile newsstand…
This man looks too worried to draw in new patients – and is the problem the restaurant below?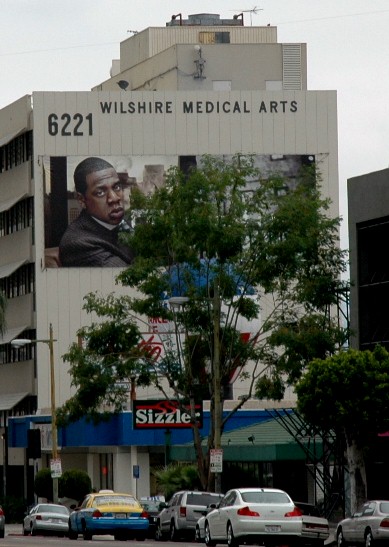 A classic that closed years ago, but a Wilshire landmark from the early fifties, when life was simpler, or at least different… now only used for filming movies…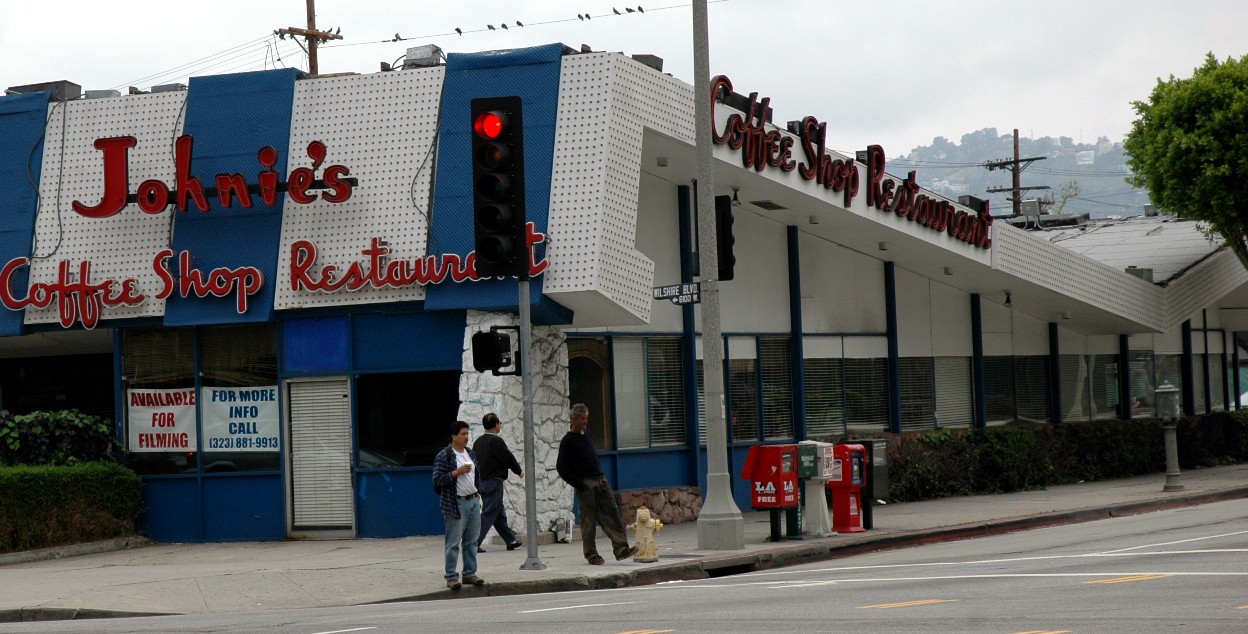 As soulless a strip of corporate architecture as the mind of man could devise? Maybe so. A new corporate tower, an old copper-clad one (Bullock's Wilshire), and housing for the wealthy (the Wilshire Corridor, Westwood) where those who miss Manhattan can live in overpriced high-rises…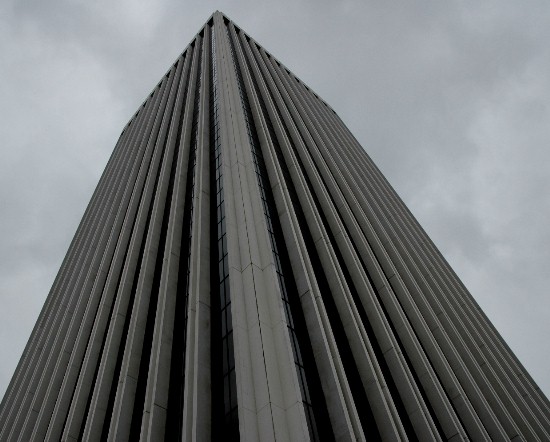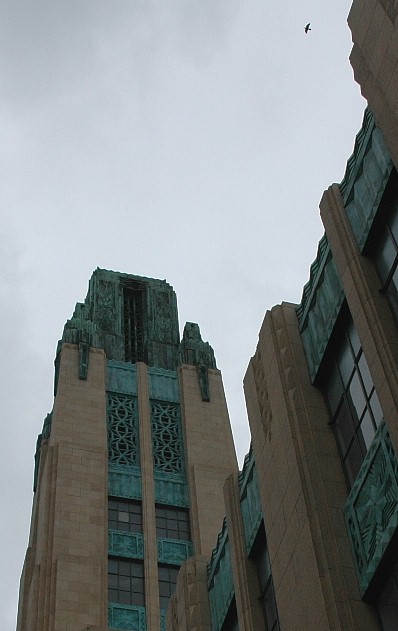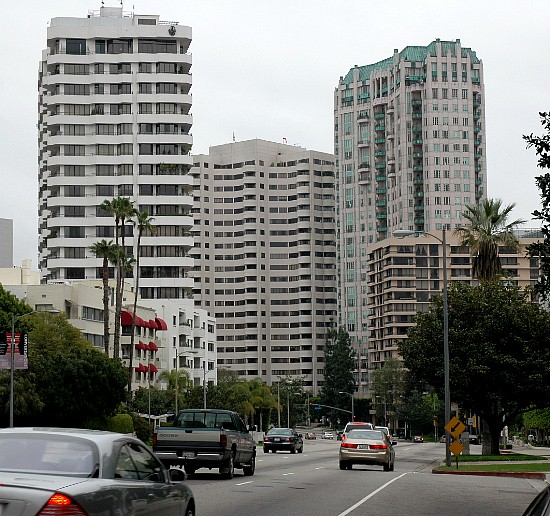 And who watches over Wilshire? – Rodin's Balzac (Balzac, etude drapee avec un capuchon et un jabot de dentelle) does, down by the museums, as do a number of stone women by McArthur Park …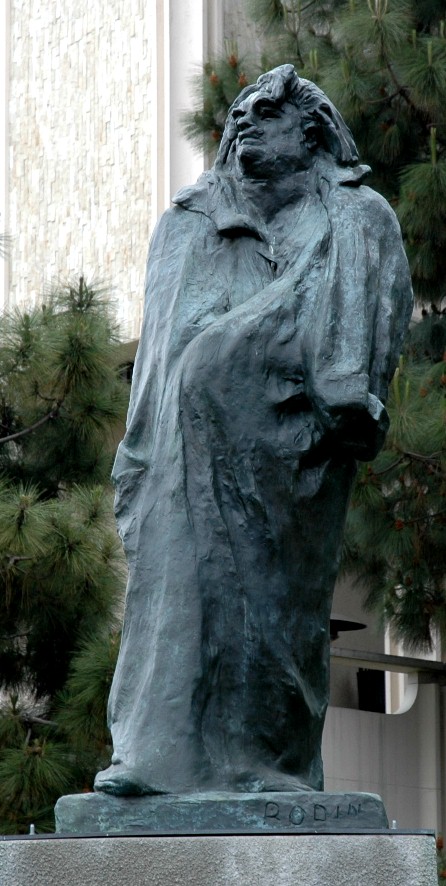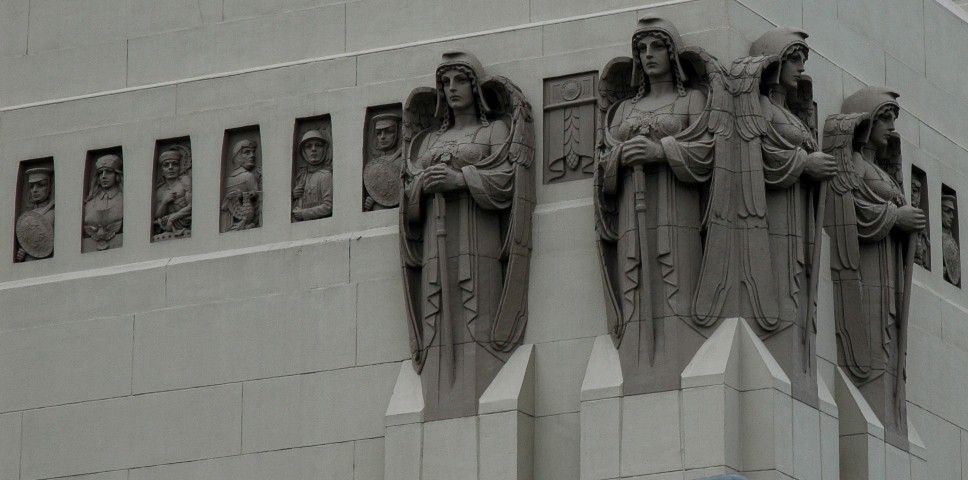 Who else watches over Wilshire? This year, Renzo Piano – and the LACMA show has something to do with the fact the Los Angeles County Museum of Art gave up on a three hundred million dollar plan by Rem Koolhaas to redesign their scattered buildings and collections. That idea was to knock down most of the buildings and build a big new place. Big bucks. Piano had a plan that will instead tie those structures together and add only one new building. And they can build in phases. He's okay. Paris readers? Piano is responsible for your Georges Pompidou Center - the Beaubourg or whatever. Rodin's Balzac out here on Wilshire? The architect who transformed the Marais in Paris out here on Wilshire? What up with that?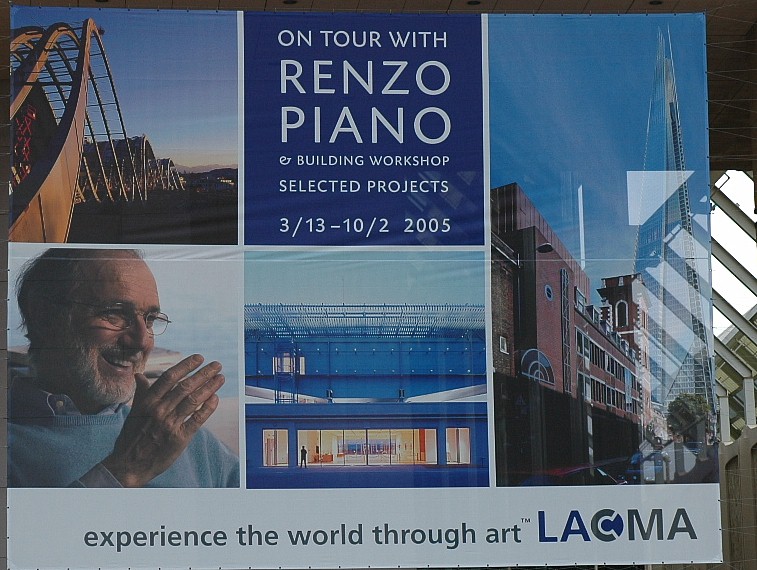 A parting shot, next to the statue of General Otis at McArthur Park is the newsboy – as the General did found the Los Angeles Times…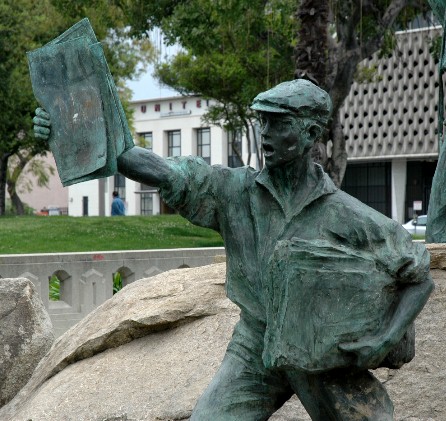 Jean Renoir said Wilshire Boulevard had no smell to it? It did this morning.