Over at the generally strident site BartCop - with the daily subhead BartCop's most recent rants - you will often find graphics of interest, or at least of interest to lefties. This is the site that uses the acronym BFEE for the efforts of the current administration and its friends – and that would stand for the Bush Family Evil Empire, or Enterprise. I'm not sure which. You get the idea.

The editor of the site often posts, in full, current cartoons – Doonesbury and Boondocks most frequently. Since Doonesbury has an exclusive arrangement with SLATE.COM – see the Daily Dose there – one suspects such things are posted without permission. In my discussions of copyright issues with Rick, The News Guy in Atlanta, he suspects so.

So I don't feel bad posting this below, referencing the recent hearings in Kansas, and last weekend's top-grossing movie – Ridley Scott's epic about the Crusades starring Legolas the Elf. (Yes, you can make bad jokes about Ariosto's epic Orlando Furioso here. But Ludovico Ariosto and Orlando Bloom never met. Ariosto died in 1533, after all, while Bloom recently made a wildly successful pirate movie with Johnnie Depp.)

Anyway, given the times, the graphic is pretty good. And visit BartCop for some choice rants.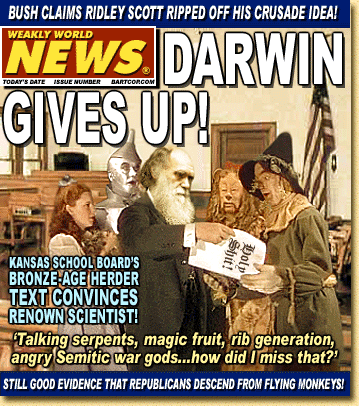 And I cannot imagine how the court will rule on this dispute…
From Lawrence, Kansas –
They say it was racial discrimination. She says it was the Lord telling her not to rent to fornicators.

Closing arguments are expected this morning in a civil-rights trial involving a Lawrence couple, Adrianne Morales and Wayne Jackson, who say they were turned down for an apartment in 2002 because she's Hispanic and he's black. But the apartment manager, Lynne Sander, says she rejected them because God recently had told her she shouldn't rent to unmarried couples.

"I am following God's law," Sander told jurors on Wednesday. "I did not discriminate against them. For my morals and my integrity, I did what was in my heart."
God's law… see A Short Note on The Divine Nature of Human Law, from March 13, 2005 for where we're heading.
Kansas is already there?




Copyright © 2003, 2004, 2005, 2006 - Alan M. Pavlik
_______________________________________________
The inclusion of any text from others is quotation
for the purpose of illustration and commentary,
as permitted by the fair use doctrine of U.S. copyright law.
See the
Details
page for the relevant citation.
This issue updated and published on...
Paris readers add nine hours....
________