Charles Foster Kane's famous journalism advice comes to mind when a columnist is assigned to write up a report about a Los Angeles softball game for a colleague in Paris, when the event turns out to be less than insignificant. If we dash off a story and post it, then it will be a part of the continuing unfolding saga of the growth of Internet journalism, just because it appears.

It all started a few days previously when one of the Paris based Just Above Sunset correspondents, Ric Erickson, editor of MetropoleParis, received an e-mail invitation to participate in a softball game being held by mediabistro.com in Venice California. He, in turn, forwarded the information to the Los Angeles office, so that either or both of the LA based JAS staff members could act as Ric's proxy at the event for industry insiders.

Journalists are more prone to act as observers than as participants, so the writer and photographer considered the event more of an assignment than an opportunity to display softball talent. Perhaps that personality trait among those who toil as journalists also explains why many of the folks who expressed an interest in the event failed to show up at the listed start time.

After some confusion as to which of the baseball fields was the one for this particular group was resolved, a MediaBistro representative began to get waivers signed and encourage some warm up batting practice and tossing the ball around the infield.

Covering the event as if it were a legitimate story was an absurd prospect, so while the JAS lensman snapped some images, the writer chatted with members of the slowly growing group. A columnist for the Los Angeles Times, a fellow with a New York Times baseball shirt, and a young man who had covered the recent Big Lebowski event in Downey for Giant magazine were among the dozen or so folks who showed up.

Drinks at a location in Santa Monica were an added incentive and perhaps if the JAS news team had not been under intense deadline pressure (yeah, right!) and stayed longer, there would be a much longer and more detailed roster of the various folks who shared their story with the inquiring Internet writer.

Dividing the ten participants into two competing teams seemed to be a logistics challenge of insurmountable proportions. The temperature was falling and a wind was sending the audience scurrying for their jackets, when the JAS photographer, who also happens to be the publication's beloved editor and publisher, noted that the hour was getting late and that he wanted to get back to our respective cubicles so that the story could be pumped out and the back shop could have ample time to prepare it without going into overtime pay.

Recent Just Above Sunset assignments have included a ride in a restored B-17 (photos here, here and here), a tour of a top notch auto museum (photos here), and a walking tour of the Venice (California) canals (see this and this), but a seasoned journalism veteran knows that not every assignment can be one that will get mentioned in the writer's autobiography, so we followed our leader's signal and wrapped it up and headed for the computer.

In the old days when many journalists were part scalawags, we would have spiced up the report by adding fictional embellishments (everyone who missed the event will be hoping that some world famous media mogul in the LA area didn't show up and hand out assignments like candy) but in the current atmosphere of scrupulously factual reporting, the editor will not sanction any such disingenuous creative endeavors.

Our Paris based colleague will be glad to know that in a week where the Hollywood press covered the premieres of Batman and Mr. and Mrs. Smith, no stars turned up at the Venice ballpark and no opportunities to string the story to Time or Le Monde were missed.

The constant patrolling of Los Angeles, by the JAS news team, searching for fascinating and amusing facets of life in Hollywood, will continue.

- Bob Patterson – Venice, California - Wednesday, June 08, 2005

__

Journalists… Do you know these people?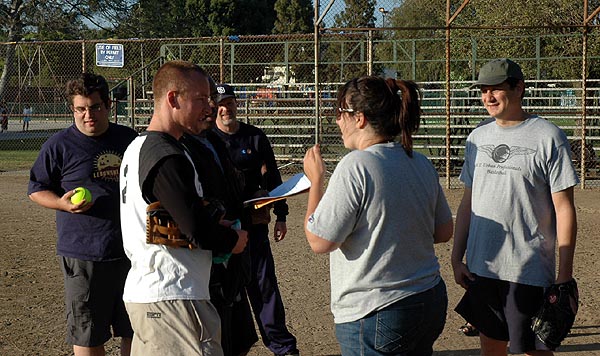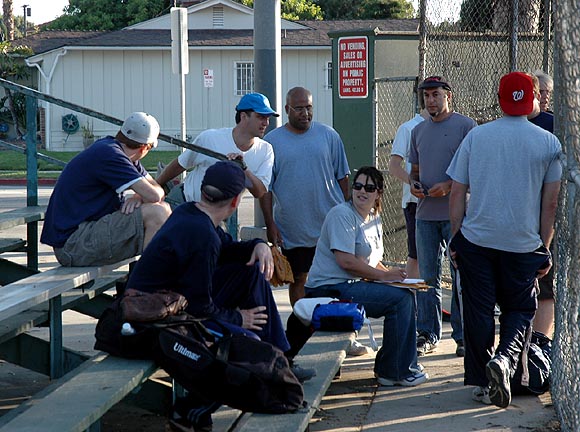 Ric in Paris comments:
I passed the MediaBistro event invite along because I couldn't get away from the Rue Daguerre. Alas, although softball is a sissy game, I'm afraid I'll hurt my fingers. Besides I got no depth perception. I see from Bob's in-depth report that there were five players on each side. I can only play whichever outfield nobody will hit to. Usually I fall asleep. My batting is not good either. My golf is lousy too. This is why I live in Paris. The only thing I miss here is the Mets! Go Mets!
When I first posted the pictures Ric also sent an email from Paris –
I just caught up with the baseball excursion, and glad to read that you two went as sidekicks. I missed the last MediaBistro party in Paris. I think I had a nap even though I meant to go. For their parties in Paris I don't have to worry about hurting my fingers. But I couldn't make it to the one in Venice so I sent the invitation to you. If you fumbled the ball I hope you didn't say that I said you could play. I figured you would sit on the foul line and stay out of trouble, and let the 'World's Laziest Journalist' make all the errors. It was a fine write-up but you didn't mention the score.
Who won?
From Hollywood to Paris –
We have no idea who won. This thing was set for 6:30 - 18h30 to you - and when we arrived, on time, there were five folks there. An hour later there were ten or so. Neither Bob nor I had any intention of playing - you had to cough up ten bucks for that. What's that - 3.2 euros? We did sit on the sidelines.
We were there for Bob to ask impertinent questions and for me to take photos. We did same. An hour after the scheduled start they had finally moved to a second field, as somehow they discovered they were one diamond north of where they were supposed to be - although I have no idea how the determined that. By that time they were warming up - shagging flies and that sort of thing - and the temperature was dropping, the light fading for good shots with the Nikon, and the whole thing seemed pointless. We left before they even started - and I'm not sure they ever did start. I suspect they just went drinking.
I found the while thing just dull. I drove Bob home and motored up to Hollywood and processed the shots from the event - and brushed the cat. Bob emailed me the write-up. I did the HTML thing, posted it to the daily web log, had a brandy, and slept the sleep of the cynical.
One night this week I stayed up late for the Charlie Rose interview show on PBS (public television here) - the editor of Le Monde and Walter Wells, the editor of the International Herald Tribune - broadcast from Paris. Great discussion of international politics, followed by a one-on-one with Richard Reeves on the press and Watergate (Reeves happened to be in Paris). I can't find a transcript on the web. I mentioned that show to the New York Times stringer at the softball game - the guy in sunglasses in the photo - and he had no idea why anyone would watch such stuff. He writes the "almanac" for the Times, or contributes.
No one talked shop. But I did learn from the Los Angeles Times guy that the Times Pulitzer Prize winning auto review guy, Dan Neil, just broke his foot. I wonder what that means about future test drives?
The return email from Paris –
Heather [Heather Stimmler-Hall of Secrets of Paris] talked me into going to the first MediaBistro drink and snack in Paris. By mistake I went a week early to La Perla, but there were no MediaBistro types there, just a suspicious Indian behind the bar. He wasn't wearing any turban. Heather went the following week when I had a headache and she said there were eight people sitting at a table for four, beside the bogs, and the music was too loud. Heather likes loud music too. She didn't see the point of it. It's like being a fan of the virtual CraigsList and going to a meeting and finding out everybody who makes witty posts has bad breath. It's a great idea as long as it stays where it belongs - online.
Amen.