From the odder places at the beach, these are from Wednesday, June 8, 2005, almost all after 5:30 in the afternoon, when the light starts to get long. Venice Beach and inland from Venice Beach. It can be strange out here. An album of forty-three of these shots can be found here.
If you use any of these photos for commercial purposes I assume you'll discuss that with me.
There is a copyright notice at the bottom of this page, of course.
These were shot with a Nikon D70 – lens AF-5 Nikor 18-70mm 1:35-4.5G ED or AF Nikor 70-300mm telephoto.
They were modified for web posting using Adobe Photoshop 7.0
____________________________
« Chaque objet est le miroir de tous les autres. » - Maurice Merleau-Ponty, Phénoménologie de la perception, première partie, Le corps - "Each object is the mirror of all the others."
Giant Binoculars 1985-1991, Claus Oldenburg Giant binocular shape incorporated into the Chiat-Day Building (architect Frank Gehry) - and the interior of the binoculars forms a conference room. Main Street, Venice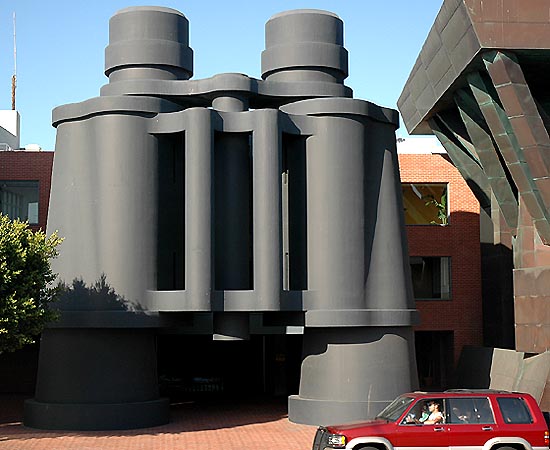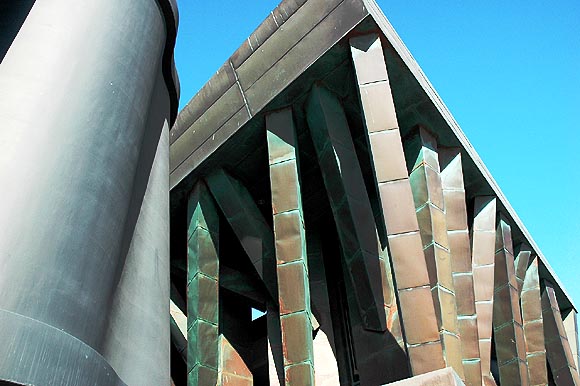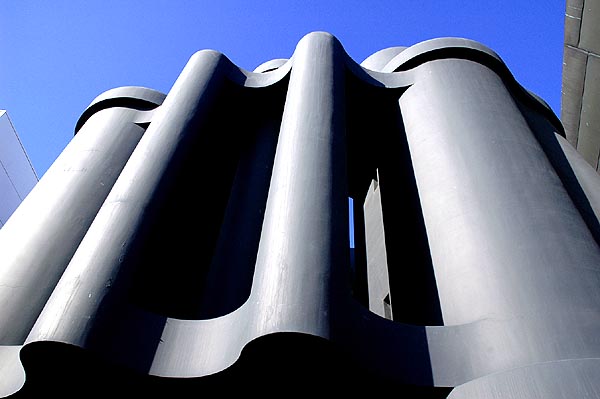 Jonathon Borofsky's "Ballerina Clown" (1989) - the Renaissance Building at Rose and Main
Jonathan Borofsky grew up in Boston and was educated at Carnegie-Mellon, Yale, and the Ecole de Fountainbleau in France. Borofsky's work has been exhibited at galleries and museums around the world. In 1984, a retrospective of his work toured major museums throughout the country. Borofsky's sculptures can be found in many locations in Los Angeles from "Molecule Men" which holds a prominent location in front of the Roybal Federal Building, to the "Ballerina Clown" on Main Street in Venice, to the large activated "Hammering Man" in the plaza of the California Mart at Spring and Olympic Streets. These sculptures, as is true of most of Borofsky's other works, are recognizable forms - humans, clowns, animals - used in a playful manner and unusual context, provoking diverse interpretation.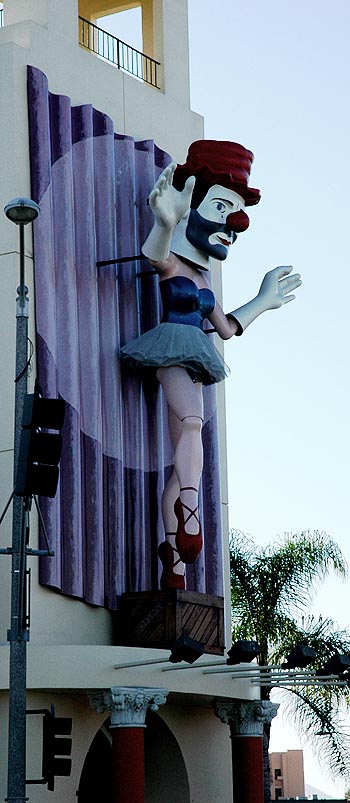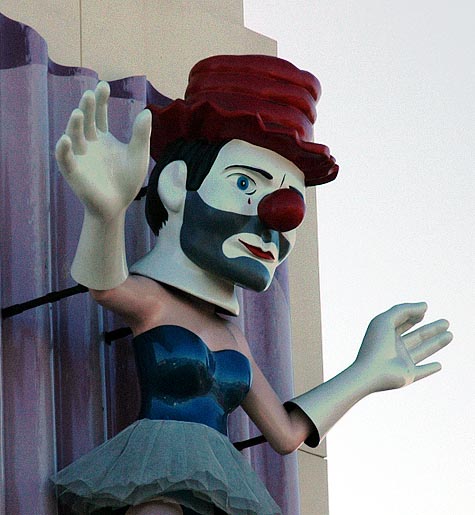 Copyright © 2003, 2004, 2005, 2006 - Alan M. Pavlik
_______________________________________________
The inclusion of any text from others is quotation
for the purpose of illustration and commentary,
as permitted by the fair use doctrine of U.S. copyright law.
See the
Details
page for the relevant citation.
This issue updated and published on...
Paris readers add nine hours....
________