Dogged coverage of this year's Rodeo Drive Concours d'Elegance
By Bob Patterson
This year's Rodeo Drive Concours d' Elegance for car fans was held on Sunday, June 19, 2005, on a day that featured warm temperatures and bright sunshine that was perfect for photo fans.
The annual event presents a smorgasbord of delights to savor. Most television news coverage hones in on the expensive cars on display and then they quickly hustle on to the next story.
Columnists, who have been there done that for several years, might find the assignment a bit more challenging.
Some of the cars displayed at the event held in Beverly Hills each year, have star power. Some years the theme may be Ferraris, the next it may be something like having one car from each of the last 100 years.
There was one curious aspect to the event. There were a wide variety of dogs attending (accompanied by their human dog wrangler). This columnist did not see one cat attending the event.
Shiny elegant cars are a dog thing? Is it some kind of species discrimination to point out that dogs and cats are very different? (Weren't all animals allowed equal access to the Arch by Noah?)
Dogs seem to enjoy just riding around in a car aimlessly. Cats, with a very few rare exceptions, shun such nihilistic endeavors.
At the Beverly Hills event, the dogs could, as it were, smell a good restoration job. Some of the old cars were in ultra-pristine showroom condition. There was not one drop of oil to besmirch the quality of the owner's attempt to take the audience back in time to when the car was brand new.
Southern California photographers came out in droves to attend this year's installment of the annual event, and were happily sapping away as the event got underway.
Many of the ladies at the event got in the spirit by wearing period clothing that enhanced the illusion of time travel for attendees in 2005.
In a desperate attempt to get a unique "handle" on coverage of the event, one columnist from an LA based online magazine that is read around the world, approached the owners of Ford Cobras and asked if he could borrow the car to drive to New York and back in order to have an experience to report on the Internet. One of the owners joshingly replied - "Sure, let me get the keys" and fumbled through his pockets. The other reacted in horror: "Oh, NO! I just got it a week ago."
Both those fellows (good sports) critiqued the columnist's approach and both agreed that the columnist might, perhaps, have better luck if he were to relay his request to the firm in Massachusetts that produces replica Cobras.
One of the surreal aspects of the event is that, for people who live in Southern California, there seems to be plenty of opportunities to see and appreciate exotic automobiles (indeed the Just Above Sunset photo library may contain one photo of one of the cars on display when it was spotted on a different date, driving through the Westwood Section of Los Angeles.) You might see a one of a kind Ferrari racing car and think: "Didn't I see that on the street in Santa Monica a few years ago?" Car fans who live in Concordia Kansas, would relish the chance to walk the Beverly Hills event and see, in one short tour, a wide selection of cars that they otherwise, might only experience vicariously in the pages of Road & Track.
Fine exotic vintage automobiles (apparently) appeal to dogs and (we hope) many of the Just Above Sunset regular readers and so we assume that there will, in the future, not only be coverage of next year's Rodeo Drive Concours d' Elegance, but also other car oriented events because some perfunctory marketing research has shown that our online magazine attracts more dogs than cats as part of our weekly audience.
Copyright © 2005 – Robert Patterson
Editor's Note:
"… one columnist from an LA based online magazine that is read around the world, approached the owners of Ford Cobras and asked if he could borrow the car…"
The problem is that our columnist – decide which of the two he is – is here trying to negotiate the loan of a restored AC roadster, the car Carroll Hall Shelby used as a base for the Ford Cobra –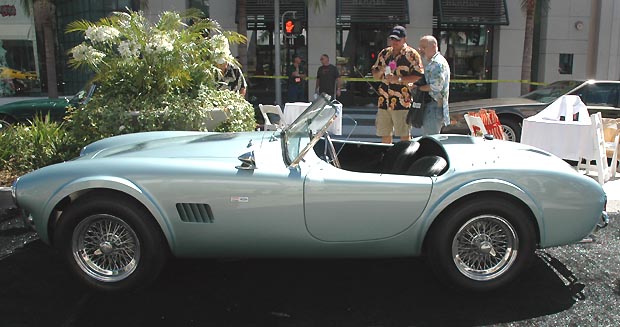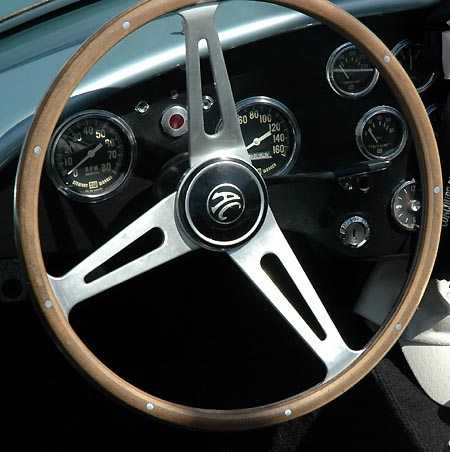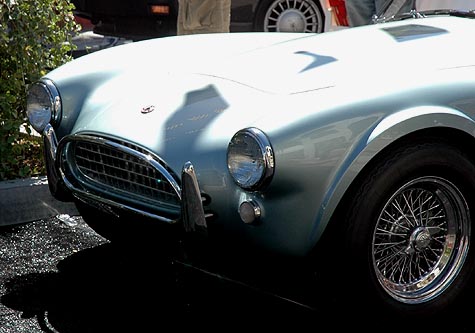 As in this -
September 1961
When AC Cars of Thames Ditton, England, loses the source for its six-cylinder Bristol engine for its two-seat roadster, Carroll Shelby airmails a letter of proposal to the company to keep building the chassis for a special Shelby sports car to be powered by an American V8. As yet, he knows nothing of a new lightweight, thinwall-cast, small-block Ford V8.

October 1961
Charles Hurlock, owner of AC Cars, returns Shelby's letter, stating he would be interested in Shelby's plan as long as a suitable engine replacement could be found in the States. The same month, Shelby finds out about the new 221-cube Ford small-block and dispatches a letter to Dave Evans explaining his idea for a sports car and his need for a V8.

February 1962
The first 260 Roadster, minus engine and transmission, is air freighted on February 2, 1962, to Shelby's shop in Southern California. Carroll has a dream revealing to him the name Cobra appearing on the front of his car. In Carroll's words, "I woke up and jotted the name down on a pad which I kept by my bedside - a sort of ideas pad- and went back to sleep. Next morning when I looked at the name 'Cobra,' I knew it was right." In less than eight hours, a 260 HiPo and Borg-Warner four-speed are installed and Shelby and friend Dean Moon test drive the new Cobra, looking to bait Corvettes, but none are found.

March 1962
Shelby-American begins operations at a shop on Princeton Drive in Venice, California, and hires Ray Geddes, a Ford finance business school graduate who comes aboard at Shelby-American to coordinate the program with Ford. Among his first duties are his efforts to keep Ford's involvement at a low profile due to Ford's liability concerns.

April 1962
CSX 2000, the first Cobra, is painted a pearlescent yellow by Dean Jeffries and shipped to the New York Auto Show where it appears in the Ford display. Dealers begin ordering and with deposits in the bank, Shelby-American formally commits to building its new Cobra.

May 1962
Shelby promotes his Cobra by offering test drives to the automotive press, who respond with superlatives. The May 1962 issue of Sports Car Graphic describes its acceleration as explosive. CSX 2001 (the second Cobra built) is shipped by air from England (minus engine, transmission, and rear end) to New York and is prepared by Ed Hugas in Pittsburgh, Pennsylvania. CSX 2002 is air freighted to Los Angeles and built into the first competition Cobra.

June 1962
Production is slow as Shelby-American wrestles with start-up problems due to the fact that the AC chassis requires extensive engineering. Meanwhile, CSX 2000 is repainted a different color each time a different magazine test drives it, giving the appearance of many cars in production. The Cobra has a one-ton advantage over the Corvette.

August 1962
Shelby-American submits papers to homologate the Cobra as a GT III car in the eyes of the FIA, the Federeation Internationale de L'Automobile. On August 6, the FIA homologates the Cobra in the more-than 2-liter class for the FIA Manufacturers' Championship. At least 100 cars had to be built within 12 months, but at the time of approval, just eight Cobras had been completed. According to Carroll, he contemplated switching the chassis and body to an alternative due to continued problems.

October 13, 1962
Shelby-American enters the Cobra in its first race, a three-hour contest with Bill Krause behind the wheel, opening the Los Angeles Times Grand Prix. Krause, with a poor start, falls back, then takes the lead at lap nine, but breaks a rear hub and does not finish. The Cobra, however, is definitely lighter and faster than the new Corvette Stingray. P hil Remington at Shelby-American goes to work building stronger rear hubs starting with forgings from Halibrand.

January 1963
Dave MacDonald and Ken Miles sign to drive Cobras for Shelby-American and place first and second at Riverside, beating the Corvette Stingrays. Miles is so confident he pits for a drink of water and relaps the Corvettes to finish behind MacDonald. …
And so on…