The 1955-1957 Ford Thunderbirds are the "Classic Birds" - the "Little Birds." This is a 1955 Thunderbird from the first year of production, parked on North La Cienega in front of the very pink, retro, Trashy Lingerie store. It all comes together.

A bit of history -
The car was shown at the first postwar Detroit Auto Show on February 20, 1954. The first production car came off the line on September 9, 1954. It went on sale on October 22, 1954, as a 1955 model, and sold briskly; 3,500 orders were placed in the first ten days of sale. Ford had only projected building 10,000; eventual 1955 sales were 16,155.

As standard, the 1955 Thunderbird included a removable fiberglass top; a fabric convertible top was an option, although commonly specified. The only engine option was a 292 Y-block V8. The exhausts exited through twin "bullets" above the rear bumper, as was the fashion.
The next year they added the spare wheel mounted outside, Continental-style, and the exhausts were moved to the ends of the bumper. To improve rear-quarter visibility with the removable hardtop in place "porthole" windows were made available as a no-cost option. The hardtop here seems to be from that year.

These cars are important out here. Click here to see the 1955 Ford Thunderbird formerly owned by Dennis Wilson of The Beach Boys - restored from the frame up in 1991, with the hood autographed by the Beach Boys. She really did have fun, fun, fun, 'til her daddy took the T-Bird away. Click here to see the restored white 1955 Thunderbird from American Graffiti (1973) - the one Suzanne Somers in a non-speaking part drove here and there in the distance, mysteriously, being the ultimate unobtainable California blond, the platonic ideal of the California Girl. The Beach Boys sang about such girls.

There was no amazing California blond anywhere near this one, Tuesday, August 15, mid-afternoon.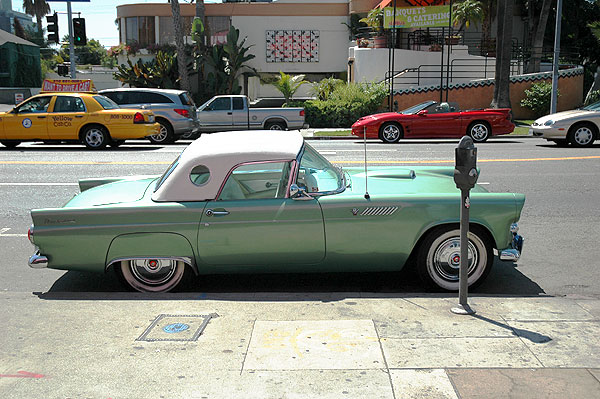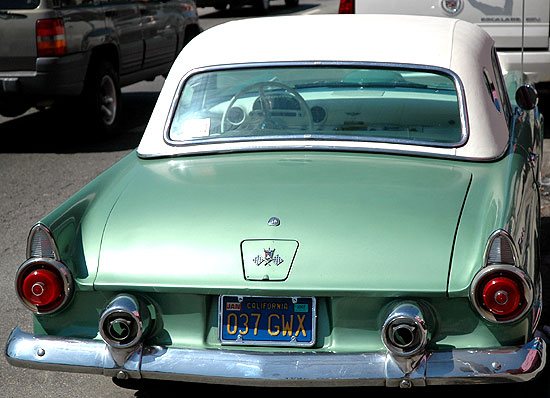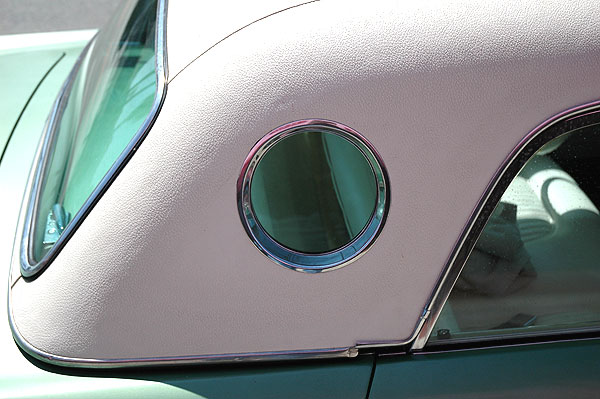 Found on the web - promotional material from 1955 -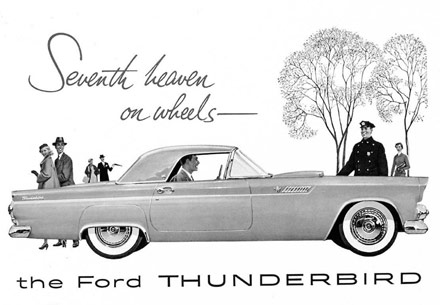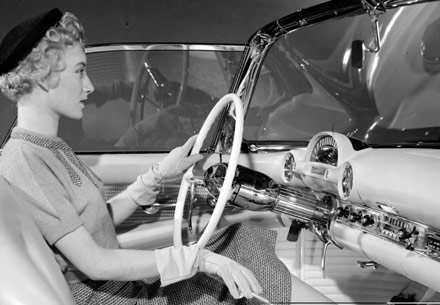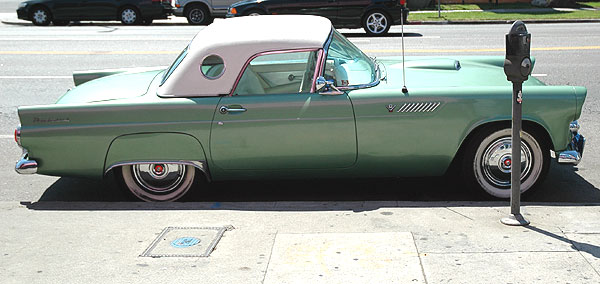 If you use any of these photos for commercial purposes I assume you'll discuss that with me.

These were shot with a Nikon D70 - using lens (1) AF-S Nikkor 18-70 mm 1:35-4.5G ED, or (2) AF Nikkor 70-300mm telephoto, or after 5 June 2006, (3) AF-S DX Zoom-Nikkor, 55-200 mm f/4-5.6G ED. They were modified for web posting using Adobe Photoshop 7.0

The original large-format raw files are available upon request.




Copyright © 2003, 2004, 2005, 2006 - Alan M. Pavlik
_______________________________________________
The inclusion of any text from others is quotation for the purpose of illustration and commentary, as permitted by the fair use doctrine of U.S. copyright law. See the
Legal Notice Regarding Fair Use
for the relevant citation.
Timestamp for this version of this issue below (Pacific Time) -
Counter added Monday, February 27, 2006 10:38 AM