Counter added Sunday, March 25, 2007 - 11:00 am Pacific Time

Photography

December 2008
---

Tuesday, December 30, 2008 – History Everywhere

Who cares what the tourists want to see in Hollywood? Some of us like the history hanging in the air. It's 1925 again.

Hollywood Professional Building at Sycamore and Hollywood Boulevard – Gothic Revival, John Lautner, completed in 1925, housed the headquarters of the Academy of Motion Pictures Arts and Sciences, and later the Screen Actors Guild – listed in the National Register of Historic Places.

Below, the west wall of the Hollywood Roosevelt Hotel - financed by a group including Douglas Fairbanks, Mary Pickford and Louis B. Mayer, opened May 15, 1927 – Will Rogers, Charlie Chaplin, Harold Lloyd, Clara Bow, Greta Garbo, and Gloria Swanson were on hand that day. It has some history. Marilyn Monroe stayed in suite 229 overlooking the pool where she did her first magazine shoot, and the mirror that hung in her room is now in the lobby and is haunted by her spirit, or so they say – and people claim to have seen her ghost dancing in the hotel ballroom. Montgomery Clift also lived here for a time, in room 928, and people claim to have heard him playing his bugle and to have seen him walking the hallways on that floor. So you get shadows.

Across the street is the famous Chinese Theater, which opened on May 18, 1927, with the premiere of Cecil B. DeMille's King of Kings – and there's a major premiere here most every week, and there are all those stars' footprints in the cement in the courtyard. But no one pays attention to the architectural detailing. The principal architect was Raymond M. Kennedy, of Meyer and Holler. He had fun with this.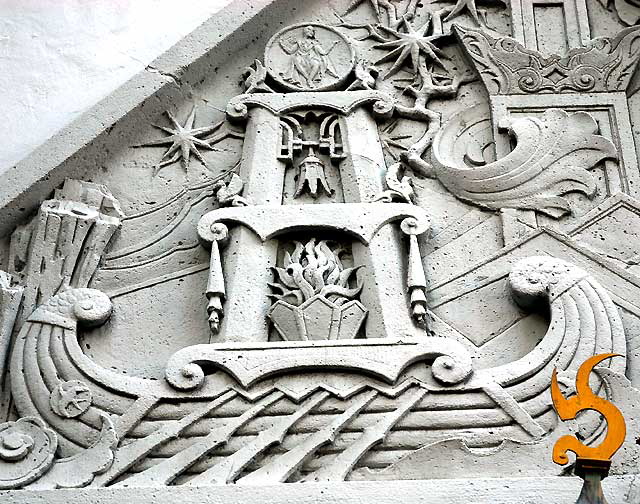 Not far away, the restored El Capitan Theater, which first opened in 1926. The exterior was designed by Stiles O. Clements, of the Morgan, Walls and Clements – and it is full-on Spanish Colonial madness, as you see. When you see this face you might be reminded that in 1941, Citizen Kane had its world premiere here. Later, when CBS had television studios here, this is where Nixon gave his Checkers speech. It's a dark place.

Just before the Crash and the Great Depression, the Eagle and the Beehive at Hollywood First National Bank – 1927, Meyer and Holler, 6777 Hollywood Boulevard. Yes, these are symbols of solidity and thrift. Two years after the bank opened they became ironic.

On Highland, the Max Factor Building from 1935, architect S. Charles Lee, Regency Deco – it used to be the Max Factor makeup studio and factory, but now it's the Hollywood Museum. Here's the original elevation drawing.

Ripley's Believe It or Not "Odditorium" – 6780 Hollywood Boulevard (at Highland) – old stuff, no attribution, but amusing –

If you wish to use any of these photos for commercial purposes I assume you'll discuss that with me. And should you choose to download any of these images and use them invoking the "fair use" provisions of the Copyright Act of 1976, please provide credit, and, on the web, a link back this site.
Technical Note:
These photographs were taken with a Nikon D200 – the lenses used were AF-S Nikkor 18-70 mm 1:35-4.5G ED, or AF Nikkor 70-300 mm telephoto. The high-resolution photography here was modified for web posting using Adobe Photoshop 7.0 software.